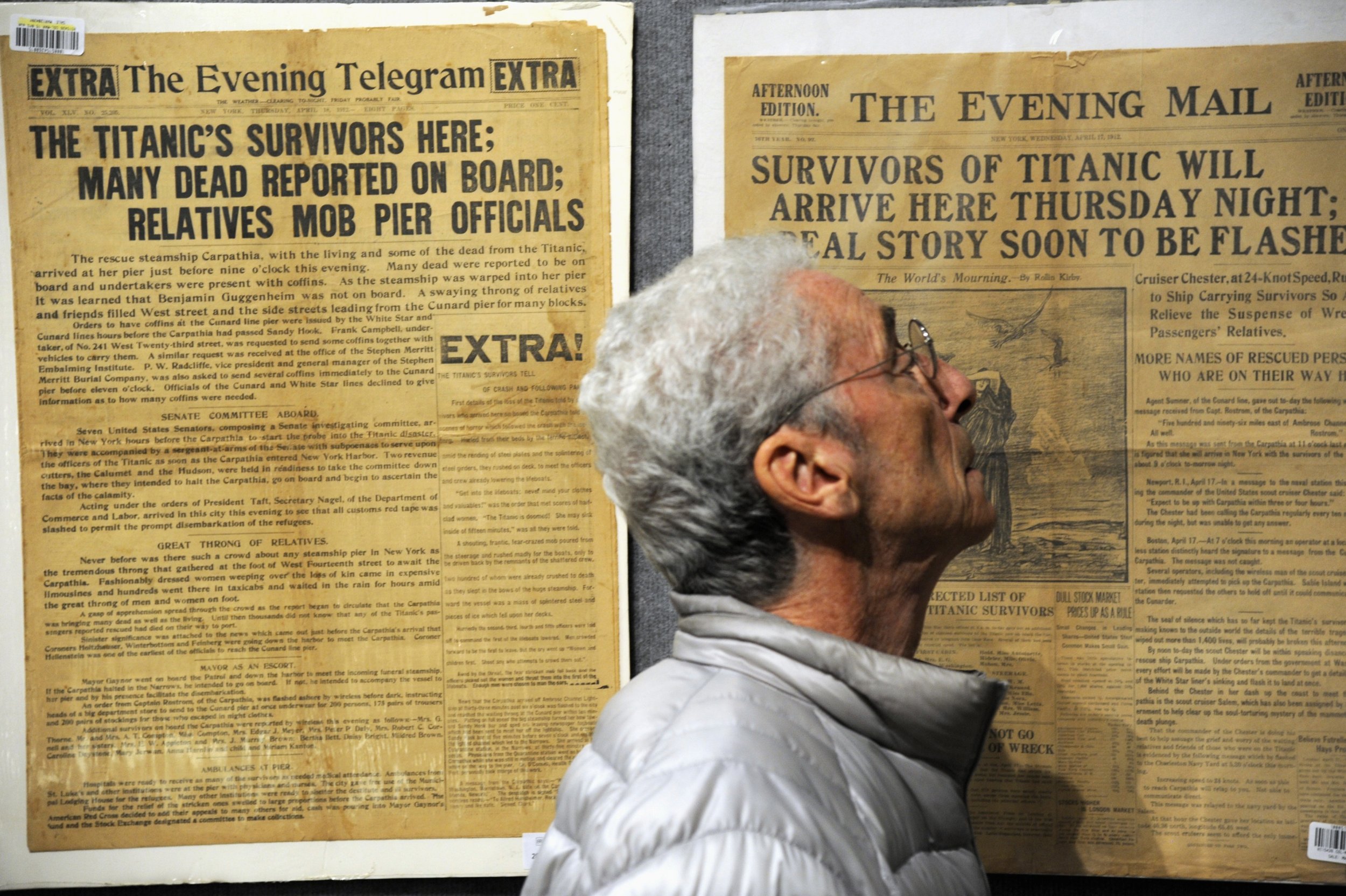 An original menu from the last lunch aboard the Titanic in April 1912 soon will be put up for auction, and is estimated to sell for $50,000 to $70,000.
A wealthy passenger brought the menu with him aboard Lifeboat No. 1, better know as "The Millionaire's Boat" or "The Money Boat," according to New York's Lion Heart Autographs, the auctioneer. The lifeboat was lowered from the ship into the Atlantic Ocean with just five wealthy passengers and seven crew members, who quickly rowed away without trying to save anyone else from the sinking vessel.
The menu was saved by Abraham Lincoln Salomon, a wealthy New York City businessman. The paper is signed in pencil on the back by another First Class passenger, New Yorker Isaac Gerald Frauenthal, who likely ate lunch with Salomon earlier that day, the auctioneer said.
The menu, dated April 14, 1912, includes multiple food options, such as corned beef, dumplings, grilled mutton chops, Norwegian anchovies and a variety of cheese.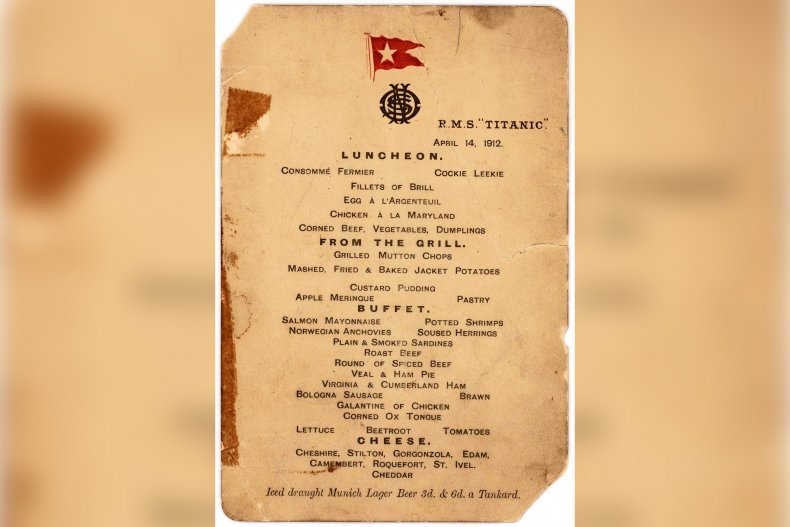 Lion Heart Autographs will auction the menu at noon on September 30, along with two other items related to the Titanic. One artifact is a letter and envelope written by Lifeboat No. 1 survivor Mabel Francatelli on New York's Plaza Hotel stationary six months after the disaster; the other is one of only four known printed tickets from the ship's Turkish Baths weighing chair. The device, a custom-designed English chair, recorded people's weight when they were seated.
The auctioneer estimates the letter and envelope to be sold for $4,000 to $6,000, and the ticket for $7,500 to $10,000.
The seller is the son of a man who was given the items by a direct descendant of one of the survivors aboard Lifeboat No. 1, the Associated Press reported.
On April 10, 1912, the British passenger liner set off on its maiden voyage from Southampton, England, to New York City. Four days later, on the night of April 14, the vessel collided with an iceberg, and icy water soon began filling the ship. It ultimately sank in the North Atlantic Ocean, less than three hours after the collision. More than 1,500 adults and children sunk with the ship, and 705 people survived.
Several expeditions attempted to find the Titanic in the ocean, but none were successful until September 1985, more than seven decades after the ship sunk. A Franco-American team discovered the wreck and confirmed the ship split apart before sinking to the bottom of the ocean.