Last Minute Halloween Costumes for 2018: Ideas for Quick, Easy, DIY Costumes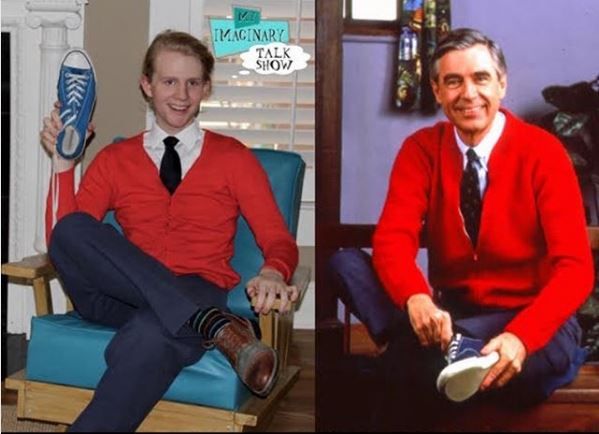 Halloween is a lot like dieting in that people tend to avoid it entirely or go all in. While some spend weeks, even months, planning the intimate details of their costume, others find themselves on October 31 with nothing to wear. Fortunately, even if Halloween rolls around and you've given more thought to the candy than the costume, you have time to pull something together.
Grapes
There are few costumes every person on Halloween can scrape together at the last minute aside from being a ghost. One costume that largely requires no preparation and is slightly more creative than throwing a sheet with two holes cut in it over your head is to go dressed as a bunch of grapes.
Just get a bag of purple or green balloons, fill them with air and attach them to your clothing, which works best if it's an all purple, green or black outfit.
Mr. Rogers
Maybe your job has you working late hours and getting to a social gathering after work is going to be a real push. There's no way you'll make it to the party if you go home to change into your costume after you leave the office. But, you don't exactly want to spend the day dressed as "The Joker" from Batman.
What do you do? You throw on some khakis and a blue dress shirt, pair it with a tie and a cardigan and start asking people, "Won't you be my neighbor?"
Every day for the month of October, Landon Reid wears a different costume that he's put together without spending a penny. Admittedly, he told Newsweek that Mr. Rogers was one of his favorite costumes and since it was just a dress shirt and cardigan, it took him about as long as it would to get dressed any other day.
"I would definitely wear it again," he told Newsweek. "Fred Rogers was a style icon!"
Arthur
Say it with me, "A-a-r-d-v-a-r-k." A perfect Halloween costume is just a yellow sweater, round glasses and a pair of jeans away. If you don't happen to be as blind as Arthur from the cartoon was, try fashioning a pair of spectacles out of brown pipe cleaners.
Dwight Schrute
Perhaps you're headed to a party where you'll likely only know one or two people so you're looking for a last-minute costume that will start a conversation. Consider throwing on a yellow dress shirt, a striped tie, a pair of dress pants and a big pair of glasses. Then, you can introduce yourself as Dwight Schrute from the television show "The Office." At least 5.4 million people tuned in for the series finale of the show so it's likely at least one person will be a fan.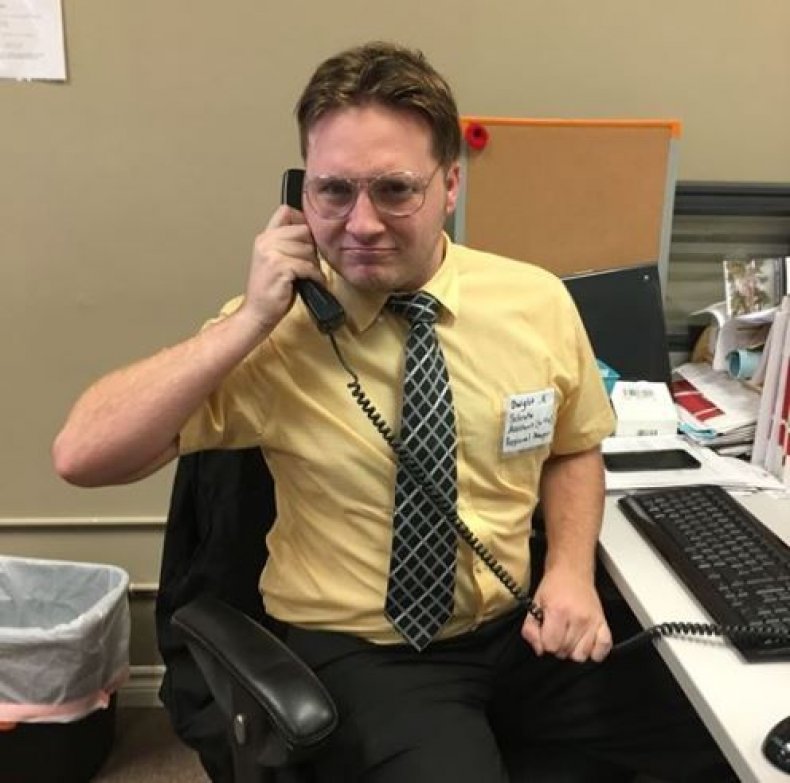 Jordan Mollison, who dressed as Schrute for Halloween at his real-life office, told Newsweek that he chose the costume because he's a big fan of "The Office," and figured it'd be easily recognizable. All in all, it only took one afternoon to pull together.
"The reactions were amazing," he told Newsweek. "I still have friends show other people how good the costume was. We had a contest at work for the best social media likeability and by the end of the day I had about 100 people like the photo, as well as, several people saying how much they liked it."
Cactus
Your friends are coming in 20 minutes and all you have to make a costume are a green sweater and pipe cleaners left over from a random project you did years ago. Surely there's nothing you can make with just that, right? Wrong. Poke a few of those pipe cleaners through your sweater so they're little spikes and you are now a cactus.
Rooster
Just because it's the last minute and you don't have a thing to wear doesn't necessarily mean you don't value a great costume. Maybe you were simply preoccupied with other things or had so many great ideas for costumes you had trouble choosing one.
If you have a pair of yellow rubber gloves, white clothing, a white feather boa and red felt you can attach to a headband, you can become a rooster.
Wrap the boa around your waist or if you aren't attached to the white shorts you're wearing, use a hot glue gun to secure the boa around your waist. Then, cut a piece of red felt and attach it to a headband and slip those gloves onto your feet.
Scuba Diver
One of the best parts about being a scuba diver for Halloween is that you could likely pick up the finishing touches on your way to wherever it is you're spending the spooky day. All you need is a pair of black leggings, a black long sleeve shirt and a pair of goggles. For a little added pizazz, you can also don a pair of flippers.
Scrabble letter
There are some people that just can't get into the Halloween spirit and would prefer if no one dressed up at all. Don't worry, there's even a costume for those kinds of people, a Scrabble letter. Just grab a piece of cardboard, draw a giant letter on it and put a number in the corner. Then, you can either attach it to your t-shirt with a bit of Velcro or use string to hang it around your neck. In case you're a stickler for accuracy, here's a list of what each letter is worth:
A, E, I, O, U, L, N, S, T, R: 1 point
D, G: 2 points
B, C, M, P: 3 points
F, H, V, W, Y: 4 points
K: 5 points
J, X: 8 points
Q, Z: 10 points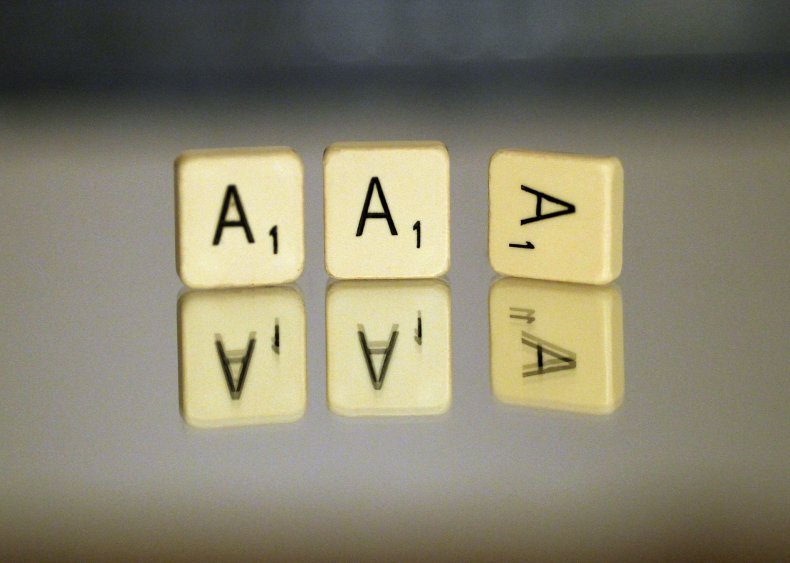 The Sims
Admittedly, this costume requires some planning. Well, at least 30 minutes worth. Brittany and Brandon Petry take Halloween costumes seriously and have become known for winning costume contests. To transform themselves into The Sims, characters from a computer game, the couple used thick, green construction paper they had lying around the house and wire.
"I welded and bent silver bailing wire to make the headband, rod and diamond frame," Brandon told Newsweek. "Then, [we] used the green construction paper to skin the frame."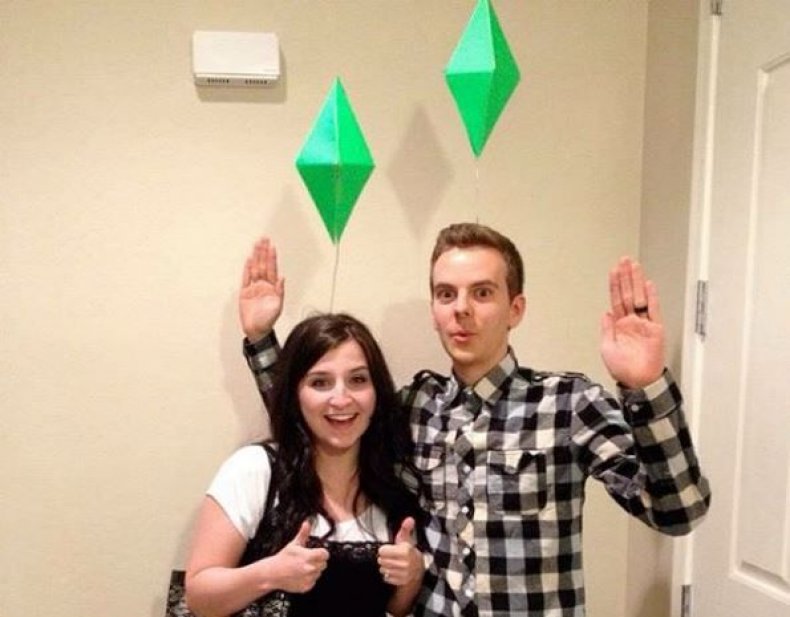 If you aren't as construction savvy as Brandon, you could purchase a headband and some silver pipe cleaners and apply the same concept with a hot glue gun.
Brittany said their costume was a "hit" that got them attention and laughs all night. Now, even years later, they're still getting accolades online.
"Almost every year we have friends calling [or] texting us saying they've seen us on Pinterest or on a blog or someone's costume website," Brandon said.
Another way celebrity makeup artist and hairstylist Arianna Chaylene Blean suggested procrastinators get into the Halloween spirit at the last minute is with a bit of simple makeup. On Tuesday, she posted several looks on Instagram and told Newsweek that the reaction has been "great."
"Halloween is my favorite holiday, so I love getting to create fun looks," Blean explained. "This is the best time of the year to think outside the box, have fun with makeup, and do looks you wouldn't normally want to try."
Among the looks she posted were a cat, a victim of a tiger scratch and IT the clown from Stephen King's book. Admittedly, the IT look she created could take about half an hour, but all a person needs to recreate it is some red lip liner and red lipstick paint.
To transform yourself into a cat, which Blean told Newsweek is one of the easiest looks, she suggested someone grab a fun wig and cat ears.
"You could be out the door in a few minutes," Blean explained.
While not everyone is a celebrity makeup artist, Blean told Newsweek that the looks she included in the post are ones that you don't have to be a professional to achieve. The tiger scratch may look complicated, but Blean posted that you just need dark red eyeliner to outline the scratches and then dark red and maroon eyeshadow to fill in the lines.
Some people wait all year for Halloween so they can break out their very best costume, which they may have been planning for weeks. Fortunately, for those who find the spooky holiday creeping up on them, there's more than one great costume that can be thrown together right before leaving the house.