Last Missing Person From Devastating Colorado Wildfire is 91-Year-Old Woman
Nadine Turnbull, 91, is believed to be the last person missing two weeks after the Dec. 30 fire that devastated Colorado, destroying about 1,100 buildings and causing an estimated $513 million in damage.
Officials confirmed Friday that they were still searching for a missing person but declined to provide a name, but relatives of Turnbull have spoken to local media and confirmed to The Associated Press that she is missing.
The 91-year-old lived with her granddaughter on a plot of land where she had lived for decades, according to KCNC-TV. The pair lived on the land with a few dogs, goats and horses, a family friend told the AP.
KCNC reported that the fire started a few miles from Turnbull's home, and a neighbor told the news station that he lived on the next property in an RV with his family. The neighbor said he tried to help Turnbull escape on the day of the fire.
"When it hit our house it was like a freight train. It was a wall of fire," Scotty Roberts, Turnbull's neighbor, said. Roberts told KCNC his family lost their home in the fire that tore through Boulder County.
Roberts said when every structure on his property was on fire within about 20 minutes, he knew they needed to evacuate and realized Turnbull's property nearby was likely in a similar state.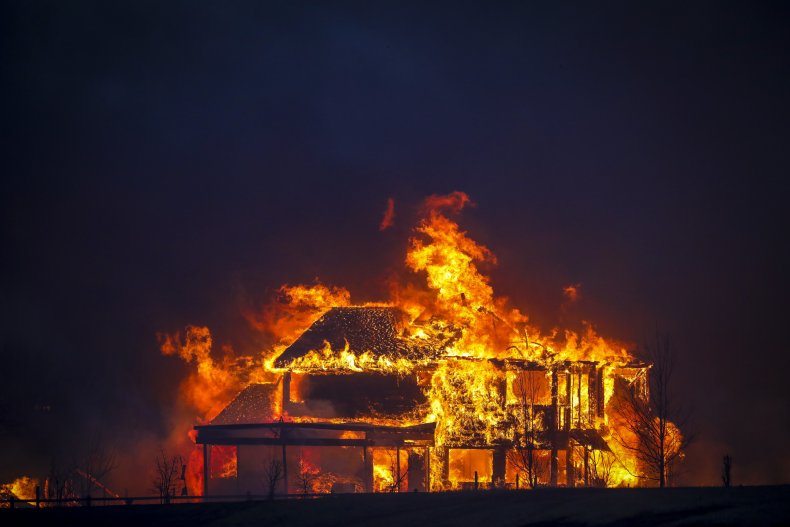 On his way to Turnbull's home, Roberts said he flagged down a sheriff's deputy and told him an old woman lived down the road and likely needed help.
The men arrived and got Turnbull's granddaughter Layla out of the home, but opening the door to get her out caused a rush of oxygen that swept more fire over the house, Roberts told KCNC. The sheriff's deputy said it was too dangerous to go back, but Roberts said he couldn't stop trying and didn't blame the other man for leaving.
When Roberts tried to help Nadine Turnbull out of the house, he said the woman's dogs, attached to her hands by their leashes, had gotten tangled around a table.
"She was tethered to the dogs that were wrapped around the table, and I couldn't pull all of them and the table with me at the same time," Roberts told KCNC, fighting back tears and visibly shaking while recalling the incident. "And when I come back up like this I fell off the step and hit the truck, and there was just fire everywhere, and I just couldn't breathe no more, and I just looked, and I said, 'I'm sorry,' and I ran, and I couldn't go back into the fire."
Roberts said the fire had gotten too large and he was forced to leave, but he still feels guilty as his neighbor and friend is still missing two weeks later.
Turnbull's great-granddaughter and other relatives have spoken to KCNC and The Washington Post about their frustration with the lack of information from investigators, and the pain that comes with not knowing what happened to Turnbull.