Is This the Last Stand for Hamas?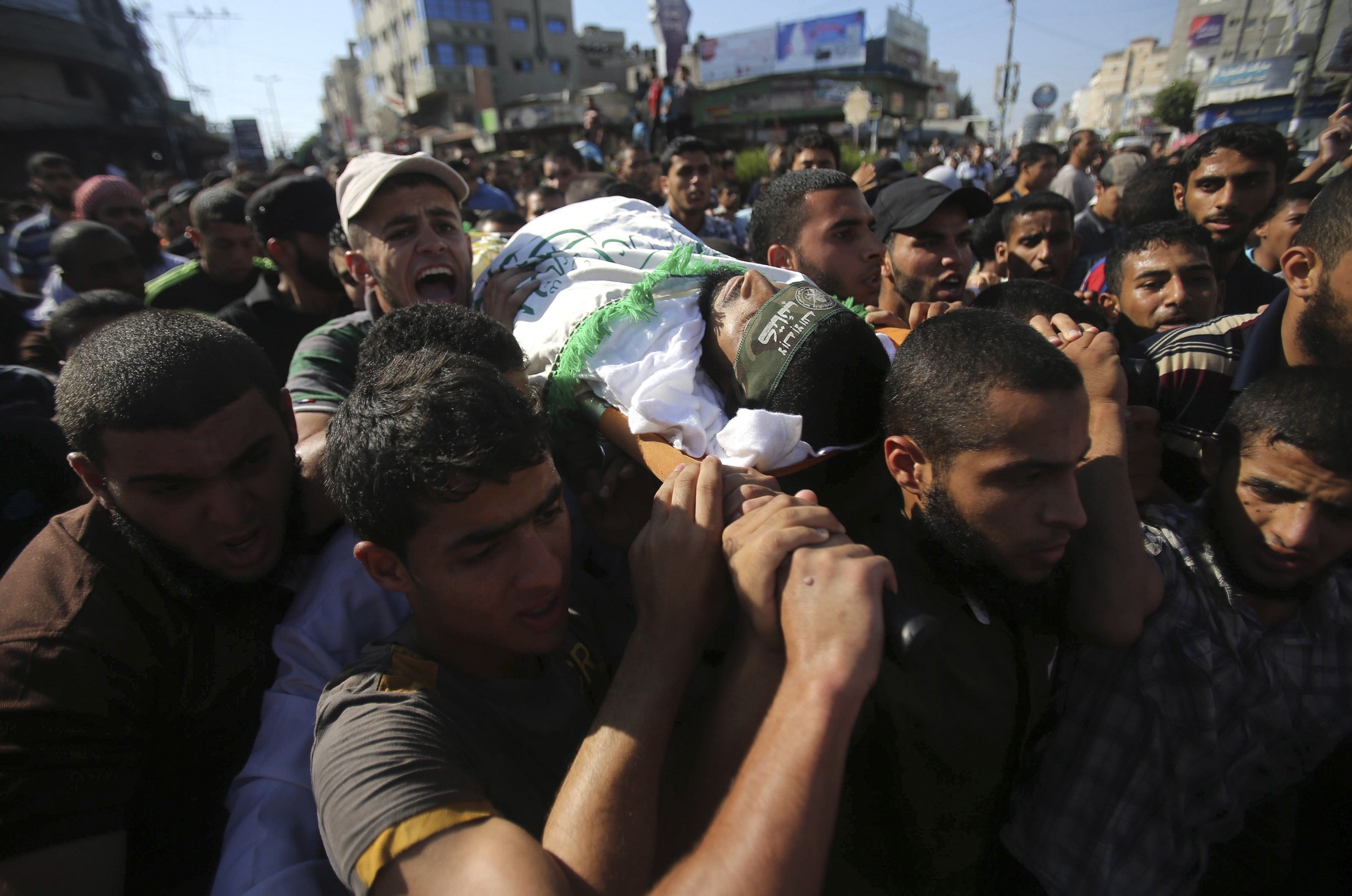 Can Hamas survive the latest onslaught in Gaza? The terrorist organization has clearly learned from past confrontations and is trying to hone its military abilities in the current exchange.
But as the confrontation heats up, questions are being asked about the organization's capabilities and to what extent its recent loss of support from outside Gaza has weakened it.
As rockets launched by Hamas fighters in Gaza start to reach the highly populated area around Tel Aviv, and as Hamas operatives attempt to infiltrate Israeli towns, officials in Jerusalem say the military incursion into Gaza is intended to change Hamas's calculations so the terrorist group will be less likely to attack in the future.
"The goal is to reach zero rocket shootings and attacks from Gaza," said Israel's defense Minister, Moshe Yaalon, in southern Israel. "We started from the air and will continue as required." But Israeli sources remain hopeful that despite the recruitment of tens of thousands of Israeli reservists, no ground operation will be necessary.
Abu Obeida, a spokesman for Az A-din al Kassem, the Hamas military wing, said that as long as the "occupation's aggression" continues, Hamas will escalate its rocket assaults. He laid out the organization's conditions for a ceasefire, listing several Israel is unlikely to accept.
Meanwhile, millions of Israelis—including the easy-going beachgoers of Tel Aviv and its environs, Israel's most populous region, as well as those living in the outskirts of Jerusalem—braced themselves for a hot night of red alert sirens signaling the arrival of incoming rockets from Gaza.
"I call on you to exhibit patience, because this operation could take time," said Prime Minister Benjamin Netanyahu, explaining the "significant widening" of the Israeli military operation. Nevertheless, Israeli analysts said they were skeptical that a long operation was possible, as international pressure to bring the Israeli action to a swift end is mounting.
As of yesterday, nearly two dozen Gazans had been killed as a result of Israeli attacks, including a family of seven in Khan Yunis. Israel is trying to avoid civilian casualties, said Peter Lerner, an Israeli Defense Forces (IDF) spokesman, but Hamas is increasingly using civilians as human shields. For that reason, he said, "the hourglass is ticking" on the Gaza operation.
Operation Protective Edge (called "Solid Rock" in Hebrew) was launched Monday by the IDF in response to a significant increase in rocket attacks on Israel's southern cities. The uptick in the rocket launches came after the Israeli Air Force destroyed a tunnel Monday that Israeli sources say was being planned by Hamas to infiltrate Israel and used perhaps to kidnap Israeli soldiers or civilians. Six senior Hamas operatives were reportedly killed in the tunnel.
While the attempt to infiltrate Israel through the tunnel was apparently unsuccessful, it exposed a new tactic, rarely used by Hamas in past confrontations. This coincided, on Tuesday, with a Hamas naval commando unit trying to invade Zikim, an Israeli kibbutz near Gaza's border. After a short battle, all four members of the Hamas unit were killed.
Later, another Hamas group reportedly attempted to enter Kerem Shalom, another kibbutz near the southern border with Gaza. At the time of writing, it was not clear how that attempt by Hamas to penetrate Israeli territory ended.
Simultaneous attempts to Infiltrate Israel is not the only new Hamas tactic. The Monday salvo on southern towns showed that Hamas is trying to learn the lessons of its 2012 confrontation with Israel. Iron Dome, the sophisticated missile-intercepting system developed by Israel and the United States, managed at that time to blunt much of the damage from Hamas rocket attacks. As top military analyst Ron Ben Yishai notes on Y-net, Hamas decided this time to shoot large salvos of rockets at a single target all at one time, hoping to overwhelm Iron Dome, which identifies launches and quickly calculates where a warhead would hit.
If true, it is doubtful Hamas has enough long-range rockets to seriously threaten the central area of Israel. On Monday, Hamas apparently attempted to similarly overwhelm the Iron Dome system in Israel's center. But so far, and despite numerous reports of warning sirens and launched missiles around Tel Aviv and Jerusalem, Iron Dome has intercepted all incoming rockets, with no Israeli damage reported.
Meanwhile, Hamas leaders have learned yet one more painful lesson from 2012. Israel's targets in Gaza consist mainly of the houses, and at times the traveling vehicles, of senior military leaders. In Khan Yunis, the Air Force targeted a home of the Kuwara family, whose head is one such Hamas military commander. It reportedly alerted family members minutes in advance of the attacks, sending phone messages urging members to leave the house. Nevertheless, the bombing ended up killing several women and children.
All of which may raise doubts about whether Hamas's current rocket campaign can be sustained and whether their latest assault upon Israeli forces can succeed.
The reason the terrorist group Hamas joined in May with the Palestinian Authority's president, Mahmoud Abbas, was mostly because of its weakness. After losing one of its main backers, Syria, whose government is tied up with fighting rebel insurgents, Hamas's top leaders relocated from Damascus to Qatar. Meanwhile Gaza, where Hamas rules and has its main military presence, suffered a major blow from a power shift in Egypt, where the government of its parent organization, the Muslim Brotherhood, was overthrown by the army.
Egyptian president, former general Abdel Fattah al-Sisi, has outlawed the Brotherhood and ruthlessly arrested and killed its leaders. He has closed down the Rafah border crossing between Egypt and Gaza in the southern tip of Gaza, which he only allows open for short periods and solely for humanitarian purposes. The Egyptian army have also systematically destroyed the illicit tunnel network that is Gaza's supply lifeline, where goods from flour to Mercedes Benz cars and arms of all kinds were smuggled in.
Consequently, Hamas has lost much of its prestige inside Gaza. Even after the Hamas/Fatah agreement was signed in May, Abbas refused to allow funds from Qatar to reach Hamas officials in Gaza. Salaries have not been paid for months, and competing factions have started fighting over their dwindling financial resources.
Meanwhile, in the aftermath of the kidnapping and killing of three Israeli teens, the IDF went after the Hamas infrastructure in the West Bank, at times with the tacit assistance of Abbas's forces. The IDF have arrested hundreds of Hamas operatives, closed down its charities and frozen its bank accounts. Hamas, which had hoped for political resurgence in the West Bank after the unity agreement with Fatah, instead had little recourse but to retreat back to Gaza. One of the major reasons for the current unrest, therefore, seems to be Hamas's decision, under duress, to "go all in," as the president of the Dayan Center in Tel Aviv University, Uzi Rabbi, told Israel Radio.
What the current operation would decide is whether that bet will turn Hamas's fortunes around, or deal a major blow to its claim for Palestinian leadership.