John Oliver returned to his post on Last Week Tonight on Sunday and delivered a few harsh words about policing in the United States and President Donald Trump's volatile response to protests over the death of George Floyd.
Protests turned to riots across the nation in cities including Minneapolis, Washington D.C., New York City, Chicago, Atlanta and several others in light of Floyd's killing by a white police officer in Minnesota last week which resulted in Trump giving local and state governments the green light to enforce military resources to regain control over protestors.
Trump's rhetoric towards those demanding justice for Floyd's death also became more aggressive after he referred to protestors as "thugs" in a Tweet on Thursday and referenced a racist quote—"when the looting starts, the shooting starts"—which was first offered by Miami Police Chief Walter Headley during a December 1967 news conference about Civil Rights protests in the south.
"These THUGS are dishonoring the memory of George Floyd, and I won't let that happen. Just spoke to Governor Tim Walz and told him that the Military is with him all the way. Any difficulty and we will assume control but, when the looting starts, the shooting starts. Thank you!" Trump wrote.
Twitter tagged the post, noting that it violated the network's rules against glorifying violence.
According to Oliver, it was very obvious who Trump was referring to when he referred to protestors as "thugs."
"When a man like Donald Trump uses the word 'thugs', you know exactly what it's code for," the late-night host suggested.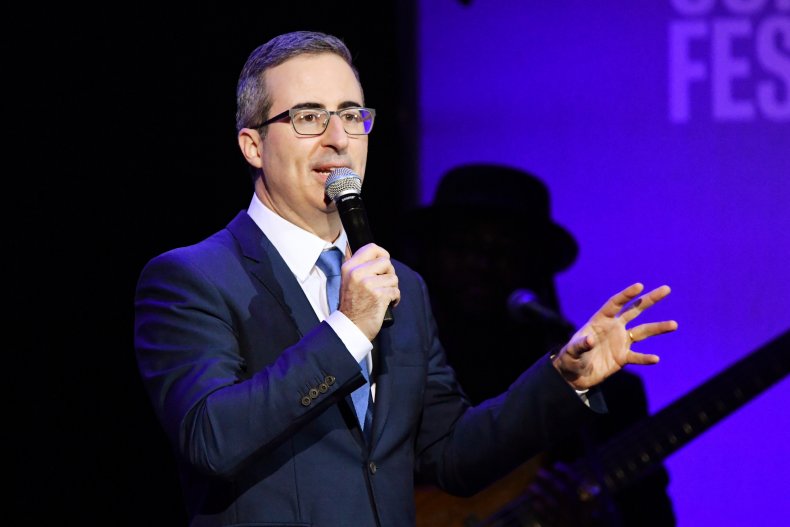 He added: "It is truly astounding how Donald Trump has managed to live 74 years with a remedial understanding of spelling, grammar, geography, science, civics, nutrition and child development and yet he's the f**king Library of Alexandria when it comes to racist maxims of the 20th century."
Oliver was none too surprised by the outrage Floyd's death sparked and mused that the wave of ongoing protests across the country were a just response to a police force "built on the legacy of white supremacy that prioritizes the comfort of white Americans over the safety of people of color."
Floyd, a black man from Minneapolis, died in police custody last week after an officer, Derek Chauvin, kneeled on Floyd's neck for approximately 8 minutes and 46 seconds while three other police officers stood by. Floyd's death was captured on video and was circulated heavily on social media.
All officers involved have since been fired from their positions while Chauvin was charged with third and second-degree manslaughter charges on Friday.