The True Story Behind 'Last Week Tonight's' Rat Erotica Painting
John Oliver, host of Last Week Tonight, is on the hunt for rat erotica.
Broadcasting from his home—in compliance with best practices for halting the spread of the novel coronavirus COVID-19—the Last Week Tonight host ended his March 29 episode with a segment based on a 1992 TV art auction aired by central Pennsylvania NPR and PBS media partner WITF.
"If you are worried you might be running out of content that can help you mentally escape, then you're actually in luck, because I was recently introduced to one of the greatest pieces of television ever broadcast and it begins like this," Oliver said, introducing the clip after a far more serious segment about the ongoing response to COVID-19.
"Thank you all very much for being here and welcome to the 1992 edition of Gallery 33," the WITF host says at the clip's beginning, "this annual event when we celebrate the richness of the artistic talent of the south central Pennsylvania area."
Next, the clip cuts to the auction of Lot #71, a watercolor titled "Surfacing," by the local artist Brian Swords, which depicts two white rats leaping from the water. One of the rats is wrapped around the waist of the other, in a pose suggestive of oral sex.
"Brian Sword's work sells absolutely marvelously here are on Gallery 33," the commentator says, describing the painting. "His cartoon characters are delightful and I think he lets us each imagine whatever we'd like to with these things. These two rats are jumping up out the water."
Oliver responded with incredulity. "Are they? Are they, though? Are they really jumping out of the water? I guess that's the beauty of Brian Swords' work, like all great art, it's open to interpretation," Oliver says. "That woman might see two rats jumping out of the water, while I see one rat absolutely dining out on that other rat."
"This is a blast from the past for me," retired WITF senior vice president Mike Greenwald told Newsweek in a phone interview. In 1992, Greenwald was WITF's vice president of development and executive producer for their on-air auction. "The person you see on the screen in that John Oliver segment is me, minus a few years and more hair."
Like many public television stations, WITF used auctions as part of their on-air fundraising, featuring merchandise from local businesses, including gift certificates, home renovations and other services, in addition to the works of local artists. WITF's auction ran from 1969 to 2005. Its art auction became a staple event, adopting the name Gallery 33 after their television channel number.
Several other Swords' watercolors, revealing further explicitly erotic imagery, were auctioned off during the WITF segment, heightening the contrast against the sedate and inexplicit descriptions offered by the Gallery 33 host and commentators. Additional works include a watercolor titled "Sheets and Pillowcases," which was assigned a value of $75, and a painting featuring two rats in a hot tub together titled "The Smell of Wet Fur."
"Brian has sent us another piece that we know is going to sell like hotcakes," the Gallery 33 commentator announced, continuing to pretend the paintings were playfully open to interpretation instead of obviously erotic. "His work is just admired and collected by lots and lots of people. It's the kind of thing that you read it for what it says to you. Very delightful, very delightful."
"I don't think any of us did not recognize what was being depicted, but we also had to present the work in a respectful way without making any commentary about it," Greenwald told Newsweek. "The big joke was if you didn't have anything better to say, you could say, 'Well, it was nicely framed.'"
But its Swords' final auction offering that most excites Oliver, prompting a nationwide hunt for the painting and its buyer.
"Every artist eventually paints their masterpiece and 'The Smell of Wet Fur' isn't even Swords of York at the height of his talents. For that, I give you #Lot 735," Oliver says, introducing a 24-inch-by-18-inch watercolor titled "Stay Up Late."
"Stay Up Late" depicts two rats entangled in a late night embrace in a candlelit bedroom, with a dripping dispenser of K-Y lubricant featured prominently in the background.
Citing how much the painting lifted his spirits while in coronavirus isolation, Oliver put out an unusual offer in an effort to obtain the painting and include it as part of his improvised at-home Last Week Tonight set, which is currently little more than white wall.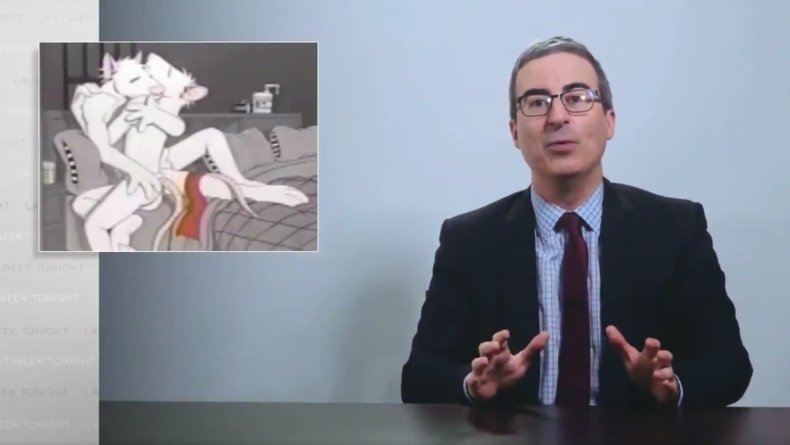 "Let me be clear: I want 'Stay Up Late' by Brian Swords of York. I know someone bought it in 1992 for $80. I also know everything has its price. So I'm offering the current owner, whoever you are, $1,000, plus a donation of $20,000 to the food bank in your area. This is real," Oliver said. "So if you own this masterwork or you know the lucky person who does, please email John@JohnOliverWantsYourRatErotica.com (a URL that was disappointingly available)."
The buyer of "Stay Up Late" has yet to step forward. A spokesperson for WITF confirmed to Newsweek that the station doesn't have records of purchasers from their Gallery 33 art auction series. However, the artist, Brian Swords, is a known quantity in the furry art scene, with substantial listings on WikiFur and other online art venues.
"As the years went by, I started going further with both [the male rat] Bob's junk and the explicitness of the poses," a furry artist working under the name Biohazard—who appears to be Swords—said in a 2015 interview with the furry news site Dogpatch Press. "The paintings always sold well, even though WITF consigned them to late-night showings. Finally, in 1993 I went too far (at least in the opinion of several viewers), and complaints were phoned in. The rest of my works were pulled and returned to me, and I was told that no more genitalia would be permitted and the poses would have to be toned down. This pissed me off royally."
"They kept getting edgier and quite erotic, but for a long time they were making political statements more than anything else, I recall. But then they became more erotic and we began getting phone calls from people," Greenwald told Newsweek.
Concerned for both their FCC license and the family audience drawn to the art auction, WITF and its panel committee of local artists eventually adopted policies against the on-air sale of erotica. It was members from that same panel of artists that provided the on-air "color commentary" for the artwork.
Greenwald confirmed that Swords' work sold well at auction. "There seemed to be, to our surprise, a lot of bidding on them," he said. "I couldn't tell you if there were many, many people bidding on them, or sort of a coterie of people who were bidding on them. I don't know."
Values were set by the creator of the work, with bidding beginning at one-third of their self-valuation, meaning that Swords priced several of the pieces featured on Last Week Tonight at $225.
Biohazard worked in a long tradition of anthropomorphic adult comics, naming as an influence "Omaha" the Cat Dancer, by artist Reed Waller and writer Kate Worley, which debuted as a comic strip in the underground comix of the late 1970s and ran as an ongoing soap opera-style comic book series from 1984 to 1993.
"From the beginning, my art featured various anthropomorphic animals (foxes, sheep, horses and rats), but by 1988 I had settled on two particular rat characters, Alice and Bob," Biohazard told Dogpatch Press, citing the 1982 animated film The Secret of NIMH as a major influence. The characters' names, Bob and Alice, were inspired by a photograph he had purchased at a WITF art auction named after the 1969 movie Bob & Carol & Ted & Alice.
"The rat pics drew much higher bids than my previous stuff and viewers (obtaining my contact info from the station) started writing and calling me at home and requesting commissions. That's when I knew I had found something that clicked with the general public," Biohazard said.
Newsweek has reached out to Swords with additional questions about his paintings featuring Bob and Alice, further asking whether he would consider a new work commissioned by John Oliver, but did not hear back in time for publication. Far more erotic examples of Swords' artwork, including additional entries in the Bob and Alice series, can be found online.
"Because I want that piece of art hanging behind me on this wall next week, and if I don't get it, I will keep looking for it, because this is America, where, sure, you can't get a test for COVID-19, or Purell, or a ventilator, or a sense of empathy from the person in charge, but if you try hard enough, damnit, you can get a picture of two rats locked in a passionate post-f**k embrace hanging on your wall," Oliver said, closing the Last Week Tonight segment. "You have to still be able to get that. That is what this country is all about. If we give that up, we're basically just France. Please, find the painting and email me."
That email again is John@JohnOliverWantsYourRatErotica.com.