For Lasting Climate Change Solutions, It's Time to Listen to Young People of Color | Opinion
Young people of color have a lot to worry about these days. Police violence has us feeling unsafe in our own communities. The lack of adequate job and educational opportunities has us stressed about the future. Racial discrimination has us feeling anxious and unwelcome in public spaces.
With an already long list of serious and even life-threatening issues, environmental justice and the impacts of climate change on our communities seem like just one more existential threat. But this one is different—and while it affects people around the world, it is low-income communities and communities of color who are acutely susceptible to the larger consequences of climate change. Making matters worse, the particular issues that plague our communities, and our solutions to them, are often overlooked in favor of the focuses of well-meaning wealthy white activists. And their remedies often fail to help our communities at all.
Sea-level rise is just one of the issues threatening our communities first and foremost. From the Caribbean and the Gulf Coast to the Maldives and Southeast Asia—our communities are literally the first underwater. The increasing strength of hurricanes and the fact that poor black and brown communities are often centered in low-lying areas have meant that our houses are the first to flood. Meanwhile, the fact that many of these countries and communities contribute comparatively little to climate change, but experience the brunt of the sea-level rise, is unfair yet hardly surprising.
In addition, oil and gas infrastructure, like drilling sites, pipelines and refineries—which have proven negative impacts on health and drive climate change—are typically located in low-income communities and communities of color. From Katrina to Detroit to Standing Rock to Puerto Rico, we have seen that when we resist, we are met with violence, oppression and displacement. And this burden of polluting infrastructure falls on communities of color not only in the U.S., of course, but across the world.
With much attention turning this week to the upcoming U.N. Climate Action Summit and Greta Thunberg's involvement as a youth leader, the time is long overdue to listen to young voices from these disproportionately impacted communities of color. The time has come for us to be recognized as leaders in climate advocacy and solutions.
The environmental justice movement, after all, has its roots in the civil rights, Black Power and Indigenous movements and was initially a response to environmental racism. Communities of color and low-income communities have long been disproportionately exposed to and negatively impacted by hazardous pollution and industrial practices. The mainstream environmental movement, meanwhile, has failed to understand or address this injustice.
The environmental justice movement emphasizes bottom-up organizing, focusing on the voices of those most impacted, and shared community leadership. It is led by an intergenerational army who recognize these threats as existential.
It is important to note that this is not the first time our communities have faced existential threats. We remember colonialism, slavery and the violation of our sovereign lands.
This week, amid all the action on climate change, the largest convening of young people of color working to address the impacts of climate change will also meet in New York City.
Together, at the Climate Justice Youth Summit, we will work to operationalize our Just Transition principles, recognizing that we must build a visionary economy that is very different than the one we now are in. This requires stopping the bad while at the same time building the new. We must change the rules to redistribute resources and power to local communities.
Just Transition initiatives are shifting from dirty energy to energy democracy, from funding highways to expanding public transit, from incinerators and landfills to zero waste, from industrial food systems to food sovereignty, from gentrification to community land rights, from military violence to peaceful resolution, and from rampant destructive development to ecosystem restoration.
Core to a Just Transition is deep democracy—in which workers and communities have control over the decisions that affect their daily lives.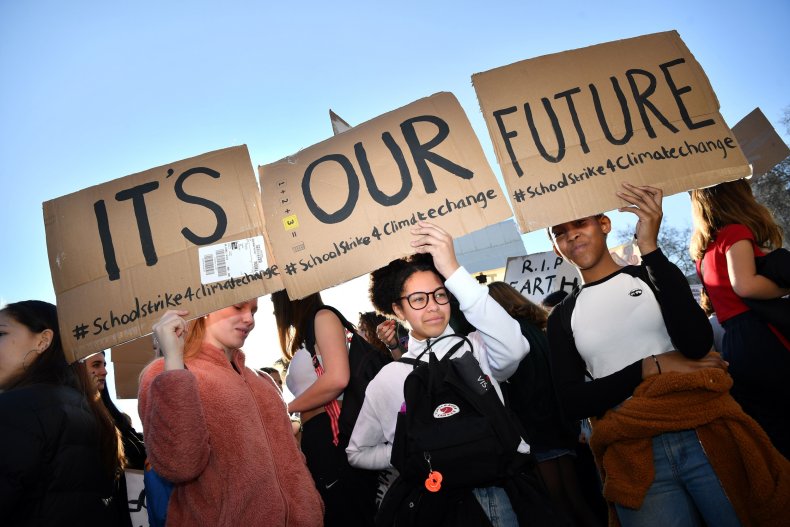 Working through UPROSE, the oldest Brooklyn-based Latinx organization, we have been a part of creating real solutions that will directly affect our neighborhood in Sunset Park. In partnership with other local organizations, we have created the first community-owned solar cooperative in New York state. This means that now our families can afford non-toxic energy and will have a say in how it is run and distributed—and can even profit from it. These frontline-led solutions work.
With climate change and pollution having the greatest effects on our neighborhoods, we have solutions, including plans to reduce carbon emissions and switch to renewable energy sources like wind and solar. We cannot be ignored, or have our communities be sacrifice zones that don't experience the benefits of pollution controls or innovative solutions to limit the impact of climate change.
At the Kheprw Institute in Indiana, our mission is community empowerment through self-mastery where we focus on building the new where young people lead. After an Indianapolis community lost a primary grocery store chain, four of our youth leaders hosted a community forum so that residents could share questions, concerns and solutions. Through the forum, Kheprw launched the Community Controlled Food Initiative, which is a monthly community-led cooperative that provides fresh food while supporting local farmers.
As frontline youth, we have been raised to be flexible and adaptable to survive. This allows us to understand that the solutions to our climate emergency may not look the same everywhere, but we know that these solutions should be rooted in the communities that are affected by them. They should be rooted in repairing rather than exacerbating historical harm. They should be rooted in building a future for our communities. A future where we will all thrive.
Nyiesha Mallet is an 18-year-old climate justice youth leader and artist at UPROSE, in Brooklyn, New York, where she has been organizing since she was 14. In 2017, she spoke at the People's Climate March.
Asli Mwaafrika a 17-year old environmental justice youth leader at the Kheprw Institute in Indianapolis, Indiana. She recently helped create a food co-op using alternative gardening in the Prek Toal Floating Village in Cambodia.
Both are attending the Climate Justice Youth Summit in New York City this weekend.
The views expressed in this article are the writers' own.