Late NY Jets Blunder Leads to Winless Record, Endless Ridicule
The defensive call by the New York Jets at the end of their Sunday game against the Las Vegas Raiders left many folks scratching their heads. The Jets, looking for their first win of the 2020 season, held a four-point lead and had the Raiders on the ropes.
With 13 seconds on the clock, and the Raiders without timeouts and needing a touchdown, the Jets called a blitz, leaving its secondary in man coverage. Raiders quarterback Derek Carr sifted through the oncoming defenders and slung the ball down the left sideline, hitting rookie receiver Henry Ruggs III. Right. In. Stride.
Ruggs caught a 46-yard touchdown to give the Raiders their 31-28 win. It sent the Jets to an 0-12 record, with four games remaining in the regular season. It kept the Raiders' playoff hopes alive as they improved to 7-5, which is second in the AFC West division but one spot away from the final AFC's wild-card spot.
Jets safety Marcus Maye had issues with the defensive call, and he thought Jets defensive coordinator Gregg Williams could have dialed up a better play.
"I just felt like we could've been in a better call in that situation," Maye said after the game.
Jets coach Adam Gase, who fell to 7-21 as the team's coach, said players on his team "work too hard" to lose a game like this.
"Our guys work way too hard to go through this s---," Gase said after the game.
Carr was even amazed that the Jets would send a blitz in that situation.
"I couldn't believe they all-out blitzed us," said Carr, who threw the ball around the yard for 381 yards Sunday.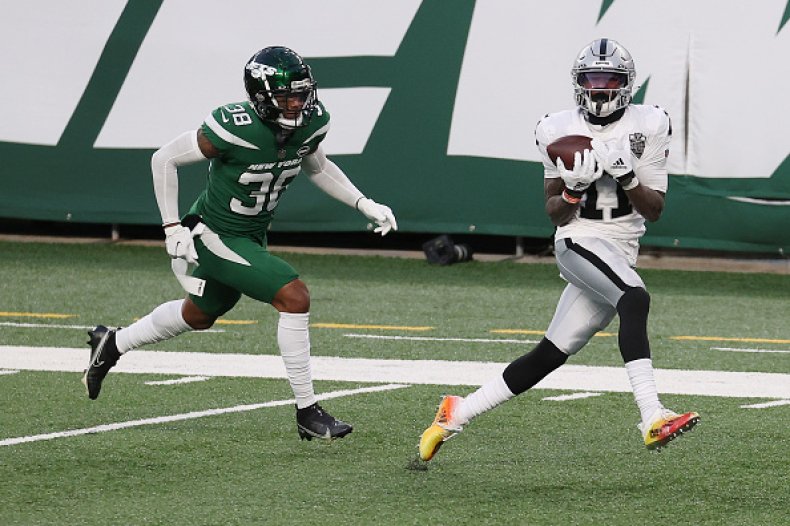 As NBC got ready to carry the 'Sunday Night Football' game, NBC analyst and former coach Tony Dungy said it was a bad call.
"I still can't believe that," Dungy said. "Protect the end zone, please!"
Analysts on the NBC Sunday night pregame show said the Jets should have practiced against late-game maneuvers, but that it wasn't apparent.
The late loss by the Jets sent its fans, NFL observers and, New Yorkers in general, skeptical of the team and perhaps a willingness to have the NFL's worst record so they could have the No. 1 draft pick in a few months. Clemson quarterback Trevor Lawrence tops most draft boards as of now.
Here are things folks are saying: