What You Missed on Late Night: Jimmy Kimmel Makes Focaccia and Jimmy Fallon Jams Out With Jennifer Garner
Late-night hosts continued quarantining at home on Thursday, but they got a bit creative with their methods.
Jimmy Kimmel was still hiding from his kids in his home office, while Jimmy Fallon completely changed locations. Fallon shot his at-home Tonight Show monologue from his front porch, and showed off his dad skills by attempting to build a tent for his daughters in their yard.
Check out a few of the best moments from last night's late-night below.
Jimmy Kimmel Live!
Over on his hideout couch, Kimmel introduced his newest sponsor: the "often forgotten but never disappointing" legume lentils. Although the late-night host may be going a bit stir crazy from being trapped at home, telling viewers, "I just want to be out of this house before Blue Ivy [Carter] goes to college," he's been making the most of his time by baking focaccia bread and gearing up for "Formal Fridays"—a new effort his wife, Molly McNeary, has started in which the family gets dressed up in their best attire to eat a nice dinner together.
It will be the first time he's worn pants all week, Kimmel admitted.
He encouraged everyone at home to join his family in the Friday night event by sharing their dressed-up dinner pics on social media and including the hashtag #FormalFriday.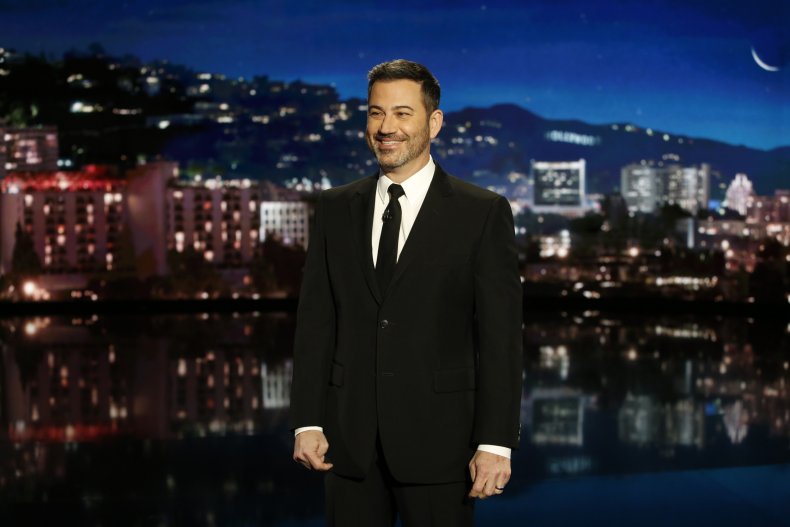 The Kimmel family's new movement should be a good way to keep the host's mind off of President Donald Trump's "terrible" handling of the coronavirus pandemic. He couldn't hide his frustrations as he ripped on the commander and chief.
"Today he tweeted, 'We are going to WIN, sooner than later.' What does that even mean? What are we going to win?" Kimmel asked. "We can't even find eggs! What are we winning?"
On a brighter note, Kimmel's friend, comedy great Julia Louis-Dreyfus, made an appearance on the web show and admitted all this cooking at home was "irritating the hell out of me." Louis-Dreyfus is stuck at home with her husband and two young-adult sons, who only wanted health-conscious meals when all she wanted to do was bake an orange cake.
Kimmel's chosen charity of the night was the Feeding America food bank.
The Tonight Show Starring Jimmy Fallon
Sadly, there were no sightings of Fallon's adorable daughters, Winnie and Fanny, during his Thursday monologue—but we did get to watch Fallon as he attempted to set up a tent for the girls in their yard. While the last few monologues have been shot inside Fallon's home, the host took his YouTube show out to his front porch and even gave the production a little upgrade by providing his own applause and laugh tracks.
After a few rounds of jokes and reading the responses from his recent hashtag challenge, #MyQuarantineInSixWords, Fallon welcomed his web-guest, Jennifer Garner, who introduced the charity of the day, Save With Stories. The initiative, which is a part of the Save the Children organization, allows adults to read to children via the web to help keep kids busy and entertained while they're away from school.
While quarantining, Garner's been putting her kitchen to use—which is no surprise if you follow her on Instagram—and even made her own hamburger buns from scratch. Fallon also convinced Garner to pull out her saxophone for a little joint jam session. The duo also encouraged viewers to throw little at-home parties of their own while social distancing.