What You Missed on Late Night: Nancy Pelosi Says 'How We Go Forward Has to Have Transparency and Accountability'
There was plenty to drink up on the late-night television shows Thursday as hosts welcomed a number of guests. Of course, there was lots of talk about the coronavirus crisis that's sweeping the nation.
On his show, Stephen Colbert enlisted Speaker of the House Nancy Pelosi to shed more light on how the Defense Production Act can help. Meanwhile on The Daily Show, Bill Gates addressed the many coronavirus conspiracy theories he became now entangled in thanks to a TED talk he gave years ago.
Get the full rundown of the best moments from the talk shows last night below.
The Late Show With Stephen Colbert
Democratic House Speaker Nancy Pelosi took on topics like the Defense Production Act, stimulus plan provisions and a new coronavirus oversight committee on The Late Show.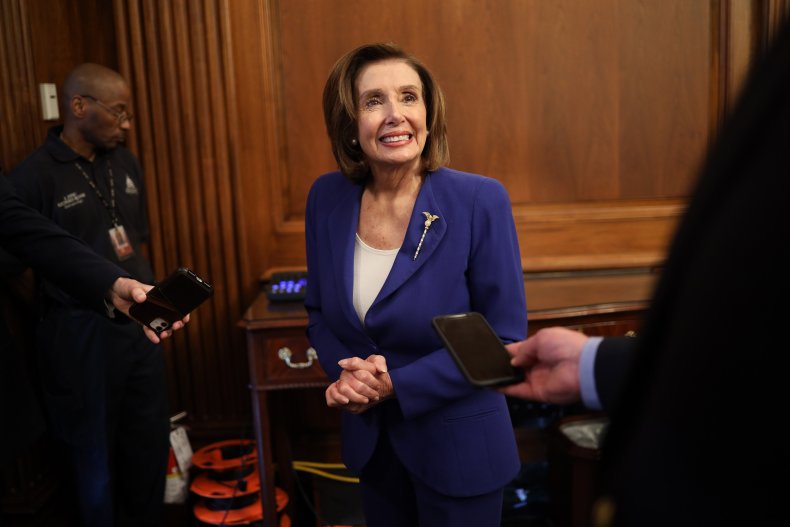 The new House Committee is modeled after an investigative committee established by former President Harry Truman in the early 1940s that monitored war profiteering and waste. By creating a similar front at the height of the coronavirus pandemic, Pelosi said she hoped to address any monetary mismanagement as it occurs as opposed to circling back and investigating inefficiencies later.
"It is modeled after [the Harry Truman Committee] to say in the here and now, how we go forward has to have transparency and accountability. Any profiteering, waste fraud, abuse and all the rest, we want to address in the here and now," Pelosi said.
Pelosi also touched on the idea of a national stay-at-home order that would potentially force all Americans to self-isolate in an effort to flatten the curve. But she couldn't understand why President Donald Trump hadn't called for one, or why some governors hadn't issued an order in their states.
"Well, you know, it works, and we see it working around the country and I hate to even think of how much worse this would be without it. And why the president doesn't do the Defense Production Act, why he doesn't call for everyone, you will have to ask him about that," she said. "But it is curious to hear some of the—I don't know if you call it rationale—some of the governors who have not implemented this. Not only is it harmful to their own people, but again it contributes to the spread of the virus, which is harmful to everyone."
The Daily Show With Trevor Noah
Noah's first order of business was to clear up all the conspiracies floating around the web regarding Bill Gates' prediction of a lethal virus. The tech magnate gave a TED Talk about the next outbreak back in 2017, and it seems as though many of his theories have now come true. Because of this, some people believe Gates invented the virus to prove himself right or that he knew it was coming.
Gates said he didn't know coronavirus specifically would arrive in late 2019 when he gave the talk. But he noted the whole point of the speech was to "encourage governments to make the investments so we could respond very quickly and keep the case numbers very, very low."
"Sadly, this is not a case where, you know, I feel like, 'Hey, I told you so,' because we didn't use that time when it was clear as the biggest threat to killing millions of people to have the diagnostics standing by, to be ready to ramp up a vaccine factory," Gates said. "A few things were done... Our foundation funded some work that will help with the vaccines now will help with the diagnostics. But most of what was called for—particularly in a New England Journal of Medicine article that I did that went into way more specifics than I could in a short TED talk—those things didn't get done."
Late Night With Seth Meyers
On Meyers' signature segment, "A Closer Look," the late-night host gushed over the way various other countries have handled the coronavirus, including Taiwan's intense airport health checks and apps for finding masks; Iceland's coronavirus detective squad that's literally tracking every single case of the virus there; and South Korea's aggressive nationwide testing.
Meanwhile, his feelings for the U.S.' response to the outbreak were still just as bleak as ever, especially after Trump revealed he hadn't heard about the lack of testing available in the states. despite the many governors and health officials' cry that they need more and better testing options.
"If you haven't heard about testing being a problem, then you need to get tested to see if you have a problem, like a hearing test or a vision test," Meyers cracked. "I mean, maybe Trump just can't read his briefings. Look at him. Whenever he reads off the teleprompter he looks like he just finished 15 rounds with Apollo Creed."
Meyers was also peeved with the Trump administration's failure to address the needs of the hospitals. "For example hospitals desperately need life-saving ventilators, and yet the president doesn't even know what they're called," Meyers said before cutting to a clip of Trump referring to ventilators as "generators."
"Now Trump should have used his powers under the Defense Production Act to order companies to make ventilators weeks ago, but he's only done it once during this pandemic even though his administration has apparently used it repeatedly before this," Meyers continued.
Jimmy Kimmel Live!
Clearly suffering from a severe case of FOMO after learning that many of his co-workers were holding weekly happy hours via Zoom without him, Kimmel enjoyed a Thirsty Thursday of his own and brought on his buddy Guillermo Rodriguez, who taught everyone how to make a delicious cocktail that consisted of nothing but a bottle of liquor and a straw.
While not surprised, Kimmel couldn't help but notice the surge in alcohol sales since everyone was ordered to shelter-in-place.
"Sales of alcohol—since we all got put under house arrest—have skyrocketed," he said. "The experts have attributed this spike in sales to the fact that everyone is now drinking all the time. You know, we all used to think Kathie Lee [Gifford] and Hoda [Kotb] were nuts drinking at 10 a.m. every day. Now we are Kathie Lee and we are Hoda. So drink up America. And remember they can't smell tequila on your breath on a video conference call."