What You Missed on Late Night: Stephen Colbert Makes an Unexpected Return in His Bathtub
Stephen Colbert didn't let social distancing get between him and his late-night show. Despite announcing plans to suspend production on The Late Show—an effort many late-night shows are making amid the coronavirus outbreak—Colbert still managed to connect with his fans and made a surprise appearance from the comfort of his bathtub.
Sporting his usual suit-and-tie, Colbert appeared in a tub in his home, surrounded by bubbles and delivered a 10-minute monologue dedicated to—you guessed it—social distancing.
"Welcome to my bathroom, I'm your host Stephen Colbert," he said. "You're watching a very special social distancing edition of The Late Show, or as I now call it, The Lather Show with Scrubbing Colbert. My first guest tonight, as you can see, is Mr. Bubble, followed by a musical performance by the legendary duo Head & Shoulders."
Colbert joked that he was in an ultra-secret safe location after discovering that his "rich-person bunker" was occupied by the family from Bong Jooh-ho's Oscar-winning film Parasite. Then, he turned to more important matters like addressing the resilience of Americans who are stuck at home because of the rapidly spreading virus.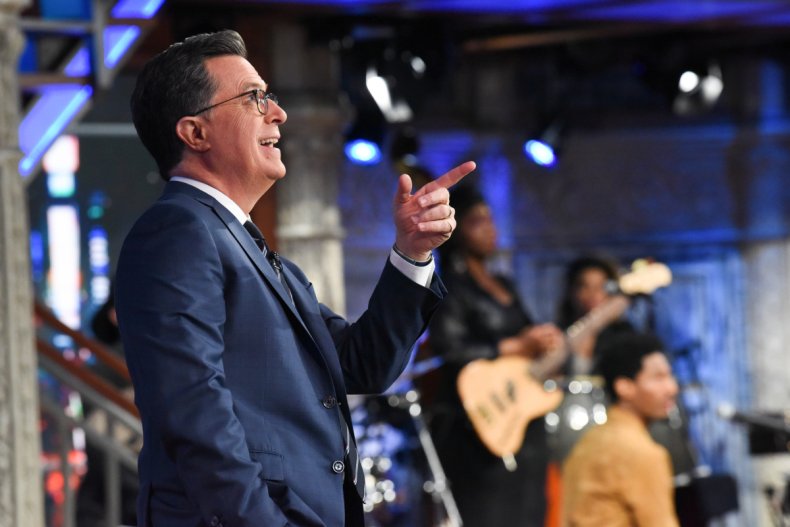 "People all over America have hunkered down in their own houses to ride out the coronavirus. The [Centers for Disease Control] is saying this might go on for the next eight weeks. So get comfortable, and try to look on the bright side—you're finally going to get a chance to binge-watch all that toilet paper you bought," Colbert said. "And you better watch it, Jack, because I am coming for it. I did not plan well."
The longtime TV personality suggested that people keep their anxiety in check by looking at influential figures of the past who also faced adversity in the form of disease, like Sir Isaac Newton, who was only able to discover calculus and the theory of gravity after retreating to his countryside home during the great plague of 1665 that ravished London.
"Shakespeare also had to work from home to protect himself from a plague from his time. That's when he wrote King Lear and of course his most famous tragedy, Romeo and Pornhub," Colbert said. "It is a freaky, freaky time, I'll give you that. And I'm sure that a lot of you are worried, but if you're watching this from home right now, know that you're doing the right thing."
Along with The Late Show, CBS also suspended production of The Late Late Show with James Corden and The Talk, while NBC said filming of The Tonight Show Starring Jimmy Fallon and Late Night With Self Meyers would be halted until at least the end of March. Jimmy Kimmel Live! also went dark after Friday's segment on ABC.
Production for Comedy Central's The Daily Show With Trevor Noah and Lights Out With David Spade was also discontinued for the remainder of March. Meanwhile, on HBO, Last Week Tonight With John Oliver and Real Time with Bill Maher are expected to remain off-air until at least March 22.
TBS' Full Frontal with Samantha Bee was postponed for the foreseeable future after the network learned two CBS News employees, who worked in the same building as Full Frontal staffers, were suffering from the virus.