What You Missed on Late Night: Bernie Sanders on 'Colbert' Explains What Joe Biden Must do to Defeat Trump in 2020 Election
The coronavirus took a backseat on late-night on Wednesday, well, sort of.
Hosts still discussed the pandemic on their respective shows, but the biggest breaking news of the night actually revolved around the 2020 presidential election and the fact that former Vice President Joe Biden may be the frontrunner for the Democratic nomination. This comes after fellow contender Senator Bernie Sanders announced the suspension of his presidential campaign on Wednesday.
See some of the best moments from late-night last night below.
The Late Show with Stephen Colbert
In his first major interview since announcing the suspension of his presidential campaign, Senator Bernie Sanders appeared on The Late Show via web and explained why he decided now was the time to end his play to take the White House.
Although Sanders' opponent Joe Biden already had a massive number of primary votes in his favor, the Senator said he felt it was best to end his campaign and focus all his efforts on helping Americans in the midst of the coronavirus pandemic.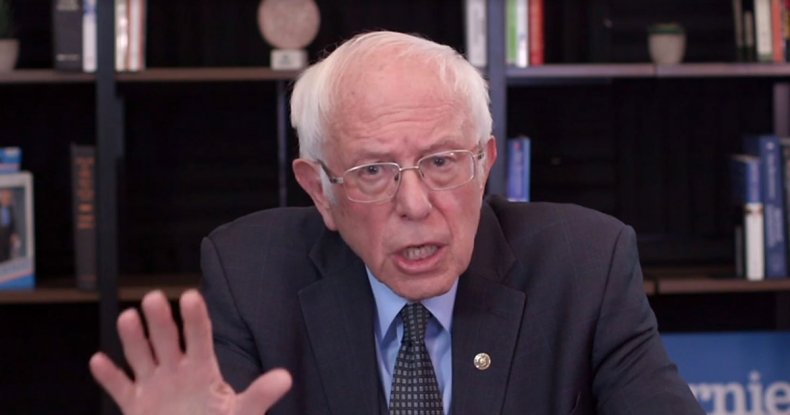 "You can make the argument that you should run a campaign, fight for your ideas, bring people together even if you can't win, I think the pandemic that we are experiencing right now makes even that virtually impossible," Sanders said. "We don't hold rallies. People can't knock on doors. And I think by ending the campaign right now, by focusing on my job as a United States Senator to help deal with this pandemic, deal with the economic collapse that we're experiencing—I think it's a better use of my time. And I think that makes the most sense to me right now."
Despite throwing in the towel, Sanders said he would continue to fight and work for the American people and hoped to work with Biden to "move him in a more progress direction."
"I think Joe is a good politician, and he understands that in order to defeat the president, in order to defeat [President Donald]Trump, he's going to have to bring new people into his political world and that he's going to have to listen to their needs—young people, working people—and maybe start moving in a different direction, to some degree, than he has in the past," Sanders said.
Sanders was also adamant about working towards legislation that would grant paper ballot voting come November after the state of Wisconsin put citizens at risk by enforcing in-person voting on Tuesday. Sanders called the Republican's overturn of Governor Tony Evers' order to delay the election the "ugliest thing that I have ever seen from a political perspective in my life," and he was saddened politicians would rather see residents "literally put their lives on the line to wait on line in order to cast a ballot." So he's planning to do all that he can to make sure a similar outcome doesn't happen when election day rolls around, should the coronavirus pandemic still be as widespread in the U.S. as it is now.
"I don't know what the world is going to look like in November. Nobody does. But I will tell you that I and many of my colleagues are working as hard as we can to come up with the money and the law to make sure that in November, if it is necessary, that the American people can vote by paper ballot," Sanders said. "But I will tell you that there is strong resistance coming from Republicans. And you know why that resistance is coming? They understand that through paper ballots, there will be a large voter turnout, and they don't like large voter turnout. They want a smaller voter turnout because they believe that their people are more likely to vote than lower-income people or young people who may take advantage of the paper ballot."
The Daily Show with Trevor Noah
Noah opened his Daily Social Distancing Show noting the huge impact Sanders has made on the political landscape even though he's now lost two presidential races.
"I would argue that [Sanders] had more of an impact on America than some presidents," Noah said. "Like he's pushed Medicare for All into the mainstream. He shined a light on income inequality and how corporations have used money to rig the system in their favor. And he showed us all that it's ok to use our outdoor voice indoors."
Sanders aside, the biggest topic of the night was how coronavirus may be hitting Black American communities the hardest. It's a notion that has made headlines recently as coronavirus fatalities for blacks have soared in places like Michigan, where 41 percent of COVID-19 deaths were black people despite Black Americans only making up 14 percent of the state's population while in Louisiana, of which black residents account for 32 percent of the population, 70 percent of coronavirus-related deaths were found to be black people.
Despite admitting it was "refreshing" to hear the president's reaction to the harrowing statistics, but the late-night host was not at all surprised to learn how badly coronavirus is affecting black communities.
"It's honestly refreshing to see President Trump so concerned about the black community, but when he says it doesn't make sense that coronavirus is hitting Black Americans the hardest, it's actually the opposite. Right? Because when you look at the systemic and socioeconomic factors facing black people in America, it makes complete sense," Noah said citing black's higher likelihood to have preexisting conditions and less access to health care.
Late Night with Seth Meyers
Back in Meyers' attic, where he's filming his signature segment "A Closer Look," the late-night host kept up his daily ripping of the president—primarily Trump's claims that "nobody" expected the coronavirus outbreak to impact the U.S. or the world as detrimentally as it has.
"It's very telling [of] his psychological state that when he means 'I' he says 'nobody,'" Meyers said before delivering his Trump impersonation. "'Folks nobody could of kept a casino open in Atlantic City. Nobody really blew it. Nobody sucks!'"
He added: "So nobody could of seen this coming. Yea, Taiwan and South Korea and New Zealand and Singapore were all surprised. That's why they have a combined total of 12,000 cases and we have a total of 400,000 cases."