What Happened on Late Night: Stephen Colbert Predicts Donald Trump Will Fire Dr. Fauci
Welcome to the fourth week of late-night at home.
Show hosts returned after celebrating Easter from the comforts of their own homes, due to the current shelter-in-place and social distancing rules in the states where their shows are filmed. Stephen Colbert admitted that he did get out the house to see his in-laws over the holiday: He raked their leaves while his wife's parents watched from the porch.
Their holiday bliss was short-lived, though, thanks to President Donald Trump's rhetoric during a press briefing on Monday, in which he claimed to have "total authority" to reopen the economy in the midst of a national health crisis. As if that wasn't disturbing enough, some late-night hosts got the impression that the president may be considering firing Dr. Anthony Fauci, the head of the National Institute of Allergy and Infectious Diseases and the man that's been educating the masses (and the government) about the coronavirus.
Read on for a few of the best moments from late-night last night.
The Late Show with Stephen Colbert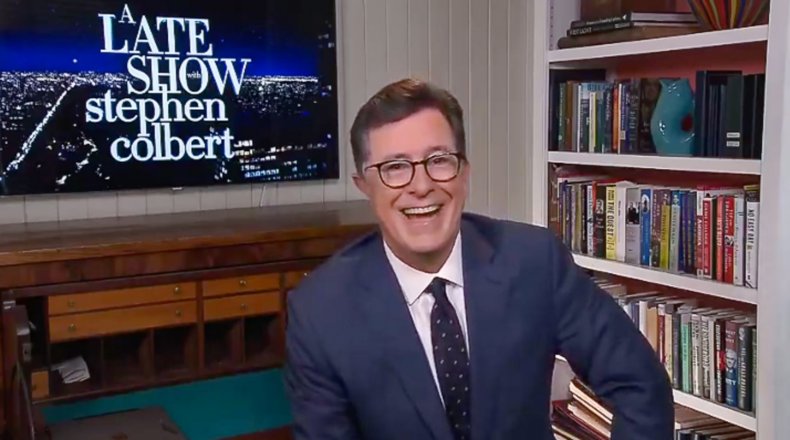 Colbert admired how reluctant Fauci was to place the blame of the coronavirus' rapid spread throughout the U.S. on any particular point of leadership. But even without naming names, it was pretty clear who the immunologist was referring to when he admitted that things could have been handled better and sooner while doing an interview with CNN's Jake Tapper on Sunday.
Colbert joked that it was likely the president also knew who Fauci was talking about, too, and suggested that the doctor's words would likely cost him his job—especially considering that Trump retweeted someone who used the hashtag #FireFauci.
"He's going to fire Anthony Fauci, the only guy in the room who knows what the hell he's talking about. And this is how it always happens: He retweets someone saying he should fire somebody as if he doesn't have the power to do that, then his staff denies it, then he fires the person anyway, and replaces them with the first guest he sees on Fox News. So get ready for new director of allergy and infectious disease, Kid Rock," Colbert said.
Jimmy Kimmel Live
Kimmel couldn't help but crack on Trump's brewing feud with the newest "enemy inside his administration," Fauci.
"Trump was obviously not pleased," Kimmel said, referring to Fauci's interview. "He retweeted a post that included that hashtag, 'Time to #FireFauci.' Every time somebody tells the truth he gets mad. Is that a good sign? A spokesperson for the White House said the media chatter is ridiculous and that Trump is not firing Dr. Fauci, so he is definitely firing Dr. Fauci."
Kimmel added: "If Dr. Fauci wants to keep his job, he'd better find a way to blame coronavirus on Hunter Biden and quick. Maybe it wouldn't be so bad, though, if Trump fired Fauci. I mean, I for one, might enjoy seeing daily updates from Dr. Joseph Exotic."
Late Night with Seth Meyers
Back in the attic crawl space at Meyers' house, he was all riled up by Trump's suggestion that he may reopen the economy, despite all of the people who are still infected with coronavirus, and the thousands of deaths that the disease has caused in the U.S.
Meyers was even more perturbed that Trump thought he should be congratulated on his handling of the disease—a notion he made during a press conference last week—even though it's been reported that he ignored the warnings of health officials months before the coronavirus even arrived in the U.S.
"You think they should say, 'Congratulations. Great job?' I think you're confusing a press conference with a party of some kind," Meyers said before dishing out his Trump impersonation, "'Not only are your questions horrid, you never bring balloons. It's been a month. Not a single cake. Have you guys not heard of piñatas or have you and you just don't like them, because you hate fun? Yeah, you hate fun, I said it.'"
Meyers added: "But yeah, next time we can bring out a cake that says, 'Congratulations on only 17 million unemployed.' Seriously, we could, because in the last month or so we've all gotten pretty good at baking."
The Daily Show with Trevor Noah
Meanwhile, over at Noah's bachelor pad, he was moved by the many churches around the globe who opted to live stream Easter Sunday service, since worshipers could not gather together.
"I know it seems weird but I actually think this is very religious because you know who else never shows up in person? The big guy. He's always telecommuting, except instead of Skype he just uses a burning bush or a rainbow or a giant flood. I mean, he could've just texted, but I guess emojis don't pack the same punch," Noah said. "And look, I know this Sunday was sad for many churchgoers, but for the Catholic Church this is a good thing, you know? Keeping the priests separate from their congregation might not be the worst idea."