What You Missed on Late Night: Hosts Rip Into Donald Trump For Going After Reporters at Press Briefing
The jokes were full-throttle on late night on Tuesday.
Show hosts had a field day cracking on President Donald Trump after catching wind of his over two-hours long, chaotic press briefing, during which he berated reporters for asking questions, claimed the president of the United States "calls all the shots" and displayed a propaganda video highlighting the good he's done in response to the coronavirus pandemic.
Hosts had a lot to say, so we'll get straight to it. Check out some of the best moments from late night last night below.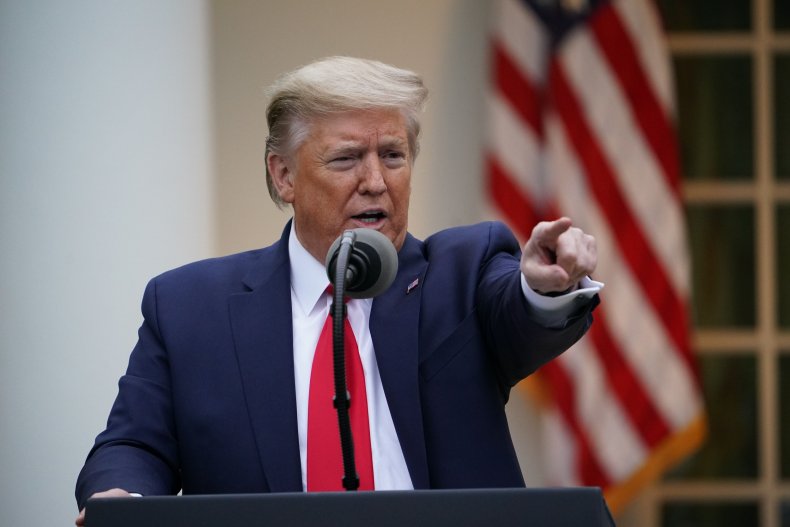 The Late Show with Stephen Colbert
Equipped with his evening adult beverage, Colbert was shocked by Trump's video display.
"First of all it's ridiculous that the president of the United States used a press briefing on a global pandemic to subject a worried nation to a propaganda video, and second, your propaganda sucks. All caps, black letters on a white background, Helvetica? Are you boasting about your accomplishments or offering to teach us guitar?" He said. "The only purpose of the press briefing is to give valuable information to a confused public in the middle of a national crisis."
Colbert reminded viewers that contrary to Trump's video, there was even more footage of the president brushing off the severity of the virus back in February.
"You see Mr. President, you can lie all you want, but what you're lying about happened less than two months ago. We were all here, and we had something called cameras and they recorded you saying this," Colbert said before displaying a video reel of clips of Trump claiming that "people are getting better" and his administration had it "all under control."
Colbert added: "We all remember that Trump, the Republicans, Fox News downplayed the seriousness of this virus and told us all to do nothing. They took all their chips and they bet the under, and they lost. I'm not surprised they lost. Trump has bankrupted a lot of casinos."
Jimmy Kimmel Live
Kimmel was mostly baffled by Trump's misunderstanding of power granted to him in the constitution.
"It was another manic Monday for Old Yeller, who gave really an all-timer of a press conference yesterday. He was almost foaming at the mouth. He was huffing and puffing so much you'd think he'd just done a sit up." Kimmel said. "He's very upset. He's upset not about the death toll or the lack of ventilators, masks, test, etcetera etcetera. He's upset because he doesn't want blame. He wants credit. Blame bad, credit good, and that's what he wants.
He continued: "He insists that the president of the United States call all the shots, which is, of course, not true, and totally contrary to the position of the Republican Party, which believes strongly in state's rights. You can't embrace the confederacy and the total authority of the federal government at the same time. It's like Thanos having an Iron Man-themed birthday party. You just don't do it."
The late-night host didn't end his minilogue without taking a jab at Vice President Mike Pence, a former governor of Indiana, who didn't have much to say after reporters pressed him about Trump's understanding of his authoritative power over states.
"He looks scared, doesn't he? I thought robots weren't supposed to show fear. I guess they haven't worked out all the kinks yet," Kimmel joked.
Late Night with Seth Meyers
Meyers switched up his show and played a game of "Late Night White House Briefing" opposed to his signature "A Closer Look" segment. During the minilogue, Meyers asked the president questions as though he was at the Monday briefing and cut to clips of Trump responding.
"With all the salons closed down, who's doing your makeup these days?" Meyers asked before showing a clip of Trump responding, "The Army Corps of Engineers."
The best question Meyers had for the president: "What's the only thing that can get you out of office?"
The response: "The resurrection of Jesus Christ."