What You Missed On Late Night: Colbert Says If Donald Trump Wants to Keep His Job, Then He'll Have to Do His Job
President Donald Trump's Twitter-fingers sparked much criticism after he advised the Navy to "shoot down and destroy" Iranian gunboats that may be harassing U.S. ships out in the Arabian Sea in a tweet on Wednesday.
According to some late-night hosts, the social media threats and the president's recent ruling to temporarily suspend immigration were just cheap attempts to change the narrative from the coronavirus pandemic and his administration's handling of the crisis. Meanwhile, another politician caught flak for her hasty attempts to reopen a city.
Read on for some of the best from last night's late-night.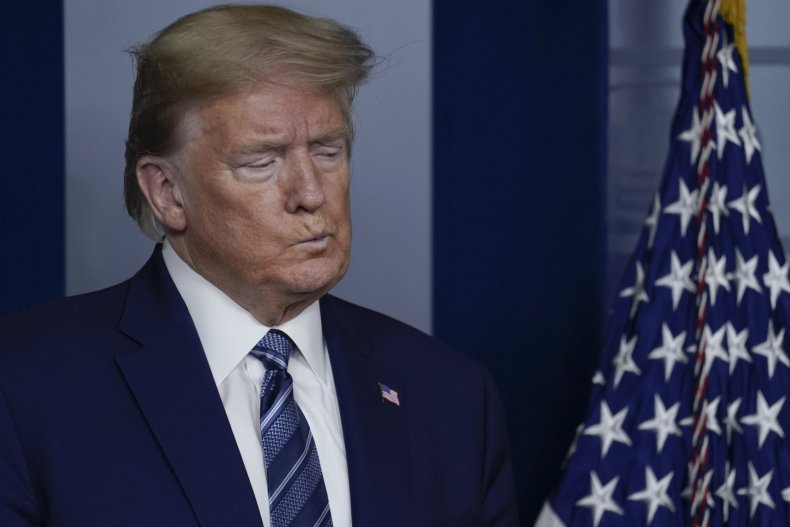 The Late Show with Stephen Colbert
It was all about Trump during Colbert's Wednesday night monologue. The outspoken late-night host ripped the president's efforts to shift people's focus from his coronavirus response to issues involving China, Iran and immigration.
"Trump's normal tricks he uses to change the narrative aren't working, because it's hard to come up with a more gripping narrative than 'Stay inside or you might die.' You can tweet all you want, but it's hard to capture people's hearts and minds when they're worried about their hearts and lungs," Colbert said. "You can't have Bill Barr redact the virus, or call Ukraine to get dirt on Hunter virus or get Mitch McConnell to have 51 Republicans vote that there is no virus. You can't even pay the virus $130,000 to stay quiet, which is too bad, because this virus is definitely spanking your a**."
He added: "So if you want to keep your job, you're going to have to do the unthinkable: your job. You know, make America great again."
Jimmy Kimmel Live
Kimmel was impressed to discover that someone "crazier" than Trump existed in a position of power. He was referring to Las Vegas' Mayor Carolyn Goodman, who claimed Sin City casinos and hotels were ready to reopen during an interview with CNN's Anderson Cooper on Wednesday.
"She went on and on. She's like—you know that ditzy neighbor you try to pretend you don't see when you're pulling into the garage?" Kimmel said. "Somehow she was elected last year with more than 80 percent of the vote in Las Vegas, and I can see why. Mayor Goodman has a lot of thoughts, and the one thing those thoughts have in common is that none of them make any sense."
He added: "Somehow Las Vegas elected every lady you've ever seen at a Baywatch slot machine to be their mayor."
The Daily Show with Trevor Noah
Just days after admitting he was "Cuomosexual," Trevor Noah got his moment to stand in the sun with the man himself: New York Governor Andrew Cuomo.
Cuomo appeared in a web interview with Noah and shared details of his recent meeting with the President, and also discussed New York's trajectory for dealing with the coronavirus now that the number of hospitalizations and deaths in the state have been decreasing. The governor admitted the state was on "the downside of the plateau" but it has yet to be determined how long the coronavirus decline will take.
"How long does it take until that number gets to a small enough level where you can sleep at night and not worry about it? Could be two weeks. Could be three weeks. Could be six weeks," Cuomo said.
Cuomo said medical experts hadn't given him a specific number of cases that would allow New York to reopen.
"Nobody's been here on any of these situations. What they will say is that the number will decline to a level that is basically a low constant. Because you can't stop all transmission of the virus. We're never going to get down to zero. So when you get down to the lowest level you can, that's your low point," Cuomo explained.