What You Missed on Late Night: Kimmel Says the 'Tide Pods Are Turning on President Wackadoodle'
Late-night hosts celebrated their 40th-night filming shows while self-isolated at home.
To recognize the special day Stephen Colbert made a drastic change by combing his hair over to the left instead of the right, revealing a receding hairline he planned to use for ad space. Jimmy Kimmel jokingly "injected a big syringe of Formula 409" into his arms. And Seth Meyers, who also started parting his hair on the other side, finally returned from a week-long hiatus that he spent sitting alone in the dark....or so he joked.
The hosts had plenty to discuss on their respective shows, but there was one topic in particular that each of them needed to talk about: President Donald Trump's alleged sarcasm.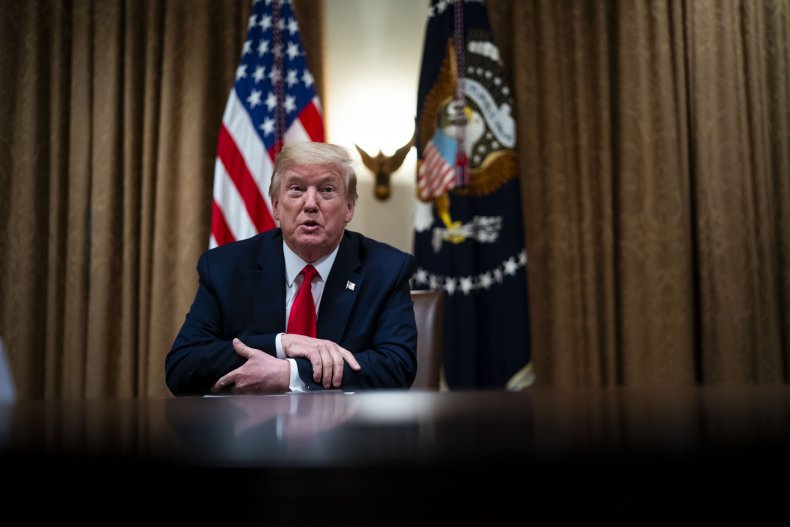 Check out some of the best moments of late-night last night below.
The Late Show with Stephen Colbert
Colbert had a few bones to pick on Monday, starting with states' mixed messaging on lockdown guidelines.
"One of the most frustrating aspects of this whole lockdown is that there isn't one consistent message from our leadership. How come I'm grounded and Georgia gets to go outside and play? It's not fair. We both made the mistake of being mortal," he said.
Still stunned by Trump's Thursday suggestion to use disinfectant to combat coronavirus, Colbert wasn't shocked to hear the president followup his remarks by claiming he was being sarcastic just as he wasn't surprised to hear Trump would give a press briefing on Monday after stating he was done talking to reporters.
"Trump also scrapped [Monday's] White House press briefing until it was announced 'President @realdonaldTrump will brief the nation during a press conference this evening.' That flipped so fast I got whiplash. But I'll be fine, I'll inject some bleach into my spine," Colbert said. "But strategically, I think this is a good move because you don't want last Thursday to be the final impression of these briefings. 'Everybody drink poison. Donny T. out.'"
Jimmy Kimmel Live
Kimmel also noticed Trump's change of tune over the weekend, pointing out that the "tide pods appear to be turning on President Wackadoodle."
"Dr. Donald Jingleheimer Trump spent the weekend trying to pretend he wasn't really suggesting we should inject disinfectants into our bodies. He claimed he was being sarcastic with reporters, which was a lie," he said before adding, "Can we claim we were being sarcastic when we elected him president?"
Noting the many health officials, state departments and cleaning solution companies that issued statements to inform people of the harm disinfectants can do to the human body following Trump's comments, Kimmel joked: "I think this might be the first president ever to embarrass a cleaning product."
Late Night with Seth Meyers
Meyers admitted he wasn't expecting to return from his week of killing wasps in his attic to hear Trump suggesting disinfectants as a cure for coronavirus, but then again, he kinda should have expected it. After all, the president's track record has long proven he's capable of saying the most unexpected things.
"I should have expected it," Meyers continued. "We should all know by now Trump will be more outlandish with each passing week because that's his nature."
He added: "Anyway, after the president said that psychotic thing, in a White House briefing last week he cycled through his usual series of obvious b.s. excuses starting with the classic, 'I was just joking,' because if there's one thing people want from leadership during a pandemic it's sarcasm and that was me using sarcasm."