What You Missed on Late Night: Jimmy Kimmel Pays Tribute to the Late Fred Willard
Welcome to another week of late-night at home.
At this point, late-night hosts have lost track of how many days and weeks they've been working from home, and frankly, we have too. Nevertheless, everyone's still doing their best to get the job done.
The hosts had plenty to talk about during Monday night's shows, so we'll get straight to it. Check out the best of last night's late-night below.
The Late Show with Stephen Colbert
The week started with plenty of bombshells for Colbert, chief among them President Donald Trump's admission that he's taking hydroxychloroquine, the malaria drug the president has supported for coronavirus prevention even though medical experts and the U.S. Food and Drug Administration have questioned its effectiveness and warned about the grave side-effects that may come from taking the drug. Trump announced on Monday that he's been taking daily doses of it despite medical experts' concerns.
"Asked about what research he has that this is a preventative wonder drug, the president cited the New England Journal of 'Heard It From a Guy,'" Colbert joked before airing a clip of Trump saying that he received a lot of "positive phone calls" about the drug.
"For the sake of his children, I hope he's not getting a lot of positive calls about Clorox," Colbert added.
Along with the president "slowing poisoning himself with the Dr. Jekyll method," Colbert was shocked to hear Trump had fired State Department Inspector General Steve Linick on Friday. Well, shocked might be an overstatement, considering Linick's firing marked the third time in six weeks that the president has ousted someone on a Friday night.
"At the White House, T.G.I.F. stands for Trump Got Inspector Fired," Colbert said.
Jimmy Kimmel Live
Kimmel's show was a bit different than usual. Instead of using his monologue to mock the president or talk about the ongoing coronavirus pandemic or reopening the economy, Kimmel instead chose to celebrate the life of someone who's had a major impact on his work and comedy: Fred Willard.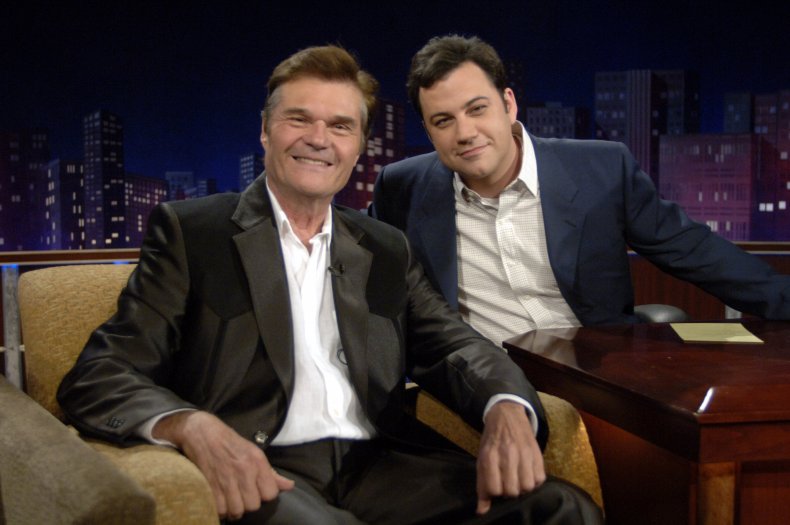 Willard, who died at age 86 on Friday, appeared on Jimmy Kimmel Live a number of times over the years as a co-host and guest, and the pair had fostered quite the friendship.
During Monday's show, Kimmel shared some of his favorite memories of working with Willard and aired a few clips of the late actor's best big-screen and TV moments.
"He played basically the same character in everything," Kimmel said. "He was the same guy because it always worked. So why would you change it? It didn't matter if the movie or show was good, bad, terrible or great. Fred was always funny. He was more than funny. He had a light inside of him. You could see a glint of it in his eyes, and it made everyone around him happy."
Late Night with Seth Meyers
Meanwhile, Meyers, who is still filming in his attic, had a mouthful to say about a number of topics, including Germans packing sports stadiums with cardboard cutouts of themselves, the so-called "Obamagate" scandal, Trump's new flag for the Space Force and the president's handling of the coronavirus pandemic. But none of Meyers' rips were quite as hot as the "rare public criticism" former President Barack Obama delivered during virtual commencements over the weekend.
"Say what you will about [Obama]. He certainly had his flaws as president, but it was so comforting just to hear a politician capable of showing empathy and compassion and talking in coherent sentences," Meyers said. "It's both revealing and depressing that when Obama talks about grownups behaving like little children we all know exactly who he's talking about. I mean, there's no mystery. Even Trump knows. It's not like his aides went to him and said, 'Sir he was talking about you,' and Trump said, 'Moi? But I was just sitting here drawing a new logo for the space force. Adult stuff.'"
The Daily Show with Trevor Noah
Noah spent his Monday sharing his top 20 quarantine tips, like using q-tips and tape to give yourself a coronavirus test at home, wearing your underwear over your pants so they stay cleaner for longer and using those sleepless hours of insomnia to "reflect on everything wrong in your life."
His best tip, though, was for the 4/20-friendly folks: "If you run out of weed to smoke, just wear your mask really tight until you get dizzy, or—even better—just turn on the news and watch it for 24 hours. And then you'd feel just as paranoid and confused as you would if you hit a really fat blunt."