What You Missed on Late Night: Gigi Hadid Confirms Pregnancy on 'The Tonight Show'
The three popular late-night TV hosts took a break from all the current bad news and focused on the good for a change—at least, that was the sentiment on The Tonight Show where Jimmy Fallon was bouncing with joy over Gigi Hadid's baby announcement.
The model appeared in a web interview with Fallon Thursday night and confirmed that she is indeed expecting her first child with boyfriend and singer Zayn Malik. The Tonight Show host could barely contain his excitement.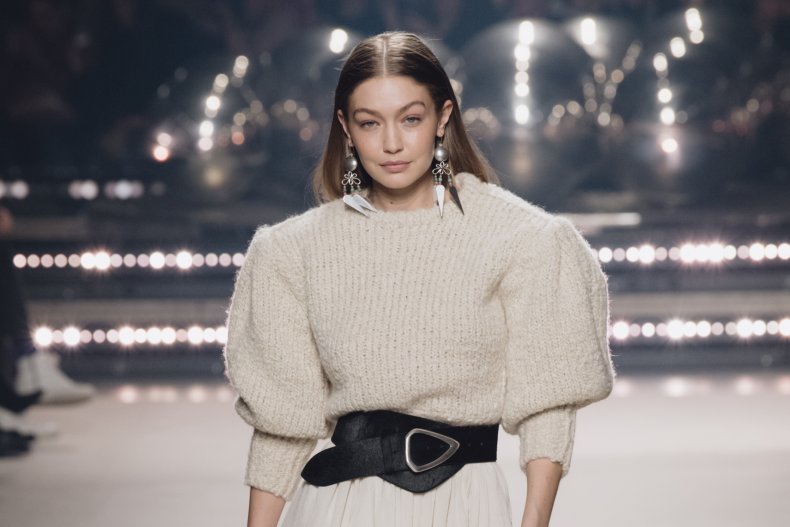 Elsewhere in the U.S., Jimmy Kimmel celebrated a special arrival of his own: a big package of toilet paper that arrived on his doorstep Thursday. "I was like a kid on the toilet on Christmas morning," he joked.
Check out some of the best moments of last night's late-night programs below.
The Tonight Show Starring Jimmy Fallon
There's nothing more exciting than a sweet new baby, according to Fallon—or rather Uncle Jimmy, as he referred to himself during his Zoom call with Gigi Hadid. The late-night host was eager to talk about Hadid's impending bundle of joy. Despite the rumor-mill spilling the pregnancy beans first, she was still thrilled to share the news.
"Obviously we wish we could've announced it on our own terms, but we're very excited and happy and grateful for everyone's well wishes and support," Hadid said, adding that being pregnant in the midst of sheltering-in-place was "a nice little silver lining."
While it's unclear how far along Hadid is in her pregnancy, the mom-to-be was already experiencing major cravings that her family and friends were happily letting her indulge in. They even surprised Hadid with the ultimate birthday gift in April that was entirely inspired by her pregnancy cravings: everything bagels.
"So we did a breakfast party of a few people and then a dinner party with the same few people. So we tried to make it a day. In the morning, my family brought out an everything bagel cake, which already blew my mind because my craving has been everything bagels. I eat an everything bagel a day, and so I was already so excited that my birthday cake was an everything bagel," she explained. "But then I found out that Buddy, the Cake Boss, made my cake. It was marble cake with chocolate buttercream and then chocolate-chip buttercream inside."
Hadid added: "I don't know if it was like my hormones right now or just like quarantine emotional-ness, I cried every five minutes for like an hour. Every time I thought about that Buddy made my cake, I couldn't stop crying."
Jimmy Kimmel Live
When he was not basking in the bliss that was the "60 rolls of heaven" that arrived at his home earlier that day, Kimmel was worrying about Britney Spears, who revealed in an Instagram video that she burned down her home gym six months ago. Blame it on the candles.
"What? 'One thing led to another and I burned it down'? It takes me 45 minutes to get a campfire going. She managed to burn the gym down with a candle?" Kimmel asked. "And more importantly, how is it possible that Britney Spears burned down her gym and we're just now finding out about it? We need to get back to the basics people. The fake news media needs to get its act together. We do not have our eye on the ball right now."
Spears wasn't the only celebrity Kimmel had on the brain. He was worried about how many A-listers would look by the time quarantine ended (if it actually ever ends). So to help prepare him for the future, Kimmel said he invested in high-tech digital imaging that depicted how his favorite celebs might look six months from now. The accuracy of the images was still to be determined after Kimmel's digital imaging processor predicted Katy Perry to look like Joe Exotic six months from now while Johnny Depp will apparently transform into a pile of loose scarves.
The Late Show With Stephen Colbert
At Colbert's house, the late-night host was busy questioning the expiration date for social distancing. Federal restrictions were only mandated through the end of April, and President Donald Trump said on Wednesday that the rules wouldn't be extended. Instead, the government would begin "fading out" hard social distancing—although no real guidelines were issued detailing how that process would work.
"Come on, you're the government. You have to be more specific about what the rules we have to follow are. There's a reason why the highway department doesn't make signs that say, 'Speed limit on longer 55,'" Colbert said.
Along with the claims to phase out social distancing measures, Colbert was also stumped by Trump's claims that the U.S. will go back to the way it was before whether a viable coronavirus vaccine emerges or not.
"Trump doesn't talk like a guy who knows what he's talking about. Can you imagine him as your doctor?" Colbert said before putting on his best Trump impression. "'We're going to go in there, and we're going to take the little knife and we're gonna go cut, cut, snap, snap. And there's going to be—I call it blood—blood right there. But we're going to say no blood, then stitch, stitch, stitch. Then we go into the place where the blood was and boom.'"