Late-night hosts tried to squeeze as many laughs out of live-audience members as they could while ripping on the coronavirus pandemic on Wednesday.
As the virus continues to spread across the country and the world, it's now also taking a toll on late-night television. Networks announced shows tapped in New York would not be filmed in front of a live-audience in effort to prevent the potential spread of coronavirus. Shows including The Late Show with Stephen Colbert, Live with Jimmy Fallon, Late Night with Seth Meyers, The Daily Show with Trevor Noah, Full Frontal with Samantha Bee, Last Week Tonight with John Oliver and Watch What Happens Live with Andy Cohen will begin filming without their usual in-house audience on Sunday. Los Angeles-based shows, on the other hand, will carry on as usual.
So, naturally, many hosts used the opportunity to crack jokes before their studios go silent.
Read on for a look at some of the best late-night moments from yesterday below.
The Late Show with Stephen Colbert
With a potentially harrowing future on the horizon, Colbert took a moment to reflect on the more peaceful moments of the past, like a few months ago when he was getting drunk off eggnog and falling in love with Baby Yoda.
"It's only March. 2020 has done the impossible: made me nostalgic for 2019," Colbert said.
This was before he threw jabs at coronavirus task force leader and "a man who has quarantined his mind from knowledge"—a.k.a. Vice President Mike Pence, who revealed during Wednesday's press briefing that health care providers were joining Medicare and Medicaid to waive all co-pays and cover costs of treatment for those affected by the coronavirus.
"What a cool idea. It's like Medicare, but for all," Colbert cracked.
Late Night with Seth Meyers
Meyers voiced his frustration with President Donald Trump and his administration's slow response to the global spread of the virus, which health officials had long warned was moving at a similar rate as Italy.
The surging number of people infected with coronavirus across Italy had overwhelmed the country's medical facilities, causing Prime Minister Giuseppe Conte to put the entire country on lockdown on Monday.
Meyers was particularly peeved by Trump's Tuesday address to the nation, during which the president claimed that the country was "doing a great job" with responding to the crisis, despite the lack of available testing and health officials warnings that things could get much worse.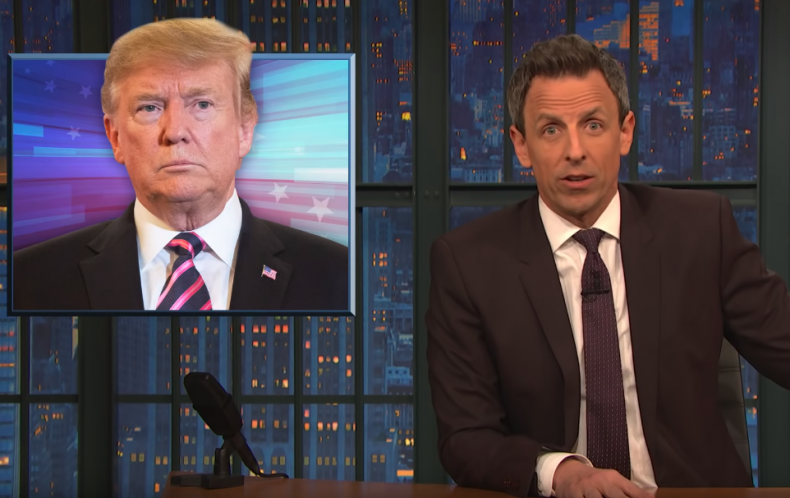 "That's it? There's a pandemic sweeping through our nation and you sound like there's a bee in the car?" Meyers said after showing a clip of Trump advising the nation to stay calm. "Also what do you mean a lot of good things are going to happen? That's your answer? The World Health Organization just called it a pandemic, and the president sounds like your stoner friend trying to get you through a bad acid trip."
Jimmy Kimmel Live
Kimmel took a moment to explain the five stages of coronavirus starting with denial of the virus' impact: "I'm not going to get the coronavirus. Only old people, Chinese people and people on cruise ships get that."
The second stage was anger: "Why isn't there any toilet paper at Target? Is everybody nuts?"
Third, bargaining: "Alright, there's no Purell. Maybe I'll make my own hand sanitizer with Jergens and Vodka."
Next comes the depression: "I can't believe they canceled Coachella. I'm not going to get to see Carly Rae Jepson for a year now."
The last stage of coronavirus, Kimmel said, was acceptance: "Hey, you know what? If I die, maybe I'll get to meet Prince.