What You Missed on Late Night: Kimmel Says Trump Is 'Determined to Reopen This Country Like a Bankrupt Casino'
It was all about reopening the country on late night television on Thursday.
Late-night hosts couldn't help but notice President Donald Trump's changed-tune after he announced guidelines that would allow governors to restore states as early as May 1, if they wanted to. The decision to let governors make the final calls for what was best for their individual states was the polar opposite of comments the president made earlier in the week, and, of course, late-night hosts had a field day with the change.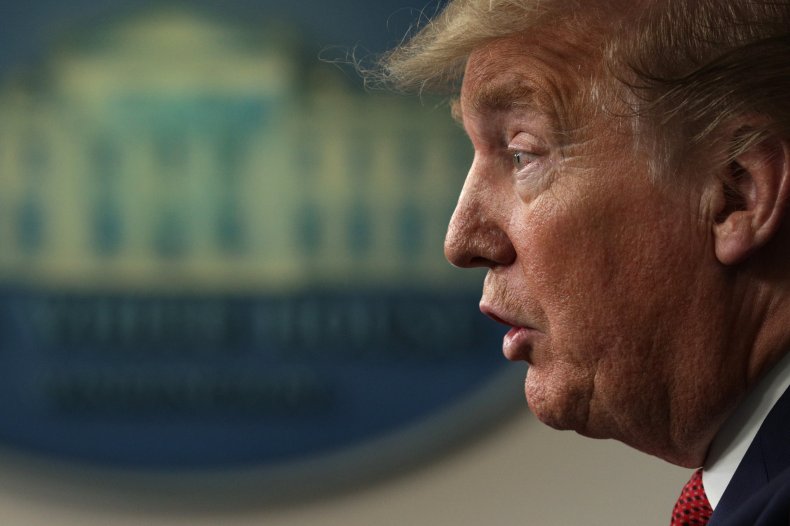 Check out a few of the best moments from late-night last night below.
The Late Show with Stephen Colbert
Colbert thought opening the country by May 1, which is just two weeks away from now, was a bit premature. It was going to take him longer than that just to find his pants, he claimed. But mostly, he was worried there still wouldn't be enough testing done to actually confirm the president's claims that coronavirus cases had reached its peak.
"Estimates of how many tests we'll need range from a low of 750,000 tests per week to up to 22 million tests per day. That is a lot of swabbing. They're already working on the new bathroom signs: Employees must jam q-tip," Colbert teased.
He added: "Without the testing, Trump saying that he knows we've passed the peak is a little premature. I mean, you don't hear a fire chief saying, 'Look, I'm just eyeballing this one, but I don't see as many flames shooting out your window as before, so I'd say everybody back in the house. Let's go. Sleep tight."
Colbert also shouted out Trump's new special council, the Great American Economic Revival Industry Groups, a name Colbert said could have only been chosen by chief White House health advisor, Dr. Fridge Magnets. The advisory, announced on Wednesday, is comprised of nearly 200 individuals hand-picked by the president to help restore the economy. The only issue was that Trump enlisted the members of the council without even telling members they were on it.
"Why start asking for consent now?" Colbert joked. "That's kind of like finding out you're engaged by getting a save the date to your own wedding. 'June 17th huh? Well I guess I'll have the salmon and Barbara."
Jimmy Kimmel Live
Kimmel also thought Trump's desire to restart the country at the beginning of May was a little hasty. "He is determined to reopen this country like a bankrupt casino," the late-night host said.
Kimmel was, however, pleased to see Trump was working with governors on reopening businesses and giving them the space to call their own shots, which was a complete contradiction to Trump's claims earlier in the week that the "president of the United States calls the shots."
"In three days he went from, 'I call the shots' to 'You do you, whatever,'" Kimmel said. "He laid out three major steps toward restarting the economy. Phase one: open the golf courses. Phase two: open hotels that rhyme with hump. And number three: all restaurants that serve food in buckets or in the form of nuggets are good to go."
The Tonight Show with Jimmy Fallon
Meanwhile, Fallon had a festive night full of guests on his show, one of which was Chelsea Handler. The comedian admitted she dove into quarantine like it was spring break, binging on cannabis and doughnuts, during the first two weeks. But now her house was full of family members after her sisters decided she needed supervision while self-isolating. The former late-night host was happy to be in the company of family, but she said she hadn't dared helped with homeschooling her siblings' kids.
"Homeschooling a child is kind of like my worst nightmare. And I guess, intuitively I maybe had known something this big was a going to happen because I always—in the back of my mind when I thought about children—[thought that] I just don't want to be alone with them for long periods of time," Handler said. "And now I'm looking back at a lot of the decisions I made as an adult woman, and I'm pretty solid. I feel pretty solid in my decision making.
Handler added: "I don't have a husband that's driving me up a wall. It's my family so I can tell them to shut up or I can go to my room when I'm annoyed, and I don't have any children that I have to home school. So somebody's hitting it out of the park."