What You Missed on Late Night: Jimmy Kimmel Says 'Wear Pants' While Lin-Manuel Miranda Video Chats With Fallon
More late-night hosts checked in with fans on Wednesday.
Following the blueprint Stephen Colbert laid out Monday when he surprised viewers with a late-night monologue from the comfort of his bathtub, Jimmy Kimmel and Jimmy Fallon kept their pledge to keep the content coming on their respective show's YouTube channels.
Jimmy Kimmel Live and The Tonight Show hosts delivered their second "minilogues" from their homes on Wednesday and they both brought on special guests as promised. Kimmel featured his buddy and Live personality Guillermo Rodriguez while Fallon video chatted with Lin-Manuel Miranda. Each host also offered donations to their chosen charity of the night.
Meanwhile, Trevor Noah and Samantha Bee entered the fold and announced new at-home editions of their late-night shows as well. They also plan to stream nightly on their YouTube channels going forward.
Get the rundown on a few of the best moments of late night last night below.
Jimmy Kimmel Live
Checking in from "beautiful downtown quarantine," Kimmel kicked off the show updating everyone on his graphics team. They're okay and are at their homes practicing good social distancing habits, but in the meantime, Kimmel's daughter is handling all the colorful drawing and opening credit giggles.
The top focus of of the night was the U.S. social distancing ourselves from Canada. The countries announced a decision to close off borders for all non-essential travel after discovering coronavirus could live on the surface of a moose for up to nine days. Although President Donald Trump claimed the effort was a mutual agreement, Kimmel teased the closing of the border was a delight for our northern neighbor.
Kimmel also addressed Trump's "catchy little nickname" for the coronavirus. "He now calls it the Chinese virus every chance he gets," Kimmel said.
"They say a great way to prevent a virus from spreading is to name it something racist. That way, people keep it on the down-low," he continued. "I don't know why he does this. Actually I do know why he does this. It's to deflect blame away from him. It's like when he started calling Eric and Don Jr. the Ivana [Trump] kids."
The late-night host offered a few tips on how to survive working from home. The first words of advice: Wear pants. "It's very important to put on pants at some point—for at least two hours a day," Kimmel suggested.
The Tonight Show with Jimmy Fallon
After raising more than $20,000 for charity on Tuesday's episode of The Tonight Show At Home, Fallon focused his efforts on Broadway Cares/Equity Fights AIDS, an organization that provides monetary emergency assistance to help entertainment professionals cover coronavirus-related expenses.
Fallon's daughters made a few special appearances. Although Fanny was very adamant about not laughing at her dad's jokes, Fallon did manage to get a chuckle out of her when he cracked on CVS' incredibly long receipts that are like a "week's worth of toilet paper."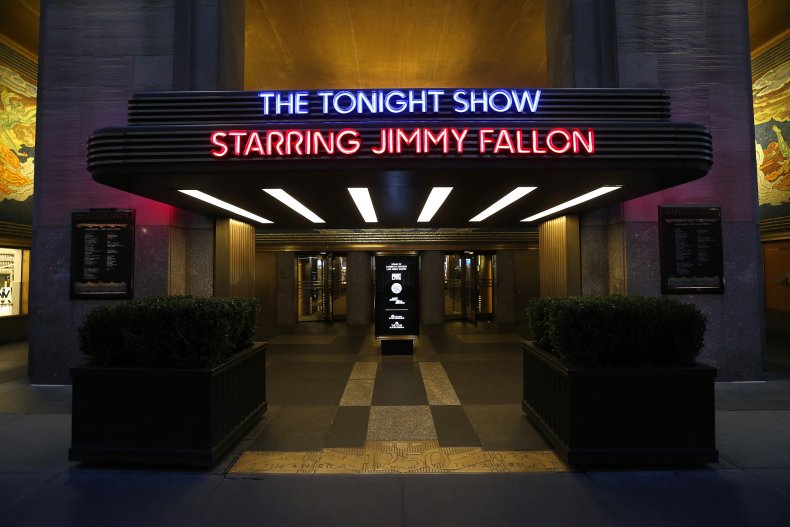 Fallon checked in with his pal Lin-Manuel Miranda, who was similarly surviving quarantine at home with his wife and their two children.
With his oldest out of school, the award-winning playwright admitted he hadn't gotten any creative work done because most of his time was spent figuring out how to homeschool his kid. "I'm not getting work done! I'm learning how to teach math!" Miranda said.
The Daily Show with Trevor Noah
A scruffy-faced Noah debuted his new nightly format, The Daily Social Distancing Show, from his couch in New York City. Unlike the latter two late night shows, Noah said his at-home edition would be captured from not just his house but the homes of the show writers, producers, directors and many other Daily Show staffers.
Topics of the night were based on the coronavirus from the U.S. and Canadian border being shut down to unnecessary emergency room visits and NBA players being infected by the virus. "Today we just found out that four Brooklyn Nets players—NBA players—have coronavirus, including Kevin Durant," Noah said.
"So now the Nets have coronavirus. The [Utah] Jazz have coronavirus. The [Detroit] Pistons have coronavirus. It's going around all of the NBA teams except for the [New York] Knicks because not even corona wants to be on the Knicks," he continued.
Full Frontal with Samantha Bee
Bee is hunkering down in response to coronavirus and is becoming a full-throttle nature woman in the process. The late-night host introduced her new web series, Beeing At Home, and showed fans how she planned on surviving "death-con s**t my pants level" stress by holding up in her woodshed.
The only problem was that she didn't actually have any chopped wood, despite claiming she began preparing for an apocalypse of sorts years ago. Even worse were her skills with an axe. Nonetheless, it's pretty hilarious watching her curse the neighbors and their gas tanks while she struggles to chop wood.
Her more fortunate neighbors weren't the only source of her griping. Bee didn't hold back from criticizing the masses of Americans hoarding toilet paper and other supplies in the midst of the pandemic.
"Many grocery stores around the country are running out of basic items like hand sanitizer, bleach wipes. Those shortages are due to people who hope to resell them like true unbleached a**holes," Bee said. "It's deeply sad that the Beanie Baby of today is a two-ounce bottle of Purell, but here we are."