What You Missed on Late Night: Courteney Cox Fails Miserably at 'Friends' Trivia with Jimmy Kimmel
Here's some good news: late night shows may soon be returning to their nightly network posts.
Stephen Colbert announced on Wednesday that The Late Show will begin airing brand new episodes on CBS as soon as March 30. Like all late-night productions, filming of the show had been suspended in response to the growing coronavirus outbreak, after which Colbert began dropping monologues from home on The Late Show's YouTube channel.
"I'm staying at home and so is everybody who works for me, but thanks to some amazing work by my staff and the CBS broadcasting folks, we will be back on Monday with new Late Shows," Colbert wrote on Twitter. "Until then-Stay Strong!"
Late-night hosts Jimmy Kimmel, Jimmy Fallon, Trevor Noah, Samantha Bee and now Seth Meyers have dropped fresh content on their YouTube channels during the hiatus and will likely continue to do so in the days and weeks to come. But Colbert's official return to the big screen next week may signal a return to respective networks for more late-night shows.
Meanwhile, the late night on the web shows continued to keep the masses entertained while under quarantine. Niall Horan serenaded Fallon on The Tonight Show: At Home Edition, and Courteney Cox failed miserably at a game of Friends trivia against Kimmel's cousin on Jimmy Kimmel Live.
Check out those moments and a few more from the late night last night below.
Jimmy Kimmel Live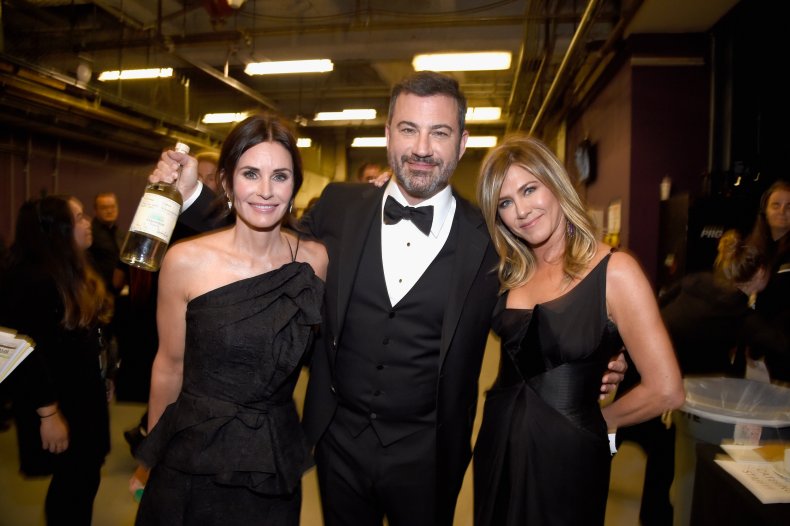 On his Wednesday quarantine 'minilogue,' Kimmel got a kick out of a few comments President Donald Trump made during his coronavirus press briefing earlier in the day regarding the U.S.' back-to-work timeline—which is sooner than most health officials are saying—and saving the stock market. Kimmel was particularly amused by the commander-in-chief's claim that "you wouldn't even have a country left" if his administration wasn't leading the charge on the virus.
"Without him, we wouldn't have a country left. We'd be floating in the ocean like jellyfish, I guess," Kimmel said.
Later on the show, Kimmel video conferenced in Friends star Courteney Cox, who, despite appearing on the critically acclaimed sitcom for 10 years, remembered barely anything about the series.
"I keep getting asked all these questions about Friends. People ask me to do trivia things—I did a thing with Charlie Puth. I did a thing with Celeste Barber, and I don't remember even being on the show. I have such a bad memory," Cox said. "I remember obviously loving everybody there and having fun. And I remember certain times in my life that I was there, but I don't remember episodes. I would never past. I fail every test."
Cox said she was spending her time in self-isolation watching Friends from the very beginning. She recently started Season 1 and noted how "really good" the show is, but even that couldn't help her in a game of Friends trivia played against Kimmel's younger cousin Anthony.
The charity of the day was Meals on Wheels.
The Tonight Show Starring Jimmy Fallon
Seated comfortably by the fireplace, Fallon emitted cozy boy vibes on day 13 of self-quarantine while cracking jokes on the way many people were passing the time. "Many people in isolation are now cutting their own hair, which means pretty soon every guy is going to look like that dude from Tiger King," Fallon teased.
Fallon later checked in with singer Niall Horan, who was sitting by the piano in his apartment in London. Horan said he was still making the most of his time by writing new tunes, playing around with his instruments and doing a bit of cooking, despite not being able to celebrate his new album Heartbreak Weather's number one standing on the pop charts.
"It was a lot of fun to make. I had a great time making it. Bit of a shame that I had to release it amongst all of this, but you can't win every week," Horan said. "It's a weird time but a good time."
If not for coronavirus' rapid spread in the U.K. and the rest of the world, Horan would have been traveling, likely appearing on Fallon's typical CBS production of the show and gearing up for a tour. But overall, Horan said he was feeling very much like a "happy salmon."
The singer showed off his indoor golf skills before belting out an acoustic cover of his new album single, "Dear Patience."
Fallon's charity of the night, like Kimmel's, was Meals on Wheels.
The Daily Show With Trevor Noah
Over on Noah's couch in New York City, the Daily Social Distancing Show host was happy to hear the government finally reached a deal on the $2 trillion stimulus plan, which meant American citizens will soon receive a check from the federal government to help ease some monetary restraints caused by the coronavirus pandemic.
Despite his elation to see Republicans and Democrats finally reach an agreement following days of debating, Noah couldn't help but throw shots at the fact that some provisions had to be made just to make sure the money would be spent properly.
"There's also a provision that blocks bailout money from going to businesses that are owned by government officials, including the president and his family. Imagine that. In fact, just take a second to appreciate how strange it is that lawmakers felt that they needed to write in that the president cannot use this money for himself and his family," Noah said. "And even Republicans were like, 'Yea, yea we should include that.'"
Noah added: "Because don't forget, this is the same guy [Trump] who took $150,000 from a small business recovery program after 9/11. And he didn't need that. So yea, Trump would have looted the s**t out of this fund."
Later on the show, Noah web interviewed former Surgeon General Dr. Vivek Murthy, who dropped a few gems about how to stay mentally and physically healthy during coronavirus.
Late Night With Seth Meyers
After taking a day off, Meyers released fresh "A Closer Look" content on YouTube, focusing on the impact the coronavirus was taking on the stock market, the U.S. health care system and the overall lives of Americans. He continued to rip the Trump's mishandling of the crisis.
"Trump is a quintessential con man, which is bad when you're running a casino into the ground. But it's especially bad when you're charge of responding to a deadly pandemic ravaging the country's healthcare system and cratering the economy," Meyers said. "This is a situation everyone was worried about when we decided to put the most self-centered man on earth in the most powerful office on earth."