What You Missed on Late-Night TV: Joe Biden Criticizes Trump's Speed in Reacting to Coronavirus on 'Kimmel'
Late-night TV hosts asked some less than hard-hitting questions on their Thursday shows. For instance: Is former Vice President Joe Biden cooking in his kitchen while under quarantine? The answer, unsurprisingly, was no. But he is helping his wife with all the cleaning.
The Democratic presidential front-runner appeared on Jimmy Kimmel Live!'s YouTube series and answered a string of questions about the coronavirus pandemic and President Donald Trump's response. Meanwhile, over on The Daily Show, Trevor Noah got the facts about the rapidly spreading virus from Dr. Anthony Fauci, while Jimmy Fallon got down to the nitty-gritty with Alec Baldwin, who has been spending his lockdown cooking, cleaning and doing laundry.
Check out some of the best moments from Thursday night's shows below.
Jimmy Kimmel Live!
In honor of Major League Baseball's opening day, which has been canceled for obvious reasons, Kimmel sported his favorite New York Mets baseball cap on his show and was stunned when Biden appeared on the video chat in his Phillies cap.
Baseball, Biden's inability to cook anything aside from spaghetti al dente and the list of women he's considering for his running mate were some of the topics the men discussed during Kimmel's "quarantine minilogue," recorded from his home. But Trump's handling of the coronavirus crisis took center stage.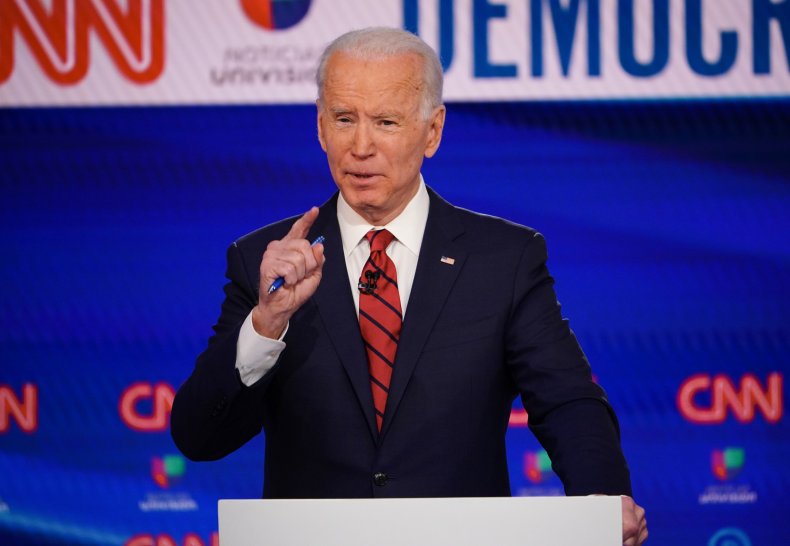 Biden admitted that the virus' spread in the U.S. was not Trump's fault but said the speed of the president's response could have been better. The former VP said he even wrote up a proposal that could have helped the Trump administration get a better footing in dealing with the pandemic, but his plan was ignored.
"So I laid out, about two weeks ago, a detailed plan, and I literally said I hope the president takes a look at it and if he finds things in this that are good...like, for example, I call for the Defense Production Act to be implemented by the president and things like that," Biden said. He noted that he was on the same page with many of the health experts advising the president.
"He has that power. He said he was going to be a wartime chief and commander during this period, but he hasn't done what is rational to do," Biden continued. President Barack Obama's administration "spent a lot of time with the Ebola crisis in our administration. We found out that...speed matters. Faster is better than slower, no matter what you're implementing."
The charity of the night was the International Association of Fire Fighters.
The Daily Show With Trevor Noah
With all the misinformation being spread by opinionated people and commenters online, Noah took a moment to virtually connect with Fauci, the director of the National Institute of Allergy and Infectious Diseases and a leading coronavirus expert, to help clear up any confusion surrounding the pandemic.
Fauci addressed some of the misconceptions—like the fact that the coronavirus is much more deadly than the flu, with a mortality rate of nearly 1 percent, compared with influenza's 0.1 percent—and the best practices for avoiding infection. "It's a disease that not only is easily spread but it can be devastating, particularly for a certain subset of the population," he said.
"You don't want to be obsessive-compulsive about wiping down everything that you go near, but one of the real bad actors is somebody who just opens a door and then 15 minutes later—because we know the virus can live on inanimate hard objects like steel or plastic for at least several hours," he continued.
"So that's the thing you have to be careful about. That's one of the reasons why, if you really want to be careful, besides the social distancing of 6 feet, don't shake anybody's hand. Just lose that for a while. And wash your hands as often as you can," Fauci advised.
The Tonight Show Starring Jimmy Fallon
After getting a few laughs out of daughters Winnie and Franny, Fallon checked in with his pal Baldwin to see if he was enjoying his quarantine time with wife Hilaria and their daughter, Carmen.
"We're not working. I don't have a job. Nothing's going on, but the birds are singing and the kids are just great, just great!" Baldwin said, before making a face that indicated he is totally unraveling at the seams over all of this.
Fallon was later joined by Luke Hemmings of 5 Seconds of Summer, who sang "Old Me" via video chat.
The charity of the night was the East Hampton Food Pantry.