What You Missed on Late Night: Joe Biden Calls Andrew Cuomo the 'Gold Standard' of Governors
Every day under self-isolation and social distancing is starting to feel a bit like hump day—at least, that's how Stephen Colbert feels. He said so during his at-home monologue on The Late Show on Wednesday, during which he tumbled down a manic rabbit hole about the origin of the word "quarantine" and how it relates to quarters also being called "bits." (It's a whole thing.)
Anyway, on his 20th day of isolation, Colbert finally took heed to his followers' request to ditch the suit. Dressed down in a blazer and an open-collared shirt, the late-night host said he was "gradually getting more casual."
"By May, I'll be wearing nothing more than two band-aids and a grin," he joked.
All the other hosts have maintained a casual approach on their shows now that they're all filming from the comforts of their homes. Even former Vice President Joe Biden went tie-less for his appearance on The Tonight Show Starring Jimmy Fallon on Wednesday.
Read on for more of the best moments of late night last night below.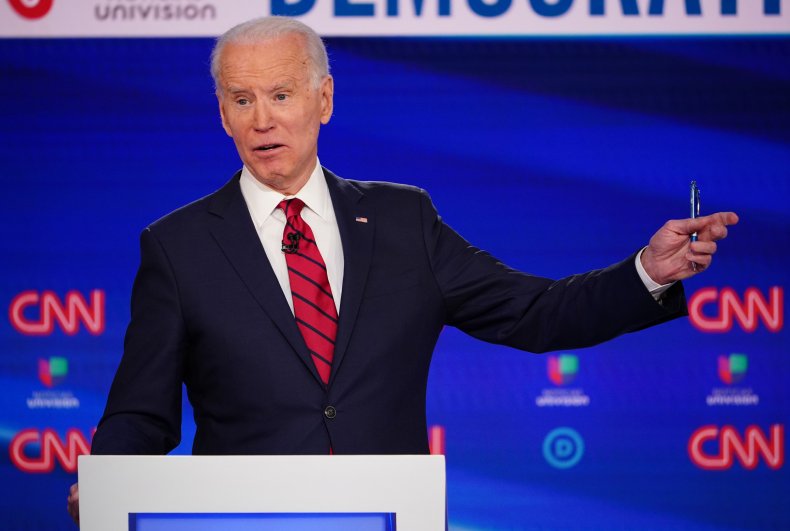 The Tonight Show Starring Jimmy Fallon
Just days after appearing on Jimmy Kimmel Live, Democratic hopeful Joe Biden kept up his 2020 election campaign by dropping in on Fallon via web. Although the coronavirus outbreak has kept him from campaigning and interviewing in a traditional sense, Biden said he's been inspired by the many innovative and creative ways that Americans are managing to stay in the loop.
One American he was particularly pleased with was New York Governor Andrew Cuomo, who's daily press briefings on the spread of coronavirus have gained national attention. "Your governor in New York's done one hell of a job. I think he's the gold standard," Biden told Fallon.
Overall, Biden was proud of all the governors that had stepped up to the plate and made moves to keep their states safe in the midst of the pandemic, despite the mixed messages and slow reactions from President Donald Trump.
"The president waited too long to take it seriously," Biden said. "We're in tough shape right now. This virus is gonna hit in a really big way in the next several weeks to a month and a half."
He added: "Only until yesterday at his press conference did the president start to grasp the reality of what he's facing in terms of the number of potential deaths, the number of people who are going to contract the virus."
The Late Show with Stephen Colbert
Back at Colbert's house, the host was also intrigued by America's newfound obsession with the New York governor. "Governor Cuomo has projected an air of much-needed competence during the epidemic, and the people are there for it," he said.
"These feelings are perfectly natural. Many Americans experience moments of being at least Andrew-curious if not fully Cuomo-sexual," Colbert continued. "The obsession with Governor Cuomo has gone to a really weird place because—and I'm quite surprised this is an actual headline—people are asking, 'Pierced or Not? The Mystery Over New York Governor Andrew Cuomo's Nipples.' Ah-ha! A classic nipple mystery!"
The Daily Show with Trevor Noah
The big topic of the night for Trevor Noah was that the president, "who usually treats his daily briefings like the last scene in Scarface," exuded a much more somber tone on Tuesday while briefing Americans on the impending darkness that's expected to cloud over the country as the coronavirus outbreak worsens in the U.S. Trump said medical experts expected anywhere between 100,000 to 240,000 deaths to be caused by the virus—and that's if people generally follow social distancing guidelines.
"Goddamn. Donald Trump, for the first time, at least sounds like he's afraid of this virus," Noah said. "And if he's taking it seriously, then we should be really scared. 'Cause I mean this guy takes nothing seriously. This is the same dude who stared at an eclipse like it was a Magic Eye painting. The same dude who sang 'Hakuna Matata' when he assassinated a general in Iran. The same dude who responded to a hurricane with a paper towel three-point contest."
Full Frontal with Samantha Bee
It was all about the ladies—and how coronavirus is affecting them—out in the woods where Samantha Bee is currently filming her late-night show. Noting how women are more likely to work jobs as essential workers—think flight attendants, cashiers and pharmacy workers—that put them at higher risks for contracting the virus, Bee was disappointed in the lack of protection women have been receiving in the midst of the pandemic.
She was especially frustrated for nurses—of which 89 percent are women in America—because they're more involved with the intimate care of patients suffering from COVID-19.
"This is complete and utter bulls**t! Healthcare workers are putting their lives on the line to save ours," Bee said. "They shouldn't be forced to protect themselves with stuff they found lying in their garage. Trust me, no one wants to wake up to their nurses dressed like Michael Meyers—both Michael Meyers!"