What You Missed on Late Night: Michael Moore Asks 'How Do We Want To Live After Coronavirus Pandemic'?
When this is all over, how do you want to live? Will the days, weeks and now months of self-isolation and social distancing change how you treat your fellow Americans when we're all finally able to play outside again? Will you be kinder, more respectful of each human's place and role in a society that has not always been friendly to the less fortunate?
Award-winning filmmaker Michael Moore sure hopes so, and Stephen Colbert does too. The men were optimistic about the future while discussing the way the coronavirus pandemic will likely change the way people interact going forward on Tuesday. Over at Jimmy Kimmel's house, he hoped that the latest health scare North Korean leader Kim Jong Un faced would also make him a better person, and just about everyone wanted the after-effects of the virus to bring the end of President Donald Trump's administration come November.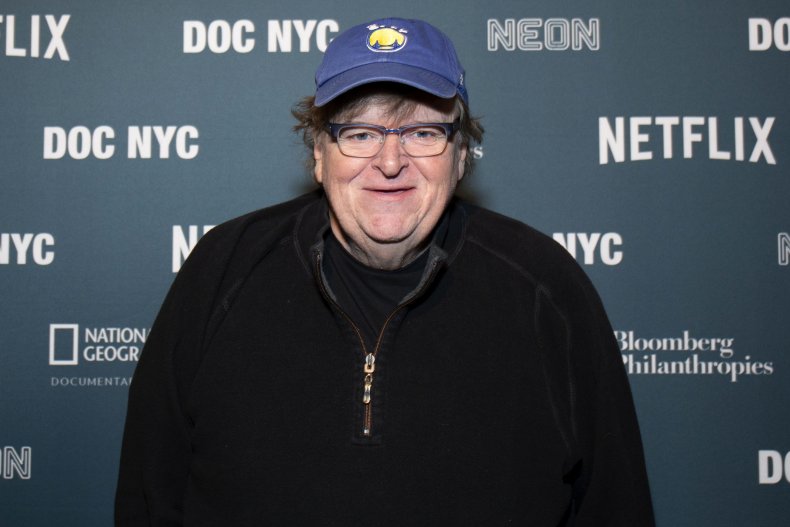 Check out a few of the best moments from late night last night below.
The Late Show with Stephen Colbert
The canceling of Oktoberfest in Germany and Trump's immigration bombshell—which came via tweet—were among the hot topics on Colbert's show. The late-night host didn't necessarily support the president's decision to temporarily suspend immigration in light of the coronavirus pandemic, but Colbert thought it was probably the "safest thing...for the immigrants."
"Right now America is basically a petri dish on the floor of a bus station men's room," he joked.
Despite the havoc the virus has wreaked on the country, Colbert was hopeful that everyone will come out on the other side better than before. His guest of the night, documentarian Michael Moore, who released his latest film Planet of the Humans on Tuesday, also had faith that America will emerge from the pandemic hellbent on ending inequality, but he noted we'd have to beat three viruses plaguing the nation in order to achieve that.
"In my mind, we've got three viruses that we're dealing with. The obvious one: the coronavirus, that we're all trying to survive. But the second virus is the Trump virus that needs to be eradicated non-violently and legally at the polls. And the third virus is the virus that I call pre-Trump virus, the one that we had for many years, long before Trump," Moore said. "Trump didn't fall out of the sky. We had a number of things that we hadn't quite fixed yet in this country, and they were causing us—still—a lot of pain and despair."
Moore thought a lot of people stuck at home were thinking about how we want to live after this pandemic.
"I think people are going to be different. I think we're going to be a different people," he continued. "We're never going to think that anybody should have to work for $7.25 an hour. I think that's gone."
Jimmy Kimmel Live
It was a festive mood at the Kimmel residence as the family was gearing up to celebrate the third birthday of Kimmel's son Billy.
The late-night host was concerned about North Korea's Supreme Leader Kim Jong Un after reports emerged claiming that the politician is in "grave danger" from complications following heart surgery. As secretive as the country is, though, Kimmel couldn't help but wonder if the health allegations were just a hoax.
"Maybe Kim Jong Un just got tired of the whole evil dictator thing and decided to start a new life?" Kimmel said. "He's going to turn up 30 years from now running a bed and breakfast in Vermont."
The Tonight Show Starring Jimmy Fallon
It was rainy day at Fallon's house, but the late-night host made the most of it by playing another round of "Ask the Fallons" with his wife Nancy Juvonen. Fallon introduced the cute question-and-answer segment early on in his at-home edition of the show, giving fans the chance to learn a bit more about his family.
The big question of the night was about dating, and what advice the couple had to offer to a fan who had just recently started their first serious relationship. Fallon's advice was to "realize when you first starting to date that this might not be the one, the one."
Juvonen encouraged new couples to trust their partner's actions as opposed to their words.
"You may hear the most beautiful things, you may hear promises, you might hear everything that you want to hear but if that person is not following up with their actions, then they're just words. Trust yourself on that," she said.