What You Missed on Late Night: Kimmel Deems Mike Pence 'Dope of the Day' for Not Wearing Mask to Mayo Clinic
Late-night hosts eased up on their criticisms of President Donald Trump on Wednesday and instead turned their attention to another member of his administration: Vice President Mike Pence.
Pence caught heat for opting not to wear a mask during his visit to the Mayo Clinic on Tuesday, despite the facility's rules requiring everyone who enters the building to wear one. The clinic even established guidelines to provide masks to visitors who needed them, and had informed the vice president of the rules before he touched down in Rochester, Minnesota.
Despite the backlash from doctors and medical workers over his blatant disregard of safety precautions, Pence during a press briefing on Wednesday explained his decision to not wear a mask. According to Indiana's former governor, he did not have the coronavirus—he admitted he underwent repeated testing—and "thought it'd be a good opportunity for me to be here, to be able to speak to these researchers, these incredible health care personnel, and look them in the eye and say thank you."
Of course, Pence's comments only resulted in him becoming the butt of a few late-night hosts' jokes. But he wasn't the only one who got the "dope of the day" treatment last night, Trump's son-in-law, Jared Kushner, caught flak, too.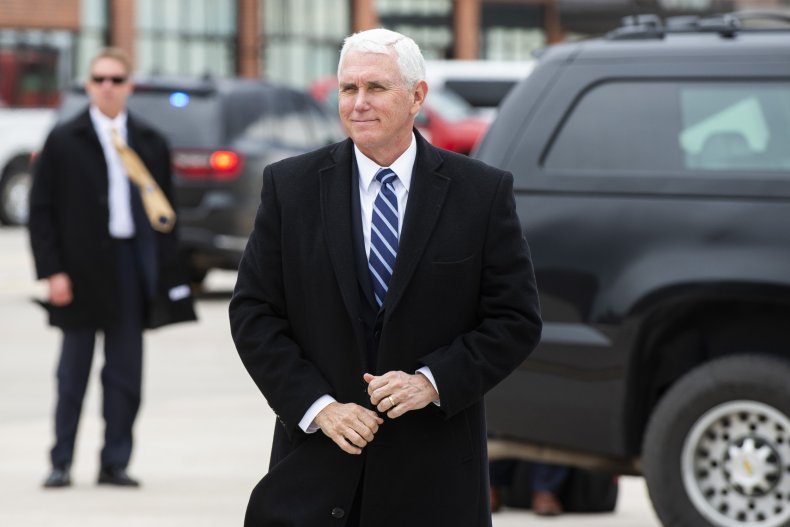 Check out some of the best moments from last night's late-night below.
The Late Show with Stephen Colbert
As America passed 1 million coronavirus cases on Wednesday, Colbert couldn't help but think it was rather bizarre of Kusher—aka "presidential son-in-law and man watching you enjoy that lollipop"—to go on television and proclaim the federal government's handling of the pandemic a "great success."
"'Yes, it's a great story: More people dying under this administration in 100 days than died 20 years of the Vietnam War. That's a story that needs to be told. Perhaps in the blockbuster movie Preventable Apocalypse Now,'" Colbert said while impersonating Kushner.
But, in Colbert's opinion, even Kushner's comments weren't as outlandish as Pence's response to critics who called out his mask-less Mayo Clinic appearance.
"You can still look them in the eye and wear a mask. It's not a blindfold. Also, 'I don't have coronavirus,' isn't an excuse for not protecting other people. That's like a guy saying, 'I don't need to wear a condom. I want to look you in the eye and say thank you," Colbert said before adding, "By the way, for Mike Pence, looking you in the eye is second base."
Jimmy Kimmel Live
Kimmel was on a roll with his takedown of both Kushner and Pence.
If Kushner's blank stare didn't confirm that Ivanka Trump's husband was indeed a robot, Kimmel said the "president's pretty little son-in-law's" recent comments on Fox & Friends about the food supply—which is being detrimentally impacted by the coronavirus pandemic—were a dead giveaway.
"He said the federal government rose to the challenge and that this is a great success story. And irony is now as dead as his eyes," Kimmel said. "'The Americans will have all the food supply they need.' If we are 'they,' what are you? It? I think we may have just happened upon proof that Jared is a robot."
Kimmel then rattled off a few more jokes about Kushner, just in case the Trump-in-law was watching. "Jared Kushner is so dead inside, the president calls him 'Melania.' Jared Kushner looks like if white privilege had a baby with raw cookie dough. Jared Kushner looks like a Pez dispenser of Young Sheldon. Even Jared from Subway is like, 'This Jared gives me the creeps,'" Kimmel teased.
But even Kushner's comments couldn't top Pence's behavior in Kimmel's eyes.
"This virus has now killed more Americans than the Vietnam War, and Donald Trump has the distinction of not helping out with either one. But Trump, for once, was not the 'Dope of the Day' today. That honor went to Mike Pence, who's usually such a good boy. But he had to defend himself because he opted not to wear a mask to the Mayo Clinic," Kimmel said, before showing a clip of the vice president explaining why he opted not to wear personal protective equipment during his clinic visit.
"He didn't want to wear a mask because he wanted to look them in the eye and say thank you. What kind of mask was he planning to wear? Spider-Man? It's a respiratory mask. It's not supposed to go over your eyes. It goes over your nose and your mouth," Kimmel said.
The Daily Show with Trevor Noah
There was no way Noah was going to let the U.S. meat industry's current crisis unravel without taking a few jabs at Trump's quick response to the matter. The president sprung into action by signing an executive order requiring meat-packing plants to stay open after several beef, pork and poultry plants closed over coronavirus concerns.
"You know, I'll say this about Trump: He is very clear about what his priorities are in life. Because he was warned for months about the pandemic coming to America and he did practically nothing. But you tell the man once that there could be a beef shortage and he springs into action like the world's hungriest superhero," Noah said.
He added: "But that's Trump, man. If there's one thing we know about him, it's that he loves meat. You know he must've been really disappointed when he heard that Meatloaf was going to be on The Apprentice and it turned out to be an actual man named Meat Loaf. 'Who the hell is this? I can't put gravy on this man. I mean, I sure as hell will try!'"