What You Missed on 'Late Night': Jimmy Kimmel Wants Mike Pence to Ask Trump to Apologize For His Many 'Perversions of Decency and Democracy'
Well, Vice President Mike Pence got what he wanted: an apology from Jimmy Kimmel. But he should have known that the popular late-night host wasn't just going to squash the beef that easily.
On Monday, the comedian delivered a candid and appropriately Kimmel-esque response after admitting he spread "misinformation" about the vice president last week. Then he asked for a favor in return.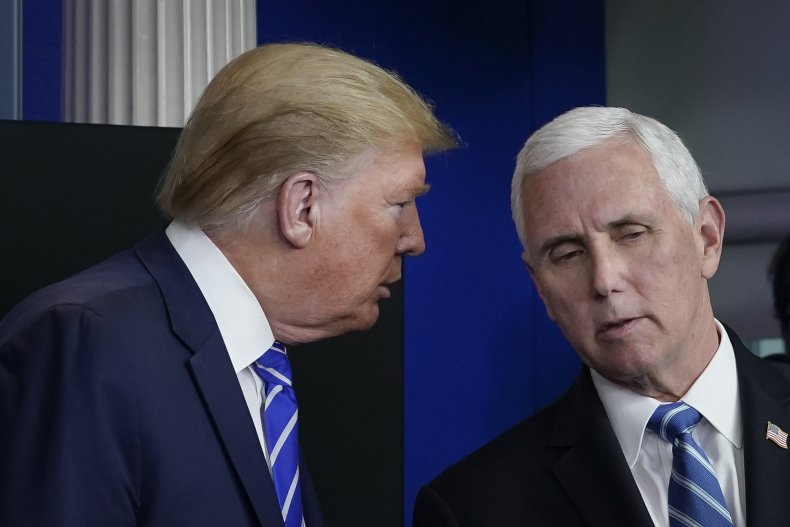 Meanwhile, a few other late-night hosts thought it was pretty ironic that now—at a time when the Trump administration and various states are so hell-bent on reopening the country—White House aides and staffers are suddenly coming down with the coronavirus.
Check out some of the best moments from Monday night's shows below.
The Late Show With Stephen Colbert
Leave it to Colbert to make sense of some confusing thing the president said. During a recent press conference, President Donald Trump displayed pure bewilderment after learning that Pence's spokeswoman, Katie Miller, had tested positive for the coronavirus but had tested negative days before. In his assessment, Trump said tests had shown that Miller was in the clear and then "for some reason she tested positive."
"In the history of dumb things said by Donald Trump—and remember, there will one day be a library filled with them—that might be the dumbest thing he's ever said, putting it in the running for the dumbest thing ever spoken by man," Colbert said.
"She was tested and didn't have it. Then she got it. Then the next test showed that she had it. Does Trump think the tests are good only if they tell you news you want to hear?" the late-night host asked. "'My girlfriend took a pregnancy test. It said she wasn't pregnant. Then we had a bunch of sex. Then for some reason—all of a sudden—the test says she's having a baby. That's why these tests aren't so great. The test really should start wearing a condom."
Jimmy Kimmel Live
Kimmel was fired up after a long weekend full of violent and hateful tweets, comments and messages from Trump's and Pence's fans and followers.
The late-night host endured a backlash over the weekend after he shared a video of Pence carrying empty boxes into a hospital for a photo op last Thursday. Turns out, the clip was a part of a 29-minute video on C-SPAN documenting Pence's act of service. The full video—which Kimmel admitted he didn't watch because he didn't have the "mental endurance it requires to watch Mike Pence deliver boxes"—made it clear that Pence was only kidding when he suggested carrying the boxes for photos.
Nonetheless, Kimmel apologized.
"Bottom line is, I was wrong. He was joking. I didn't know. I made a mistake. And when I found out I was wrong, I acknowledged it by taking the video down and tweeting an apology of sorts to the best of my ability," he said
He added that "apologizing to the Trump administration for spreading untruths is like apologizing to Barry Bonds for using steroids. It's hard."
Kimmel was prepared to end his little tiff with Pence right there with his apology. But Trump's tweet against the late-night host on Mother's Day, and an email from a Pence spokesperson demanding he apologize on-air, left Kimmel stunned. He said he just couldn't believe that this was "what they're thinking about while thousands of Americans are dying every day," but he obliged and then made a request of his own.
"It was my mistake and I do apologize to the vice president again for spreading misinformation about him. Spreading misinformation is their thing, and I've stepped on their toes," he said. "But now that I've done that, I would like the vice president—since he asked me to apologize—to ask his boss, who lies every time there isn't a McNugget in his mouth, to apologize for the following perversions of decency and democracy. Mike Pence has stood by and warmly enabled, with a smug little twinkle in his eye, these things for four miserable years."
Then Kimmel listed a number of the Trump administration's indiscretions, like "separating migrant children from their parents, siding with Russian President Vladimir Putin over U.S. intelligence agencies, calling neo-Nazis "fine people," mocking 17-year-old climate activist Greta Thunberg, ignoring early warnings about the coronavirus, downplaying the dangers of the virus and about "50,000 more" things.
The Daily Show With Trevor Noah
Meanwhile, over at Noah's place, it was all about the surge of coronavirus cases infiltrating the White House.
"For months, President Trump has been saying the coronavirus pandemic isn't as big a deal as everyone is suggesting. But now the virus is responding back by saying, 'Knock knock, biatch,'" Noah joked.
"Oh snap. The coronavirus is now officially in the White House, and that's scary. Although if it's like everything else that lands in the White House, it won't last more than a few weeks," he said.