What You Missed on Late Night: Samuel L. Jackson Orders Everyone to 'Stay the F**k at Home' on 'Kimmel'
Cases of coronavirus in the United States continue to climb, reaching nearly the 190,000 mark as of Wednesday. So naturally, it was still the main topic of discussion as late-night hosts filmed from their bunkers on Tuesday night but, luckily, with a bit of comic relief.
The hosts were dressed in their casual attire trying to maintain their sanity while remaining indoors per usual. And there were some interesting moments with guests, including Samuel L. Jackson, who delivered an eloquent poem perfectly timed to quarantine on Jimmy Kimmel Live.
Check out some of the best moments from late-night last night below.
Jimmy Kimmel Live
Possibly the scruffiest we've ever seen him, Kimmel couldn't believe people online were focused more on his home setting than his untamed mane, which he said his wife had to help him with on Tuesday. The show host noted the many comments he received on social media of people questioning whether or not he was filming in front of a green screen. To prove them wrong, he went outside and climbed through the living room window.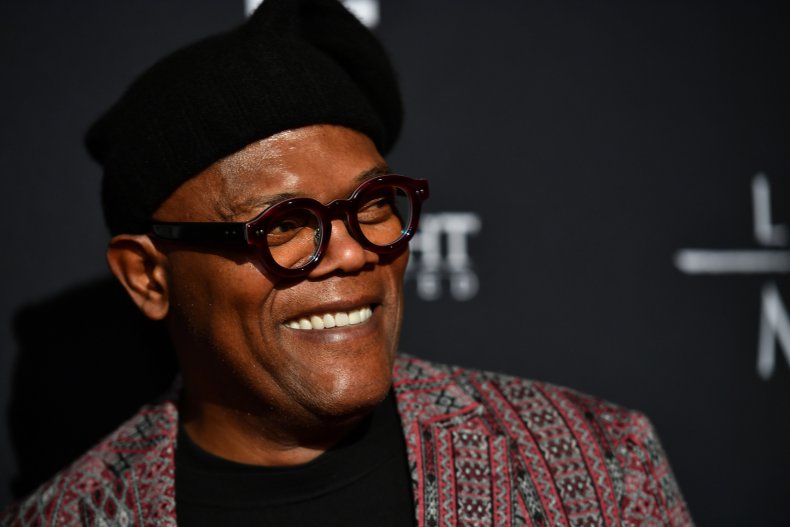 This was all before the high point of the night: his interview with Samuel L. Jackson, who was quarantining in his man cave and catching up on shows like Netflix's apocalyptic Korean zombie series Kingdom and Tiger King. When he wasn't binging shows with his daughter, Jackson was keeping busy with the adult children's book, Stay the F**k at Home, a new picture book from the Go the F**k to Sleep series by Adam Mansbach, which Jackson voiced on audiobooks.
"People thought that this would be the perfect time to kind of bring that back," Jackson explained. "What [Mansbach] wanted to do was to remind people of what social distancing [is] and where we are right now. So he wrote a new poem, I read it, and we want to present it."
Jackson read the book ever-so eloquently and urged everyone that "unless you've run out of groceries, please, stay the f**k at home!"
The charity of the night was Feeding America, a food bank service that provides hot meals to Americans in need.
The Tonight Show with Jimmy Fallon
Creativity during quarantine was also the focal point on Fallon's show where Demi Lovato joined as the guest of the night. Lovato was spending her time self-isolating with family at her mom's house in Los Angeles, and the singer revealed that she started painting again. She showed off her paint-on-canvas skills by creating a portrait of Fallon while he attempted to paint a portrait of her.
"Mine is so bad, so bad," Lovato said of her painting. "I kind of love it though. It's bad but like good. Oh my god, what is happening with your nose. You've got a vagina for a nose."
It would be a major overstatement to call either of the portraits a masterpiece, however, Lovato truly is talented with a paintbrush. She's even considering selling some of her more professional pieces.
"One thing that I've done while I've been painting—I really put some thought into selling the paintings that I've been working on and like auctioning them off to fans or whoever wants to buy them, and then, you know, like the money can go to a charity or something to help with everything that's going on right now," Lovato said.
The charity of the night was the American Red Cross.
Late Night with Seth Meyers
Elizabeth Warren made her web debut over on Meyers' show. Warren, who recently dropped her bid for the Democratic nomination in the 2020 presidential election, discussed a myriad of things like how to protect taxpayer dollars and her interest in being the vice presidential pick of the chosen Democratic candidate.
She also rolled out her plan for coronavirus and how she'd tackle the pandemic if she were in charge.
"The main thing about the plan is the timing, because when you're talking about a health crisis like this, like an economic crisis, much more important to get in front of it than chasing it from behind," Warren said. "If we had put in place an effective plan to deal with the coronavirus back in January, we would have saved lives. And we wouldn't put the stress on our medical system that we're putting on it right now and the stress on our economy."
She added: "This is one of those things where we should've made the masks and the respirators and using all of the federal tools back in January to get started, not chasing it."