What You Missed on Late Night: Bernie Sanders on 'Seth Meyers' Says 'We Need Another Stimulus Package'
Late-night television was in full swing on Monday.
Although hosts were still filming from the comforts of their homes, many of them expanded their minilogues into longer segments. Jimmy Kimmel and Stephen Colbert even put on their suits while Trevor Noah, Jimmy Fallon and Seth Meyers opted for more casual attire.
Speaking of Meyers, the Late Night host—who began sharing new installments of his signature "A Closer Look" series last week—also featured his first guest since filming from home: Vermont Senator (and hopeful Democratic candidate for president) Bernie Sanders.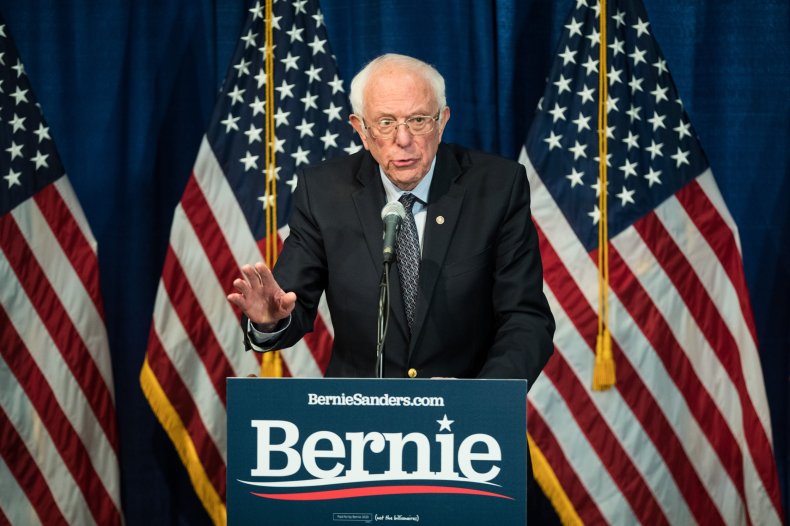 See below for a full rundown of what happened on late-night last night.
Late Night with Seth Meyers
The Senator appeared on Meyers' web series and said he was having a difficult time balancing coronavirus restrictions with running a presidential campaign. "It is a very, very strange time for me," Sanders said.
Some of the topics of discussed included Sanders' Medicare for All proposal, which Meyers noted would come in handy now with thousands of Americas getting sick from COVID-19. Sanders said the pandemic was exposing just how weak the U.S. healthcare system is, and was thoroughly baffled by the fact that many doctors and nurses don't have the proper supplies to appropriately combat the virus.
Another major issue Sanders tackled was the $2 trillion stimulus package that President Donald Trump signed off on last week, which will provide emergency payment to Americans starting at a rate of $1,200. According to Sanders, the payout for individuals wasn't enough and there needs to be a second bailout to help people who were already below the poverty line.
"What we're not talking about right now, Seth, is that if you're making 14 bucks an hour, 12 bucks an hour and that check stops coming in, which is the case, how are you going to feed your family? How are you going to pay the rent? How are you going to keep your telephone going? We're not talking about that. And we need another stimulus package, by the way, which address those issues," Sanders said.
The Late Show with Stephen Colbert
Live from his family room, Colbert delivered an encouraging message for Americans during his Monday night web show: "You got this!"
His energetic burst of positivity was supported by the freshly pressed suit he was wearing. Colbert said he decided to start dressing how he'd usually appear on his TV show because it gave him a "sense that I am at a job" and because he does "not have a physique that lends itself to casual clothing." Overall, he just wanted to do something that felt normal and advised quarantiners at home to try and do the same.
"I know a lot of you out there are stressed because we're all in isolation, and no one knows how long this is going to last. But I have a simple message for all of you: America, you got this. You have been training for this moment your whole lives. Every canceled plan, every 2 a.m. Netflix binge, every GrubHub order from the restaurant across the street—it was for this! We're Americans! There's nothing we do better than not doing things!" Colbert assured viewers.
Jimmy Kimmel Live
Kimmel also got all dressed up for his show on Monday night. He even filmed the show on actual cameras, instead of the iPad he'd been using for the past two weeks.
After a quick thanks to the wifi gods for allowing us to maintain some sense of normality with endless hours of scrolling the internet, Kimmel got into his quarantine minilogue of the day, which wasn't lacking in cracks on Trump. Kimmel was incredibly tickled by the president's choice to brag about the ratings of his press conferences during a "deadly national emergency." Trump recently ranted about The New York Times' claim that his press conferences brought in ratings comparable to Monday night football or The Bachelor.
"You know, I hear words coming out of your mouth but I don't know what they mean," Kimmel teased. "I will say this: It's strange how The New York Times lies about every single thing except his TV ratings. And by the way, just because people are watching you doesn't mean it's good. Have you heard of The Masked Singer? Right now half of this country is watching a show about toothless meth heads abusing tigers, but the president is very proud of himself and couldn't resist blowing his big orange horn on Twitter, too."
The charity of the night was Stand up to Cancer.
The Daily Show with Trevor Noah
Although the weekdays and weekends were starting to blend together for Noah, the late-night host still managed to keep up-to-date on all the important headlines on Monday, like the fact that Russia issued a lockdown for Moscow to help combat the virus. "Let me tell you something my friends: When Russians are scared of something, then you know it's serious," he joked.
The "big story" of the day was the Netflix docuseries Tiger King, which millions of people have watched while living in self-isolation. Claiming the show was "even more viral than COVID-19," Noah urged folks at home to binge-watch Tiger King if they hadn't already.
"If you haven't watched this show, I'm telling you, you are wasting your life," he said. "It's the most fascinating show you've ever seen. It exposes the horrible world of exotic animal breeding in America—specifically, like, tigers and lions—and also, it answers the question: What would happen if meth smoked itself?"
Noah also sat down for a video chat with California Governor Gavin Newsom, and The Daily Show's Jaboukie Young-White talked coronavirus vaccines with scientist Dr. Peter Hotez. The charity of the night was First Responders First, an organization that aims to provide doctors and nurses with the tools and supplies they need to help people suffering from coronavirus.
The Tonight Show Starring Jimmy Fallon
Over at Fallon's house, the Tonight Show host spoke with Kim Kardashian West, who had snuck away from social distancing with her family to get a break at her mom's house. However, her mother Kris Jenner was only allowing her access to her "glam room" because it had an outside entrance that allowed people to enter the room without accessing any other part of the house.
"To be the teacher to four young kids—well, two are in school, so to two—is like insanity," Kardashian West said of her children. "I'm, like, hiding from them."
Jon Bon Jovi pinged in later on Fallon and performed a song new song he wrote about the coronavirus outbreak. Fallon is partnering up with State Farm for the charity of the week, which is the American Red Cross. State Farm has vowed to match donations made up to $100,000.