It's been a long week for late-night hosts. With so much to discuss night after night, it was no surprise to see many of them excited to indulge in Thirsty Thursday.
On his minilogue for his show, Jimmy Kimmel caught up with his pal and colleague Guillermo Rodriguez, who introduced the masses to his latest Thirsty Thursday concoction: a chocolate bunny filled with tequila and a straw. Meanwhile on The Late Show, Stephen Colbert enlisted his wife to make him a stiff drink, which he guzzled down throughout his monologue.
It wouldn't be an at-home show without mentioning coronavirus, and there was lots of talk about that. Specifically, the hosts were perplexed by comments made by Dr. Anthony Fauci, the head of the National Institute of Allergy and Infectious Diseases, regarding the way we live our lives going forward.
Check out a few of the best moments from late night last night below.
The Late Show With Stephen Colbert
Imagine a world where people compulsively wash their hands every time they touch something. That may be the new reality, according to Fauci, who recently advised people not just to jump back into their normal habits when the coronavirus ends. The immunologist said people will likely have to make constant hand-washing a part of our day-to-day in order to alleviate the further spread of coronavirus. Colbert, with a fresh cocktail in hand, thought this suggestion was a dream for those with OCD.
"Dr. Fauci wants to make compulsive hand-washing normal, which is great news for anyone with obsessive-compulsive disorder. Congratulations, you now have obsessive-compulsive order. Also being recommended by the CDC: counting the tiles on your kitchen floor and making sure your shoes all face north," Colbert joked.
He couldn't help but crack on the other bit of advice Fauci offered on The Journal podcast on Wednesday: people should not shake hands at all, even after the pandemic ends.
"Never shake hands? Well, that's bad news for the secret societies: 'Welcome to the exalted brotherhood. We shall now anoint you with the scepter of rebirth, and teach you the secret, uh, let's say elbow bump?'" Colbert said.
The Tonight Show Starring Jimmy Fallon
Fallon opened up his at-home monologue with a special message for the city of New York: "The sun will shine again."
The somewhat somber late-night host gave a special shout out to the transit workers, sanitation workers, firefighters and police officers who were still out doing their jobs every day despite the increased fatalities of essential workers as a result of the coronavirus pandemic. Thanking everyone who continued to put their lives on the line each day, a hopeful Fallon looked forward to the day when the Big Apple is busy and thriving again and his show's return to its base in Manhattan.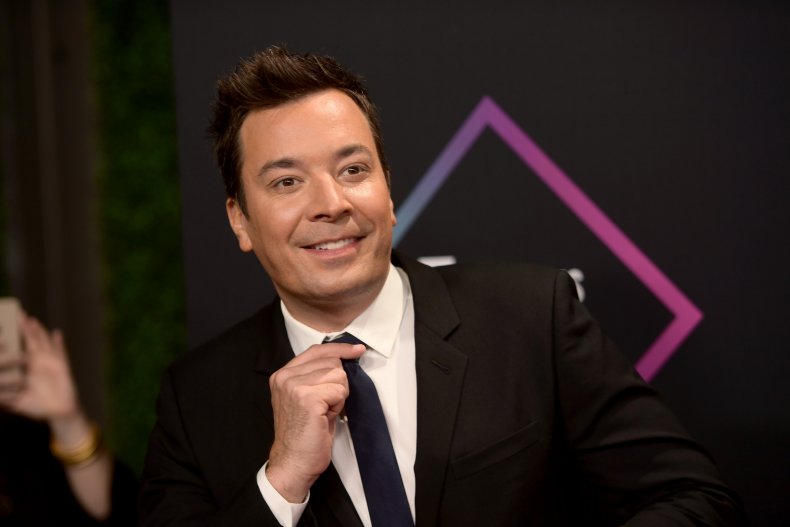 But Fallon realized that even when he does get back to the city, he may not be able to greet his colleagues in the same way he once did, especially now that Fauci has recommended for people to never shake hands again. That bit of advice may make things particularly challenging for the many Americans who may have job interviews when this is all over.
"Yesterday Dr. Fauci said he doesn't think that we should ever shake hands again, which will be weird when every job interview starts with an awkward chest bump," Fallon joked.
Jimmy Kimmel Live!
Over in California at Kimmel's house, the late-night host was boggled by President Donald Trump's initial response to the coronavirus and his new efforts to place blame on the World Health Organization, who Trump said "got it wrong" earlier this week--despite the president's not heeding memos sent to him from health professionals months before the disease arrived in the U.S.
Kimmel was even more blown away by adviser Peter Navarro's praise of Trump's handling of the pandemic.
"Where do they keep finding all these sick fanatic old white guys? Do they have a machine that makes them? Are they 3D printing them somewhere in Idaho or something? [Trump] didn't read the memos you wrote for him, warning that a disaster was coming. That makes him a chess master? Trump is the only chess master that probably doesn't know how to play chess," Kimmel said.