What You Missed on Late Night: Stephen Colbert Says He's Realized He Doesn't Criticize Donald Trump Enough
President Donald Trump's Tuesday announcement to halt funding to the World Health Organization in the midst of the coronavirus outbreak sparked an outpouring of reactions from health leaders, tech billionaires and folks all across the United States and around the world. So, naturally, late-night hosts had to share their two cents on the matter as well.
Trump's decision to pause funding of the organization, commonly referred to as W.H.O., was based on claims that the group failed to properly communicate the severity of the virus as an international threat. But regardless of the group's alleged mishandling or blundered response to the coronavirus, late-night hosts were baffled that Trump would stop funding the organization, which has been tirelessly fighting to stop the global pandemic.
"It's like when your house is engulfed in flames, first thing you do, burn down the fire department," Stephen Colbert said during his at-home edition of The Late Show on Wednesday.
Or as Jimmy Kimmel put it during his nightly monologue: "Stopping funding to an organization that handles pandemics in the middle of a pandemic is like slashing your own tires because you're mad you woke up late for work."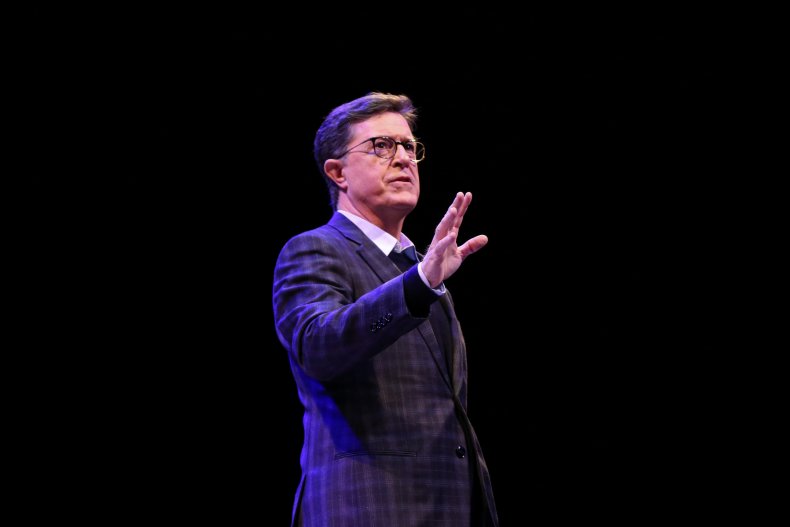 Read on for some of the best moments of late-night last night below.
The Late Show with Stephen Colbert
Colbert has often used his late-night show as a platform to criticize Trump, but viewers should expect him to up the ante going forward.
"Folks, if you watch the show you know I criticize Donald Trump a lot, but with this coronavirus gripping this nation, I realized I don't do it enough. And I blame myself—a sentence Donald Trump has never said because Donald Trump clearly only thinks about the needs of Donald Trump. And right now he needs someone to blame for how poorly he responded to the coronavirus," Colbert said.
In Colbert's opinion, the president was merely trying to deflect blame for the coronavirus' deadly outbreak in the U.S. away from his administration.
"I think you might be projecting sir," Colbert said before putting on his best Trump impression. "'The W.H.O. dragged its feet on COVID-19. The W.H.O. cheated on Melania when she was at home with a 3-month-old. The W.H.O. thinks they can get out of this by blaming all their screw-ups on the W.H.O. Not going to work, W.H.O.'"
The Daily Show with Trevor Noah
Trevor Noah was also perplexed by the president's timing.
"Even if you don't think the W.H.O. is perfect, the middle of a pandemic is not a good time to cut funding from a group that is an integral part of fighting coronavirus. Yes, the organization is not perfect but this is not the time to cut them off," he said. "It's the same reason you don't give your Uber driver one star during the ride. You do that s**t after you're safe at home, not while you're doing 90 on the freeway."
Aside from Trump's new beef with W.H.O., Noah took a moment to shout out the masses of people who have been battling with the unemployment office. Coronavirus has left millions of people jobless and desperately in need of unemployment benefits, but so many state offices are operating on outdated technology (the websites of some unemployment offices are running on coding dating back to the 1950s!) that can't support the influx of people trying to make claims.
"Do you even call it 'technology' when it's that old?" Noah asked.
As if the "old-a** technology" wasn't bad enough, the late-night host said it was even more frustrating that simply trying to talk to someone about unemployment is becoming a job for some people.
"People have been spending all day just to get through to the unemployment office. It's like an evil twist where filing for unemployment has become like a full-time job. I mean, that one woman said that she tried 2,000 times. She called 2,000 times. That is insane," Noah said. "That's as many calls as a mom makes when something goes wrong in the city where you live. 'Hi love, I heard there was a car accident in New York. Are you ok? Yeah, I know you don't live there anymore but I'm just checking, ok? Ok, love you. Bye-bye.'"
Jimmy Kimmel Live
Another big issue that Jimmy Kimmel couldn't wrap his head around was Trump's decision to sign his name on the stimulus checks that are going out to Americans, which is essentially delaying the delivery of relief checks. Kimmel thought the move might be the "Trumpiest thing Trump has ever done."
"This is the dumbest thing he's decided to put his name on since Donald Jr., and that's saying a lot," Kimmel said. "Why on earth would he put his name on these? They're not from him. It's not his money. He didn't even put his name on the check he sent Stormy Daniels. These dollars are tax dollars we pay. As far as I know, he doesn't even pay taxes. He certainly hasn't produced any evidence of it."
He added: "He's like a drug lord giving the villagers cash on Christmas so they look the other way the rest of the year."