What You Missed on Late Night: Trevor Noah Jokes Trump Wants to End Social Distancing to Get Away From Son Eric
Late-night hosts had a mouthful to say while under quarantine on Tuesday night. Trevor Noah, Jimmy Kimmel and Jimmy Fallon continued their YouTube minilogues and didn't hold back when commenting on the biggest headlines of the day.
See some of the best moments you missed on late-night last night below.
The Daily Show with Trevor Noah
Over on Noah's Daily Social Distancing Show, the 36-year-old late-night host was jealous that the president of his home country South Africa gave residents three whole days to prepare for their upcoming 21-day shutdown, unlike what's happened in America, where many states gave people 24 hours or so to prepare. Noah joked the three additional days was enough time for folks to not only get the supplies they needed to prepare for lockdown, but to also get a haircut—so they don't end up "looking like a caveman when they're stuck inside the house"—and obtain perhaps the most important self-isolation necessity: a quarantine bae.
"Three days notice give you time—crucial time—to convert your crush into your quarantine bae. Yeah, you don't think about that. America just announces a shutdown. What about all the single people?" Noah said.
Bachelor boredom under quarantine may be the reason why Noah's itching for life to get back to normal, but he also joked that he knows why President Donald Trump is so adamant about getting the country back up and running by Easter—which is sooner than health officials have warned.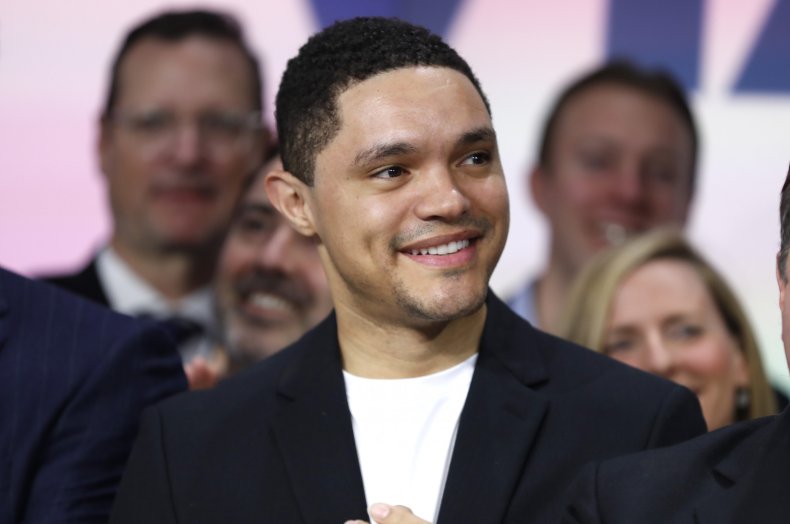 "I know many health experts are saying Trump is extremely irresponsible right now, but I can see where Donald Trump is coming from. Right? I can see why he wants social distancing to end. I would also take my chances with coronavirus if the alternative were spending months trapped in the house with Eric [Trump]," Noah said.
Jimmy Kimmel Live
Kimmel seemed to enjoy passing his time by watching videos of people doing odd things, like couples doing weird dances and pretending to be pony-riding cowboys. He encouraged more people to share how they've been keeping themselves entertained during quarantine by posting videos and pics with the hashtag "QuarantimeKiller."
Speaking of passing the time, Kimmel ripped on a couple of the "thickest headed politicians" who were seemingly using all their free time to spew misinformation about the coronavirus. One of Kimmel's targets? Texas Lieutenant Governor Dan Patrick, who appeared on Tucker Carlson's show on Monday and floated the idea that senior citizens, including himself, would be willing to go to an early grave to save the economy.
Of course, the president was also featured in Kimmel's takedown, thanks to his comments that Americans should be headed back to work by Easter.
"By Easter? That's in two-and-a-half weeks! Even Jesus is like, 'Jesus! Calm down. Let's think this through,'" Kimmel said. "We're all going to die so the president can eat Peeps."
Dave Matthews was the special guest on Kimmel, and he performed a version of Paul Simon's "American Tune" from his bathroom. The charity of the night was World Central Kitchen, Chef José Andrés' organization that fights hunger around the world.
The Tonight Show Starring Jimmy Fallon
Just call him Mr. Coffee.
Fallon had a quarantine caffeine crisis on Tuesday that he shared with viewers. While attempting to brew his morning pot of java, Fallon somehow got the coffee to flow into the water filter instead of the actual coffee pot. No word on whether Fallon resorted to drinking a water filter cup of the stuff.
Meanwhile, Fallon's daughter Winnie showcased her magnificent artwork. She was coloring characters the family planned to use for a game of Chutes and Ladders. As for Fallon's youngest, Franny—well, she was busy snacking on gummy worms.
Fallon's wife Nancy Juvonen made her video debut on the show. The film producer has been recording Fallon's YouTube monologues since production on The Tonight Show proper was indefinitely suspended. But viewers haven't gotten to learn too much about Juvonen, who co-owns the production company Flower Flims with Drew Barrymore, until she and her husband took part in a sweet Q&A session during their couple's walk.
John Legend also made his debut on Fallon's YouTube series. The superstar singer has been spending his quarantine realizing "how hard it is to entertain" his young children—Luna, 3, and Miles, 22 months, whom he shares with wife Chrissy Teigen—and said he's learned a lot more about his kids' interesting personalities along the way.
"[Luna's] learning how to play Hungry Hippo, and I realized that she's too nice when she plays games," Legend said. "She does not want to win all the way. She wants us to tie all the time."
The charity of the night was Feeding America, a food-bank service that provides meals to those in need.