What You Missed on Late Night: Stephen Colbert Blasts Donald Trump For Not Wearing Coronavirus Protection
Still following social distancing and shelter-in-place orders, late-night hosts filmed from home for the fourth week on Monday, or rather, what Stephen Colbert called "canned beef week."
It's apparent that everyone's ready to get out of the house, but as government and health officials warn, the worst of the coronavirus pandemic in the United States is nearing. And that's something even the witty jokesters of late-night had to take seriously. So it wasn't all that surprising when they caught wind of President Donald Trump's lacking efforts to follow health protocols and suggestions, despite telling everybody else it was in their best interest to.
See what hosts had to say about the president and everything else on late-night last night below.
The Late Show With Stephen Colbert
Colbert had some folk's blatant disregard of social distancing practices on his mind, particularly Georgia's Governor Brian Kemp, who reopened all the state's beaches despite the increasing number of coronavirus cases in the state and across the country.
He was also disappointed in a Louisiana church that sent 26 buses to pick up worshipers for Sunday service even though the state's governor banned gatherings of 10 or more people. "That is just irresponsible," Colbert said.
"Remember Jesus' words, 'I was naked and you clothed me. I was sick and you put me on a crowded bus? Are you crazy? I'm contagious,'" he continued.
It was the president's weekend comments that riled Colbert up the most, starting with Trump's constant advocacy of hydroxychloroquine, a medication used to prevent or treat malaria that Trump has claimed can help with COVID-19 even though medical experts have said there is no such evidence that the drug can treat the virus and warned that hydroxychloroquine could cause "dangerous and irregular heartbeats."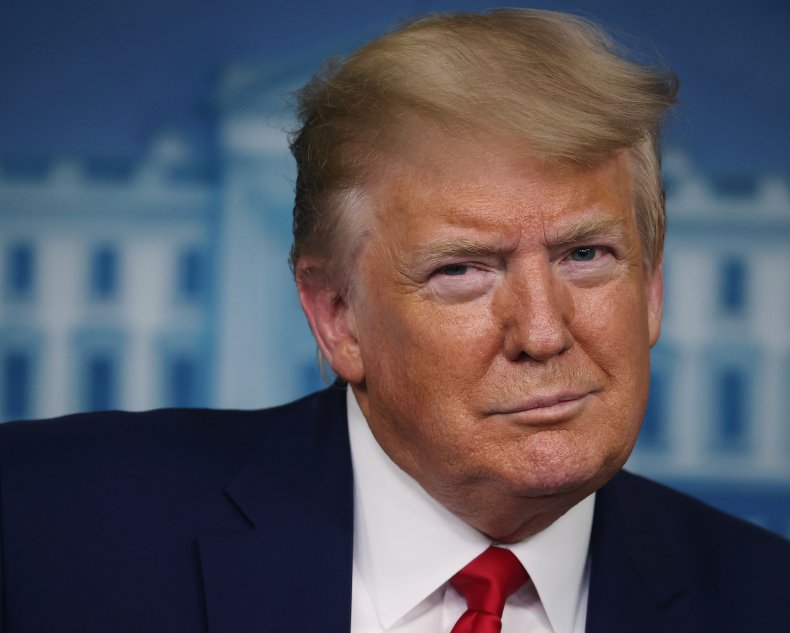 "Yes, try it if you like it. And if you're worried about the side effects, just remember Donald Trump is a doctor," Colbert said before cutting to a clip of Trump stating that he was, in fact, not a doctor.
Colbert also found it interesting that now—after the Centers for Disease Control advised for Americans to wear cloth face masks to prevent contraction and spreading of the virus—Trump said he would not be wearing one. The president did, however, encourage everyone else to cover their face during a recent press conference.
"Well, of course, Trump is the guy saying he doesn't want to wear protection!" Colbert exclaimed before putting on his best Trump impersonation. "Masks are just the condom of the face. It kills the feeling. I mean, there's a reason I don't wear a raincoat in the shower or a condom during sex.'"
The Daily Show with Trevor Noah
Trump's disregard for CDC mask suggestions was the talk of the town over at Noah's New York City apartment as well.
"President Trump has said that these guidelines are voluntary and he will probably not wear a mask, which, let's be honest, doesn't surprise anyone. Trump is all about appearance. He's not going to be wearing a mask. He doesn't care about safety," Noah said. "In fact, the only way they can get him to wear a mask is if his aides trick him. They've just gotta trick him like he's a child. "No Mr. President, it's not a mask. It's a border wall for your face.'"
Late Night With Seth Meyers
Meyers couldn't tell viewers whether the tiny secret door in his upstairs attic led to a storage room for his kids' toys or if it was a "Wonka door" for the Oompa Loompas that may or may not be living in his house, but he could tell us his thought's on the president's coronavirus contradictions and continued spreading of misinformation like his ongoing support of hydroxychloroquine.
"So if he won't even offer millions of Americans basic health insurance during a deadly pandemic, what is Trump offering?" Meyers asked. "Well, like a true huckster, he's selling them an unproven medication that's still in clinical trials, telling people to try it even though it could have dangerous side effects before it's approved by actual medical professionals."
He added: "We've been calling Trump a snake oil salesman for years, and now he's literally standing at the podium trying to sell us a miracle cure."