What You Missed on Late Night: Stephen Colbert Tells Trump to 'Grow Up and Do Your Damn Job'
President Donald Trump was the talk of the town on late night on Tuesday—and no, not in a good way, in case that wasn't immediately clear.
Stir crazy and ready to get out of the house, late-night hosts seemed to be fed up with the president's antics, including Trump's irate takedown of a press reporter during a daily briefing and his constant advocacy of a drug that he claims can help coronavirus patients, despite health officials warnings that it's effectiveness has not yet been proven.
There were a few bright moments, though, particularly over at Jimmy Fallon's house, where his daughter celebrated a major milestone.
Check out some of the best moments of late-night last night below.
The Late Show with Stephen Colbert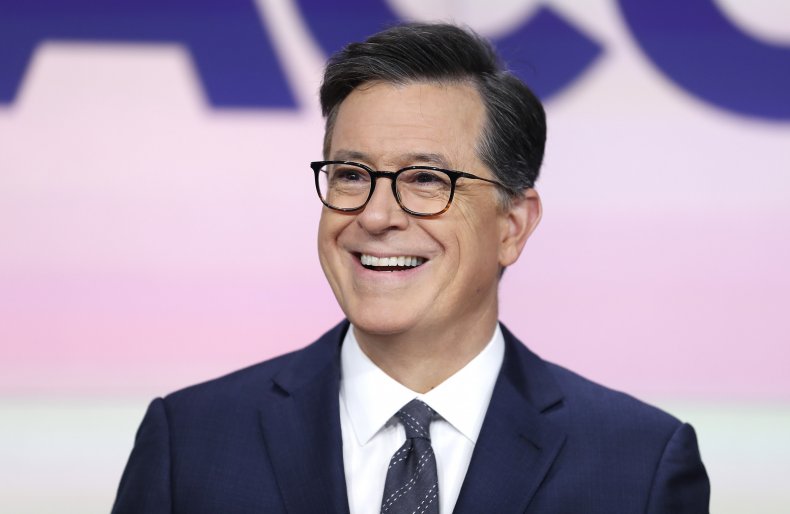 There were plenty of issues that had Colbert's brain wracked on Tuesday night, like the Supreme Court's "sadistic" overturn of Governor Tony Evers' order to postpone in-person voting in Wisconsin, as well as the acting secretary of the Navy ("and man who ordered his hairline to retreat") Thomas Modly's resignation.
But the brunt of Colbert's jokes were reserved for Trump, who started off a press conference on Tuesday by lambasting a reporter who asked a question regarding an inspector general report that found states and hospitals faced a shortage of protective equipment and testing needed to effectively address the coronavirus pandemic. Governors and hospitals across the U.S. have stressed the need for more testing to efficiently combat the virus for weeks now, but Trump told a reporter that it wasn't the federal government's job to "stand on street corners doing testing."
"He reacts like a teenaged girl," Colbert said before delivering his newest Trump impression, "'Ugh. Here we go again, a reporter wanting to know information. I'll tell you what—you just tested positive for being a total b***h.'"
Colbert's biggest bone to pick with the president was regarding Trump's outburst when an ABC News reporter pressed him on the inspector general's report—Trump berated the reporter for asking a "horrid" question.
"All of this drama no longer plays to the camera, sir, not even to your own supporters. Because it doesn't matter who you voted for, everyone just wants to know the truth because that's how you stay alive. So grow up and do your damn job. We have to, so you should, too," Colbert said.
Jimmy Kimmel Live
Kimmel, who claimed during his monologue that he and his wife wake up each morning worried they may be infected with COVID-19, was also completely over the president—particularly Trump's continued advocacy of a medication whose name he can barely pronounce.
"Our president is also volunteering as a doctor by arbitrarily prescribing lupus pills and fishtanks chemicals at every press conference he holds. Trump, over the past three weeks, has been pushing this drug hydroxychloroquine very hard, despite repeated warnings from many doctors, including his top health guy Dr. [Anthony] Fauci, who warned that the drug's effectiveness against this virus hasn't been tested yet," Kimmel said. "Well, now it turns out Trump's inexplicable passion for this drug might be a bit more explicable. Turns out he has a financial stake in the company that makes the drug."
Kimmel added: "Did we really think [Trump] went out of his way to learn to say hydroxychloroquine for no reason?"
The Tonight Show Starring Jimmy Fallon
Meanwhile, Fallon had a star-studded lineup of interviews with husband-and-wife duo Ciara and Russell Wilson. He also had a chat with pal Justin Timberlake, who gave a sweet account of how their bromance developed. But the one who totally stole the show was Fallon's daughter Winnie, who abruptly interrupted his video chat with the Russells to share some very important news.
"Daddy! I lost a tooth!" she exclaimed just as Russell Wilson was revealing everything he and his wife were doing to help first responders and medical staff in California.
Fallon and his guest couldn't help but focus their attention on the little girl who was over-the-moon with joy at having just lost a tooth.
"Just now, it just happened?" Fallon asked. "Oh, let me see it. Oh my gosh. Winnie, I'm so happy!"
When asked how her tooth came out, Winnie explained she did it the old fashioned way: Her mom put a string around her tooth and pulled it out.
"Hopefully the tooth fairy knows that this happened and will be visiting you tonight," Fallon said.