What You Missed on Late Night: Colbert Says Republicans Are 'Sick of Fauci Reminding Them How Many People Will Get Sick'
Birthdays just aren't the same anymore.
Shelter-in-place orders and social distancing have resulted in many folks having to turn another year older at home, either completely by themselves or with the family members and roommates they've been shacking up with for the last two-and-a-half months. But people are finding interesting ways to keep festive on their birthdays, whether it's by hosting Zoom parties with friends or channeling their inner Cake Boss and baking delicious treats.
Stephen Colbert's wife and kids made sure to make his 56th birthday a memorable one despite the circumstances. They crashed The Late Show on Wednesday and presented him with a beautiful birthday cake while the late-night host was filming his at-home monologue.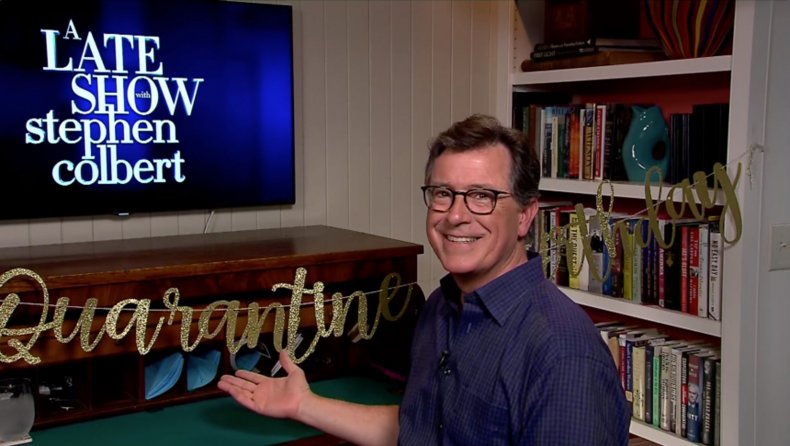 Meanwhile, Jimmy Fallon was still finding it weird to be working from home after all this time and Seth Meyers was finally feeling justified for a pointless purchase he recently made.
Check out a few of the best moments from late night last night below.
The Late Show with Stephen Colbert
Joking that he turned "more at risk" on his birthday on Wednesday, Colbert continued to focus on the contrasting coronavirus messages that the government and National Institute of Allergy and Infectious Diseases Director Anthony Fauci were issuing.
Fauci recently spoke to the Senate and said that the consequences could be really serious if lockdown orders were lifted too soon. But the potential spike in fatalities wasn't a message that Republicans wanted to hear, according to Colbert.
"Republicans are desperate to reopen the economy because if they don't they'll have to do the unthinkable: give money to someone other than rich people. And they're sick of Dr. Fauci reminding them of how many people will get sick," he said, referencing Kentucky Senator Rand Paul's skepticism of Fauci's advice being the "end all" on all things coronavirus.
"You're right. 'End All' is actually [President Donald] Trump's new campaign slogan," Colbert added.
Speaking of campaigns, Colbert took a few jabs at the president, who hasn't been able to hold any of his famous rallies this election season, due to the pandemic.
"The lockdown is also affecting the 2020 election. Hey, remember that? It's just a few months away, and Trump is itching to get back on the campaign trail. Tomorrow he's going to Allentown, Pennsylvania, where he'll visit a medical distribution center. He so wants to be doing stadium rallies but instead, they're making him do educational field trips," Colbert said, before dishing out his best Trump impersonation. "'Wait a second, is there any way you can make these forklifts screen my name? Can they at least hold up a baby in a racist onesie?'"
Jimmy Kimmel Live
The "dopes at Fox News" got the burn on Kimmel's show. The late-night host ripped some of the hosts and commentators who were questioning Fauci's warnings against reopening the country.
"These guys are unbelievable. Anyone trusting Fox News over doctors right now should only be allowed to see Tucker Carlson when their stool comes out red," Kimmel said. "But the president—Fox News viewer number one—says he disagrees with Dr. Fauci too. He is ready to open the schools."
He added: "In fairness to Trump, if your kids came out like Eric and Don Jr., you'd want to get schools going too."
Late Night with Seth Meyers
Over in Meyers' attic, he was excited to learn he could write off a tiny chair he purchased now that it's been featured on his TV show, but he was not happy to hear the current president floating unspecified conspiracies about his predecessor, former President Barack Obama.
"Just yesterday, the nation's top infectious disease expert, Dr. Anthony Fauci, warned of needless suffering and death if states reopen too soon and said that little spikes of coronavirus could turn into full-blown outbreaks. And yet, instead of taking that danger seriously and correcting his mistakes, the porridge-brained adult toddler who's in charge of keeping us all safe has spent the last few days obsessively rage-tweeting vague conspiracy theories about his predecessor. Like when he tweeted out the word 'OBAMAGATE' in all caps. And when he was asked to explain what the so-called Obamagate scandal he keeps tweeting about actually was, he just couldn't."
Meyers added: "Trump's so lazy he can't even be bothered to come up with the details of his own fake scandal anymore. 'Look I came up with the name, o.k.? How much do you want me to do?'"