What You Missed on Late Night: Hosts Weigh in on Trump's Response to Stay-Home Protestors
Welcome to week five—or six? Is it seven?—of late-night at home! Honestly, who even knows what day or week it is at this point? After so many days of social distancing and self-isolating at home, all the days of the week are beginning to feel like one long, never-ending moment in time for many Americans and their beloved late-night hosts.
During his Monday night monologue from home, Stephen Colbert admitted that the only reason he knew the weekend just passed was because of the One World: Together At Home special he hosted with "the Jimmys" (meaning fellow late-nighters Jimmy Fallon and Jimmy Kimmel) on Saturday. The benefit honored medical workers around the globe who have put their lives on the line to combat the coronavirus.
Kimmel and Fallon were also struggling to keep up with the days of the week while filming from their humble abodes, but all in all, late-night hosts are getting it done. With oil prices tanking and people protesting stay-home orders in various states, there was plenty for them to discuss on their respective shows on Monday, and, boy, did they.
Check out a few of the best moments from last night's late-night below.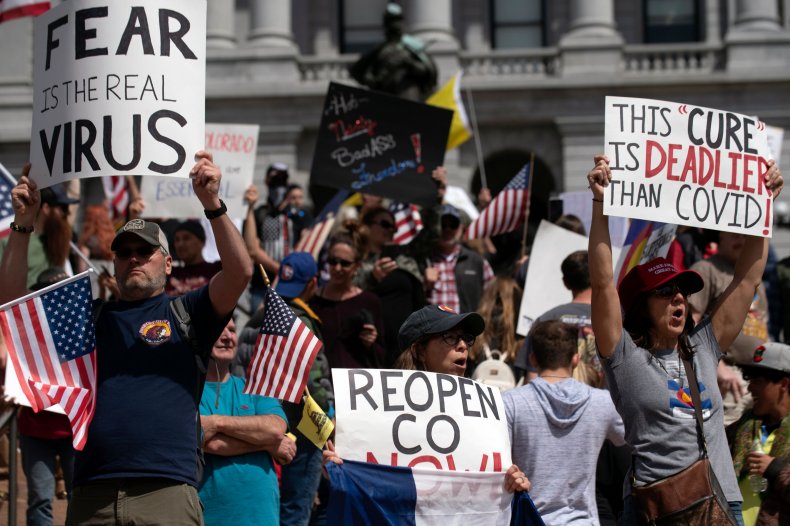 The Daily Show with Trevor Noah
There aren't many things that can surprise Noah, so naturally, he was nothing more than amused by the thousands of people in states like Wisconsin, Michigan and Colorado, who took up their signs and rallied in large public groups in protest of coronavirus-related lockdowns.
"Let's be honest people, this is both insane and counterproductive because the more you gather in groups the longer the lockdown will have to go on," Noah said. "Can you imagine if during the AIDS crisis mobs of people gathered to gang-bang that monkey that started it all? 'What do we want? Monkey sex! When do we want it? Now!'"
Of course, having the support of President Donald Trump—or the "moron-in-chief" as Noah referred to him—wasn't helping the situation. Last week, Trump encouraged protestors to excise their rights, explaining that he understood how people were suffering from cabin fever and wanted their lives back.
"Yes, people are suffering from cabin fever, and honestly, I can't think of any disease right now that could be worse than that. You know, Trump talks about cabin fever like it's an actual illness," Noah said before dishing out his Trump impersonation: "'This cabin fever, one of the worst outbreaks we've ever had. Even worse than that disease from the '70s: disco fever. It was so hard staying alive, staying alive. I, I, I was just trying to stay alive.'"
The Late Show with Stephen Colbert
The W.H.O. released a new fact sheet warning about the dangers of alcohol use during a health crisis, noting that liquor can compromise the immune system and put drinkers at a higher risk of "adverse health outcomes." Colbert warned that even in non-pandemic times, drinking alcohol can "cause liver damage, heart disease, Rick and Morty tattoos and acute cases of, 'Hey y'all, watch this!'"
The organization also encouraged people to follow standard office etiquette and avoid drinking while working from home. Luckily for Colbert, drinking on the job wasn't a big deal. "Thank goodness, my workplace is super chill," he said before taking a sip of a cocktail.
He continued: "You know who I bet could use a drink right now? The fossil fuel industry."
Oil prices sank to a historic low on Monday, dipping to negative $40 in value.
"I think that means when you go to the gas station, you get a free tank and $40 worth of Slim Jims. To save their profits, Texas oil fields are immediately switching over to drilling for toilet paper," Colbert joked.
Jimmy Kimmel Live
Kimmel wan't the only one itching for some time outside of the house. His kids were feeling it, too.
"We sat our family down for like our 340th dinner in a row together last night, and our son Billy said, 'No, I want to get in a car and eat at a store.' Specifically, he wanted to eat at Chuck E. Cheese, which I would consider at this point. That's an essential business right?" Kimmel teased.
It's true, people are getting restless, especially—according to Kimmel—"the people who aren't too bright." He cut to a clip of Florida beachgoers who were quick to hit the sandy shores after Governor Ron DeSantis reopened beaches just ahead of the weekend and a few snapshots of the creative signs people made to protest stay-home orders all over the country. He was particularly perturbed by a video shot of a woman yelling at a medical worker in Denver, Colorado.
"Well, you know what they say: It ain't over until the fat lady screams crazy right-wing talking points at a medical professional who's trying to save their families lives," Kimmel said.
Kimmel thought the president's tweets calling to "LIBERATE" states like Michigan, Minnesota and Virginia weren't helping things. "This from a man who refuses to even liberate Melania [Trump]," Kimmel said.
The Tonight Show Starring Jimmy Fallon
Meanwhile, over at Fallon's place, the late-night host joked that his wife and kids were marching around the house with their signs demanding that he go back to work. After a few rounds of jokes, Fallon introduced a new format, "Screengrabs," during which he shared screenshots people sent him over the weekend featuring unbelievable headlines, like "Rain creates wet roads" and a market ad for a spiral ham that was "100 percent edible."