A growing number of U.S. service members are searching for answers about who is responsible for what they say is a delayed response in controlling the coronavirus outbreak after one sailor on the USS Roosevelt died from COVID-19 this month and after personnel were required to improvise their own masks and other protective equipment to avoid infection.
But the picture behind the scenes at the Department of Defense is complex, and officials who regularly monitor threats the military face struggled to grapple with a rapidly changing scenario as the coronavirus spread out of control from China across the globe, Newsweek has learned. Conflicting reports and narratives from media outlets and officials further complicated the picture, leaving many to question when exactly the Pentagon began to understand the extent of the challenge it faced.
Using internal documents and interviews from a senior U.S. intelligence official familiar with the matter, Newsweek has been able to piece together a timeline that shows the first assessment regarding COVID-19 threats to U.S. military preparedness came too late, not emerging until after first active service member was infected, and how subsequent actions did not move fast enough to keep up with the spread of the virus.
As far back as November, the U.S. Intelligence Community had been tracking a new contagious disease spreading through China. The official, who was not authorized to speak publicly on the matter, described this reporting, part of routine collections, as relating to the illness's spread abroad. The Intelligence Community did not, as has been reported by several media outlets, develop a formal report about how the coronavirus could affect U.S. military readiness in November. The Defense Intelligence Agency's National Center for Medical Intelligence (NCMI) also denied the existence of such a November-dated document in a rare, recent statement.
"As a matter of practice, the National Center for Medical Intelligence does not comment publicly on specific intelligence matters," NCMI director Colonel Shane Day said Thursday. "However, in the interest of transparency during this current public health crisis, we can confirm that media reporting about the existence/release of a National Center for Medical Intelligence Coronavirus-related product/assessment in November of 2019 is not correct. No such NCMI product exists."
By December, however, the reporting identified "potential risks to U.S. interests" and, by January, "potential domestic impacts" were established, the senior U.S. intelligence official said. Still, these reports "were ignored by the White House and downplayed by the administration," the official told Newsweek.
"The United States government had ample warning, based on observations of the spread in China and other countries from intelligence reporting dating back to November, to have taken much more stringent precautions prior to the virus' arrival in the U.S. to mitigate the virus' impacts domestically," the official told Newsweek.
It was not until February 27, two days after a soldier stationed at Camp Carroll, South Korea, became the first U.S. service member to test positive for COVID-19 that NCMI produced a detailed assessment of the disease's probable impact on the readiness of the armed forces. By this time, the new coronavirus had already expanded to 46 countries outside of China, stretching as far across Asia as Iran, and took hold in Italy, where the illness first began to draw significant attention in the West.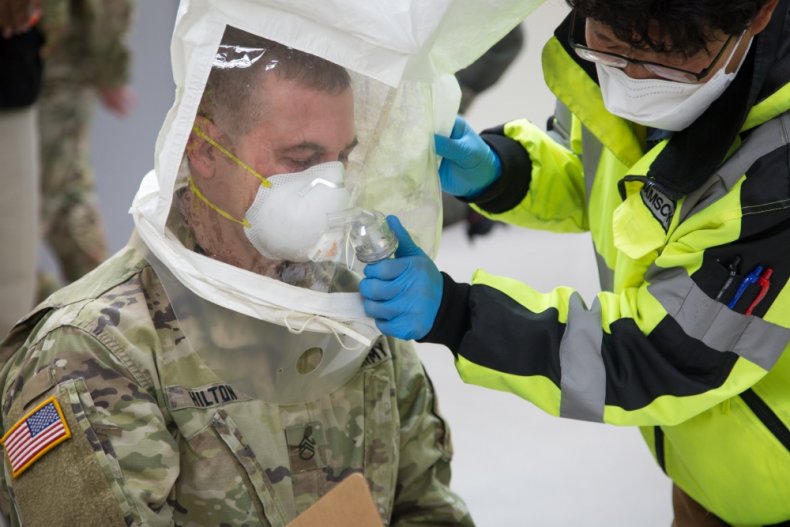 The document, seen by Newsweek, also predicted that a pandemic would likely be declared within 30 days and that health care systems around the world could be overwhelmed within 90 days. It warned of a worsening problem but said that major repercussions for military readiness were unlikely in the short term.
The new coronavirus and its unpredictable, highly contagious nature were considered a much more serious threat in a follow-up report published March 5. This second report reflected a greater human-to-human transmission rate observed for COVID-19. The situation now meant some U.S. military units could be incapable of undertaking missions for up to two weeks because cases affected up to 10 percent of unit strength each month, the document said.
"The Department of Defense continuously assesses the worldwide environment for threats to our military readiness and national defense using a variety of capabilities and in conjunction with the broader Intelligence Community and our allies and partners," Pentagon spokesperson Lieutenant Colonel Uriah Orland told Newsweek.
Such assessments as those seen by Newsweek fall under "medical intelligence," which the U.S. military defines as "the product of collection, evaluation, and all-source analysis of worldwide health threats and issues, including foreign medical capabilities, infectious disease, environmental health risks, developments in biotechnology and biomedical subjects of national and military importance, and support to force protection."
Douglas Wise, former deputy director of the Defense Intelligence Agency, explained to Newsweek that NCMI regularly performs intelligence gathering and analysis in this field and that once a credible threat emerged, such as the COVID-19 case among personnel at U.S. Forces Korea, it "would have given NCMI authority to act" even without a specific order from the administration to do so.
"Their organization has a very clear mission to identify and assess the threats to deployed U.S. military forces from a pathogenic threat. The collateral mission is to assess the capabilities of allies and adversaries in dealing with the same threat to their military forces," Wise told Newsweek. "That's a very clear mission, it's a very clear mandate, and there's no other authorities required and they will just naturally respond to do an emerging pathogenic threat and produce the necessary analytic products—that's what they do and they do a good job."
"Anytime that the military believes they have been impacted by a pathogenic, pandemic, biological, or biomedical threat and anytime they were notified that the military had been affected by this they would very naturally rise to that mission and produce an assessment," he said. "In this case, they self-initiated, they didn't need any additional authority."
But as late as February 26, a day after the first active U.S. military personnel COVID-19 illness in South Korea and a day before the first formal assessment of how the disease could impact the military's preparedness, President Donald Trump suggested a pathogen that had so far infected only 15 people in the U.S. would "be down close to zero" within 15 days.
Fifteen days later on March 5, the date of the second assessment, the number of U.S. infections had instead soared to 129. Meanwhile, military movement pressed on for some time in spite of intelligence warning of a worsening crisis.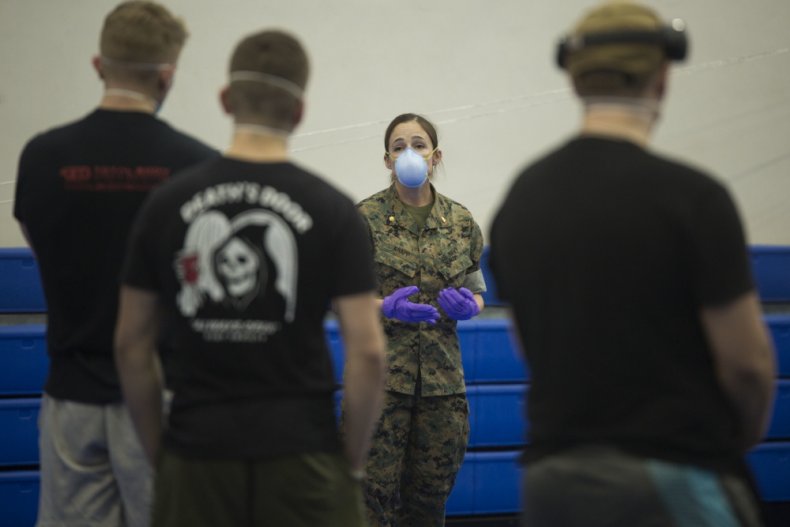 On the same day the March 5 assessment was issued, the Guam-based USS Theodore Roosevelt aircraft carrier arrived in Da Nang, Vietnam, for a visit commemorating a quarter-century of relations between former foes Washington and Hanoi. Hundreds of the ship's sailors would go on to fall ill from COVID-19 and, while the origin of the outbreak on this vessel has yet to be identified, the ensuing controversy consumed the conversation regarding the military's handling of the coronavirus crisis.
On Monday, April 13, the first USS Theodore Roosevelt sailor succumbed to the sickness. President Trump linked the outbreak and the Vietnam visit, criticizing the military's decision to pursue the trip in spite of the worsening epidemic in nearby China, as well as commanding officer Captain Brett Crozier's urgent appeals for the Pentagon's support in quarantining sailors in the following weeks.
"I don't think the ship should have been stopping in Vietnam when you have a pandemic, to be honest with you. I don't think the captain should have been writing letters," the president told a press conference Monday. "He's not Ernest Hemingway."
The White House did not immediately respond to Newsweek's request for comment. Despite scrutiny of his handling of the pandemic, Trump and his administration have vigorously defended their actions. Trump, for example, moved to halt travel from China just one day after the Centers for Disease Control and Prevention (CDC) confirmed the first case of human-to-human COVID-19 transmission in the U.S., doing so despite criticism from some of his Democratic detractors.
Crozier, however, was removed from his post on April 2, a day after his message was leaked by The San Francisco Chronicle. Acting Navy Secretary Thomas Modly defended the move, but later resigned after a backlash against him for having accused Crozier of being "too naive or too stupid" or guilty of "betrayal" in remarks to the USS Theodore Roosevelt's crew. Modly later apologized and resigned the following day.
That controversy played out just as the Pentagon rolled out new guidelines to service members. An April 5 memo issued one month after the second intelligence assessment seen by Newsweek was circulated, instructed personnel and their families "to fashion face coverings from household items or common materials, such as clean T-shirts or other clean cloths that can cover the nose and mouth area" and to wear them at all times they were unable to social distance at six feet.
Former U.S. service members and experts contacted by Newsweek expressed frustration with the delayed timing and seemingly improvised nature of the new protocols upon their release. One of them, Fred Wellman, a retired Army officer who serves as CEO of veteran- and military-focused research firm ScoutComms, asked at the time: "We have plans on the shelf for every possible thing on Earth. How was there not one for this and if there is, why aren't we following it?"
As of Tuesday, that number of U.S. infections has exceeded 600,000, out of nearly 2 million confirmed instances of the contagion worldwide. Of the cases in the United States, more than 25,000 people have died. Another 125,000 patients across the globe have died.
"There are going to be lots and lots and lots of lessons learned," Joint Chiefs of Staff Chair Army General Mark Milley told reporters at a press briefing Tuesday.
"It's not going to be business as usual," he added. "We've got to take a hard look at how we as a military, we as a department of defense, conduct operations in the future and what we need to do to apply those lessons learned and implement them so that we can continue to be effective in a quote-unquote post-COVID-world, or in the next part of it."