Midterm Elections Results 2018 Latest: Undecided Race Updates for House, Senate and Governor as Democrat Gains Continue
As vote counting continued in the days following Tuesday's midterms, Democrats saw their House advantage grow, while Republicans saw a possible one-seat loss in the Senate. Both parties also hold significant stakes in Florida's Senate and governor contests, and in the Georgia governor race.
With 13 House races have yet to be called, the Democrats now have a 225-197 majority, according to The New York Times. Of those 13 House races, Democrats were ahead in five and Republicans in eight.
The Democrats picked up at least five more House seats between Wednesday and Thursday, pushing their total gain to 30 seats. They needed 23 to take control of the chamber from the Republicans.
In the Senate, Republicans saw their hold on the hotly contested Arizona race slip away on Thursday. Originally, it looked as if the GOP had retained the the seat, made vacant by retiring Senator Jeff Flake, and would couple that apparent win with victories in Missouri, North Dakota and Indiana.
Republicans could have included Florida in their total number of flipped Senate seats, but the 0.2 percent margin between Democratic Senator Bill Nelson and Republican Governor Rick Scott could trigger a recount in the Sunshine State.
Here is an updated list and breakdown of the remaining undecided races for the House and Senate, as well as contests for governor.
Senate
Arizona and Florida
In Arizona, Democrat Kyrsten Sinema pulled ahead of Republican Martha McSally on Thursday, but state officials said 345,000 votes were still uncounted. Sinema held only a slim lead of just over 9,600 votes.
Florida's final results remained mired in controversy as Scott cried potential voter fraud in Broward and Palm Beach counties Thursday. The National Republican Senatorial Committee and Scott's campaign each filed lawsuits against supervisors of the counties' elections. With such a slim difference between the candidates, a recount appeared likely.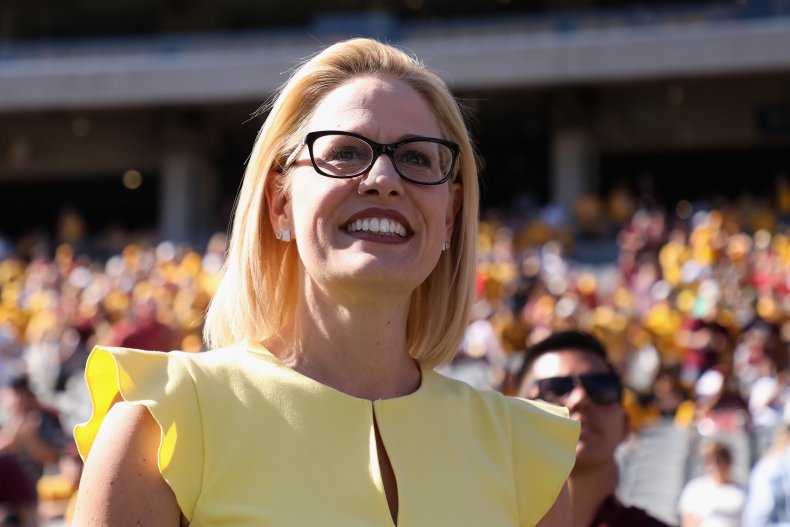 Governor
Georgia and Florida
The only governor's race yet to be called could eventually be decided by a runoff election next month. In Georgia, Republican Brian Kemp had 50.3 percent of all votes counted to Democrat Stacey Abrams's 48.7 percent. Kemp resigned as secretary of state on Thursday, but his former department said more than 21,000 provisional and absentee ballots had not been counted. Should Kemp not retain 50 percent or more of the vote, a runoff election would take place December 4.
The race for Florida's next governor initially seemed over, with U.S. Representative Ron DeSantis ahead of Democrat Andrew Gillum, but that contest could also be heading for a recount. Gillum conceded to DeSantis on election night, but ballots are still being counted, and as of Friday Gillum was behind by about 36,000 votes, or 0.45 percent. In Florida, if the difference between the candidates is 0.5 percent or less, a machine recount is required. If the difference is slimmer, a hand count is called for.
House of Representatives
California: 10th, 39th, 45th, 48th Districts
Georgia: 7th District
Maine: 2nd District
New Jersey: 3rd District
New York: 22nd, 27th Districts
North Carolina: 9th District
Texas: 23rd District
Utah 4th District
Over the past two days, Democrats increased their House lead with some upset results. Georgia's 6th District flipped back to a Democrat, Lucy McBath, after Republican incumbent Karen Handel conceded on Thursday. Just 18 months ago, Handel beat Democrat Jon Ossoff in a hugely expensive special election.
California's 10th District currently leans toward incumbent Republican Jeff Denham by 1.2 percent over Democrat Josh Harder. But officials from Stanislaus and San Joaquin counties said Thursday that roughly 170,000 ballots still needed to be counted.