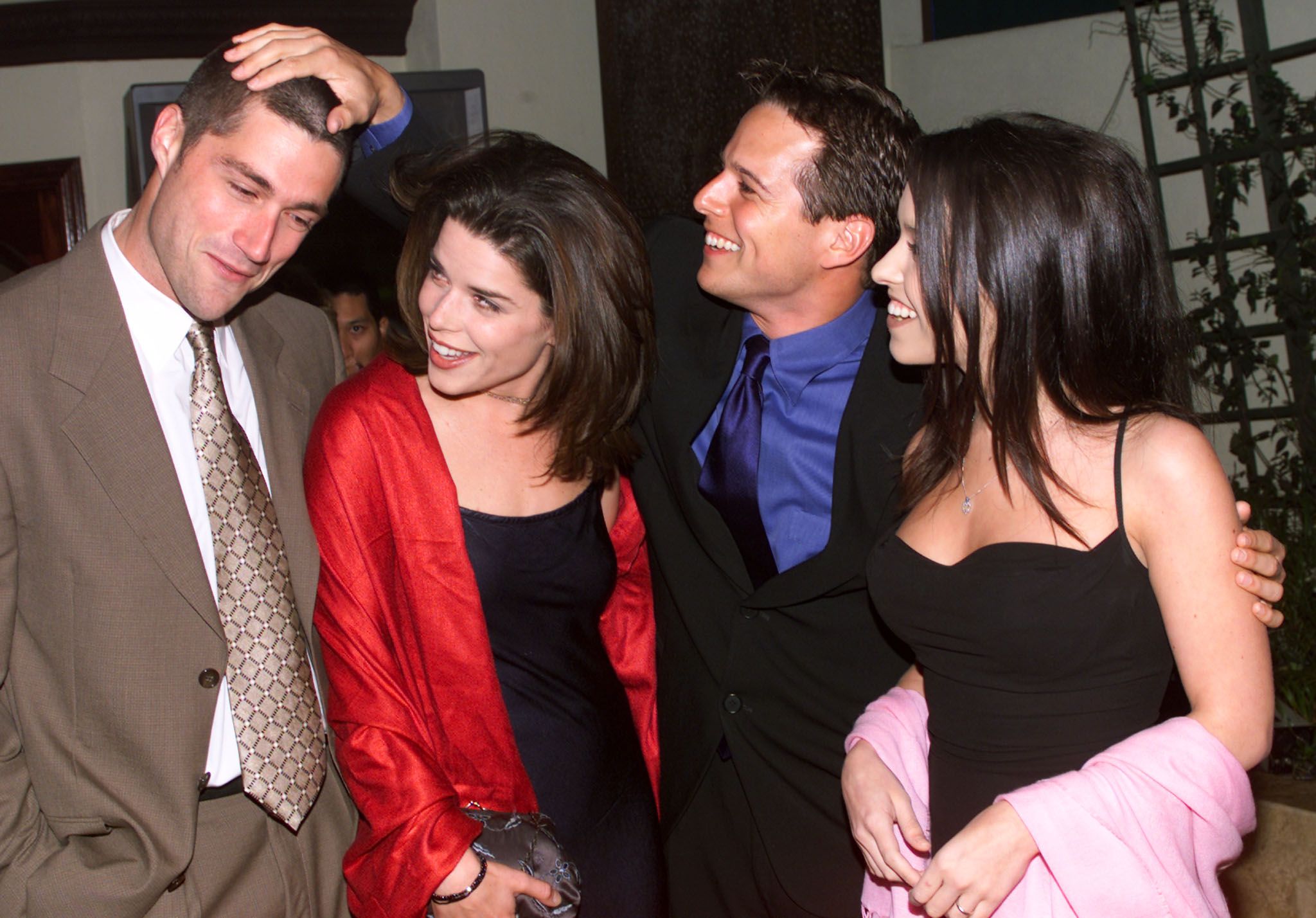 Turn on the television and it's like the '90s woke up and cast a spell over the screen. This week, everyone's attention on the anticipated revival of the hit sitcom Will & Grace, which premiered (the first time around) in 1998 and returns on Thursday. But the trend is bigger than Will, Grace, Jack and Karen. Nineties television is making a nostalgic comeback, with the latest series with a reboot in the works is Party of Five.
Party of Five followed five San Francisco siblings whose parents had been killed after being hit by a drunken driver. The series, which premiered in 1994 and ran for six seasons, starred Neve Campbell (now on House of Cards), Matthew Fox (later of Lost), Scott Wolf (most recently on The Night Shift) and Lacey Chabert (who audiences may remember as Gretchen Wieners in Mean Girls or the voice of Eliza in The Wild Thornberrys ) as the four older siblings, as well as Jennifer Love Hewitt (who later had her own spinoff Time of Your Life) as a friend and girlfriend. The series won a Golden Globe for best drama in 1996.
The series creators, Chris Keyser and Amy Lippman, are now developing a reboot for Sony Pictures Television Studios, according to an exclusive report from The Hollywood Reporter. The project is apparently in such early stages that studio producers have yet to hear the pitch, and no network is yet attached.
When Party of Five aired the first time around, it dealt with difficult and timely issues: five children lost their parents; a beloved violin teacher came out as gay and later adopted a little girl; one sibling got pregnant at 16 and had a miscarriage while planning for an abortion; another sibling struggled with alcoholism; and more.
It's not surprising, then, that the reboot will incorporate one of the hottest topics of the current political landscape: Immigration. Instead of the lives of the Salingers, it will follow a Latino family that has arrived in the U.S. and is figuring out new surroundings. Though one might guess that the thread tying it to the original show would mean parents are out of the picture, that particular plot point has yet to be revealed.
Party of Five is one of a long list of series that ran, or at least began, in the '90s that has already returned or is on its way back. Beverly Hills, 90210—which for several years aired right before Party of Five on FOX on Wednesdays and was canceled at the same time —had a reboot as 90210, which ran for five seasons starting in 2008.
We've also seen a reboot of Boy Meets World as Girl Meets World, a revival of Full House as Fuller House, a reboot of Baywatch as a movie and the return of Twin Peaks. A reboot of The Magic School Bus is coming to Netflix on Saturday, Warner Bros. and Steven Spielberg are developing a reboot of Animaniacs, Nickelodeon has announced reboots of Teenage Mutant Ninja Turtles, Rocko's Modern Life and Invader Zim (as a movie), Hey Arnold! is coming back to the small screen as Hey Arnold! The Jungle Movie, the sitcom Roseanne will be back on ABC, X-Files is due back for another season, and the list continues.
MTV is even having a group of millennials attempt to go back in time to live as though it's the 1990s—with no technology invented after 1999—in 90s House, co-hosted by former NSync singer Lance Bass and Christina Milian. In other words, there's no better time to watch TV like it's the '90s or relive the '90s than now. Well, other than the '90s.