The Latest Art Trend Is Catering to Dogs, Because Canines Deserve Entertainment, Too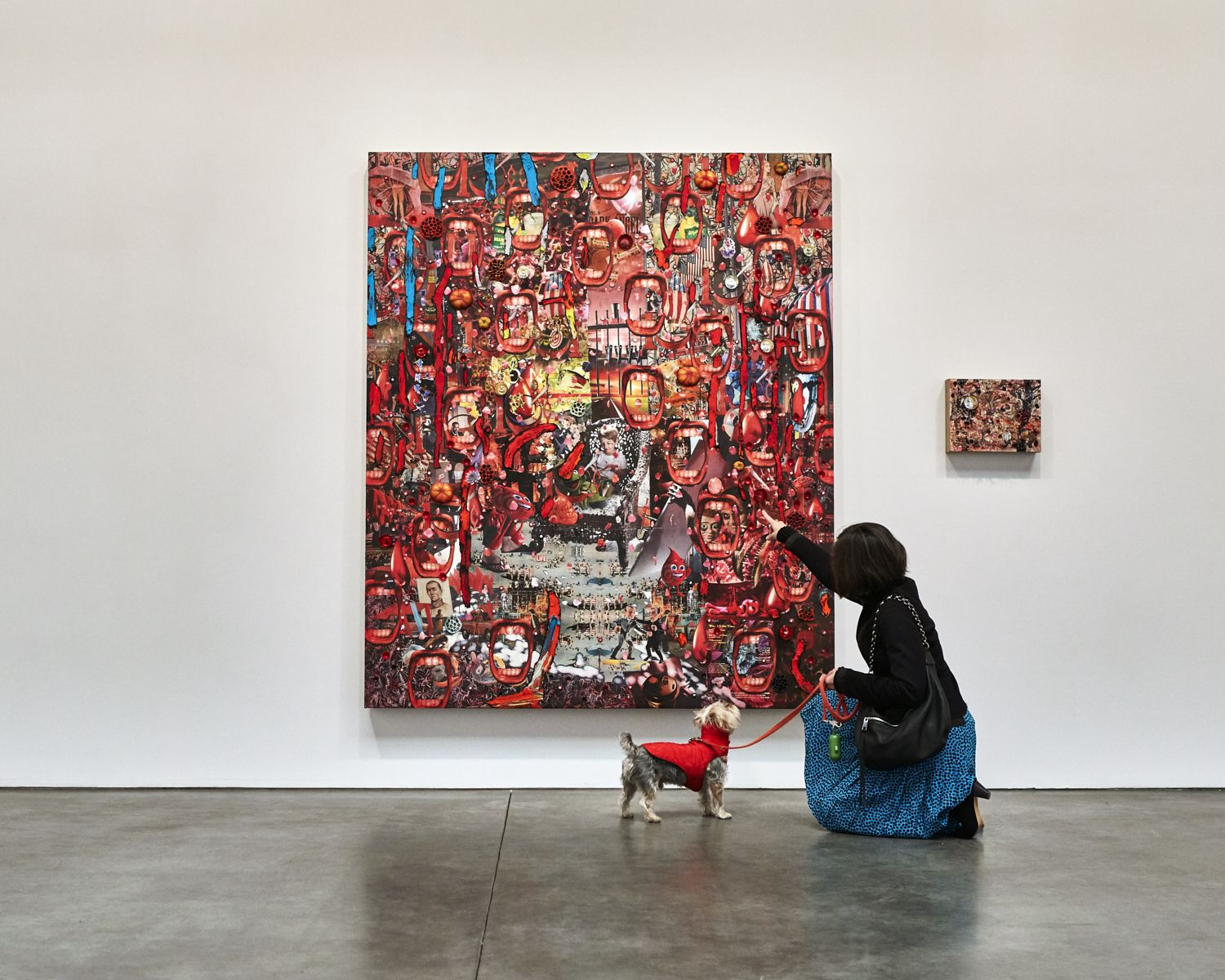 Fido likes treats, walks in the park and quality cuddles. You've known that for years. But what you might want to consider next time you take Fido on an owner-pet date is that your canine companion might also appreciate art. At least, that's the premise of a new exhibit coming to New York City that is aimed toward dogs and their humans.
dOGUMENTA runs August 11 to 13 at Brookfield Place in downtown Manhattan. The show will feature works commissioned by 10 New York City artists—Eleanna Anagnos, Graham Caldwell, Kathryn Cornelius, Merav Ezer, Eric Hibit, Margarita Korol, Tibi Tibi Neuspiel, Noah Scalin, Dana Sherwood and Paul Vinet—geared specifically toward canines.
Arts Brookfield bills the exhibition as "the first in America to ask artists to address the canine community's concerns, interests and worldview and to make artwork catering to a four-legged sensibility."
The project evolved from the experiences of Jessica Dawson, an art critic who wrote a regular galleries column for The Washington Post for more than a decade and who has also worked as a professor of art history. When she moved to New York City about four years ago, she was overwhelmed by the much larger arts scene. Around the same time, she met Rocky at a shelter and adopted the rescue dog.
"As I do with all my friends I brought Rocky to galleries with me," Dawson tells Newsweek over the phone during an artist studio visit with her pup. "Even as I felt a little overwhelmed, he was having an amazing time."
She describes how Rocky would go straight up to a work of art—without having read The New York Times review or the press release, without having studied any art history. "As I watched him, I came to develop five things my dog taught me about art." The lessons she garnered from Rocky include being fearless in the face of art, recognizing one's own limitations but not letting them serve as an impediment and not sweating the trends. She speaks about this experience seriously, and the lessons about approaching art ring sincere, despite the potential for silliness some might read into a dog's wisdom about art.
In addition to what Dawson has learned from observing Rocky, she and her fellow dOGUMENTA curator, Mica Scalin, have turned to research about how dogs see the world, including on dog cognition by Barnard professor Alexandra Horowitz, who is scheduled to be at the show's opening. The artists, too, are keeping canines in mind in their commissions. Just as they would in work targeted toward humans, Dawson says, they're "playing with concerns and interests and perspective" of their audience.
Korol, for example, is addressing the anxiety and fear dogs experience by incorporating recordings of "murmured sweet nothings" that she uses to comfort her own dog. Hibit is creating a more formal sculptural work, but is using colors in a palette that dogs can recognize (they see fewer colors than humans do). Caldwell is playing with the familiar and unfamiliar, Dawson says, creating "what might appear to be a familiar piece—and perhaps a forbidden piece—of furniture." It's a sofa covered in sod and grass. Finally, Vinet is doing a "riff" on Andy Warhol's "Piss Paintings," or "Oxidation Painting." The interactive work "encourages the natural mark-making instinct" of dogs, who will alter the artwork as they urinate on it. Yes, that's right, dogs at this exhibition are encouraged to pee, but probably best to keep it just to this one spot.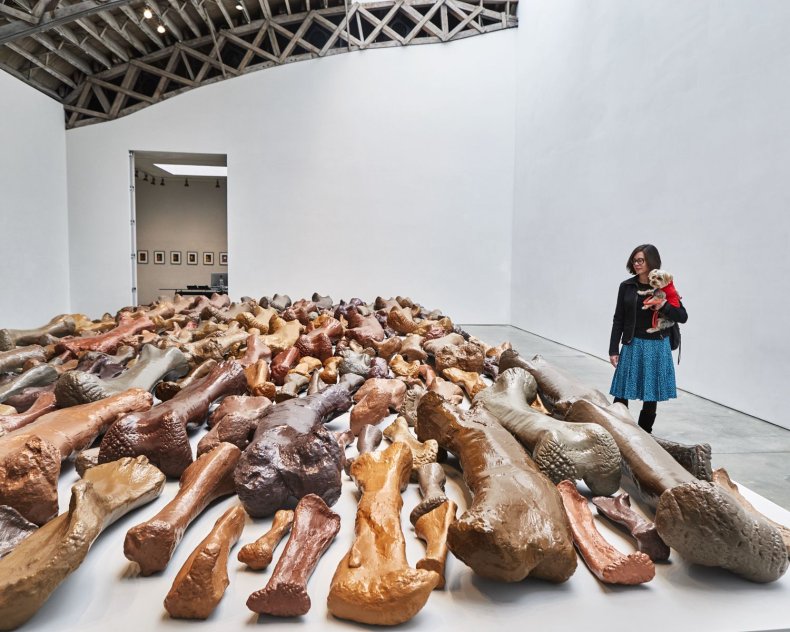 Though dOGUMENTA calls itself "America's first art show for dogs," it's not the first exhibit anywhere aimed at dogs. In August 2016, British artist Dominic Wilcox put up a contemporary art exhibition for dogs in London, commissioned by MORE TH>N pet insurance as part of its #PlayMore campaign to encourage owners to spend more time with their pets. That show was billed as a "world first," grounded in science and developed in consultation with experts "on the type of mental and physical stimuli that are the most beneficial to a dog's health and wellbeing."
The trend, if it can be called one at this stage, extends beyond visual art. Austria-based artists Krõõt Juurak and Alex Bailey started a Performance for Pets project, through which they offer private performances for pets in their homes, though they assure on their website that "human audiences from the animals' milieu are also welcome."
"We need to give back to the canine community that teaches us new ways of seeing," Dawson says. "Maybe some people do still have some hesitation sometimes when looking at art—like, 'I don't know if I get it,'" she adds. The exhibit, she hopes, will be a "wonderful way for a person to engage with art in a new way alongside a companion, probably one of their closest companions," and a way to deepen the bond between them. And as for the four-legged companions, it remains to be seen whether the exhibit will be the woof of the town.