David Hogg Conspiracy Theory Explained: Yes, Student Was on Campus During Parkland School Shooting
Yet another conspiracy theory about student activist David Hogg circulated on social media on Monday and Tuesday. Boosted by popular right-wing blogs, the stories falsely allege that the Marjory Stoneman Douglas High School student wasn't on campus when the Parkland, Florida, shooting broke out on February 14.
Red State, a conservative blog with more than 200,000 followers on Twitter and 500,000 followers on Facebook, and Big League Politics, a site with 74,000 followers on Twitter and roughly 5,000 on Facebook, both circulated the stories, which rely on decontextualized snippets from a forthcoming CBS documentary to make their claim.
In both articles, the authors quote two different interviews Hogg gave after the shooting in order to create the appearance of a discrepancy in his timeline. In one, the student talks about hiding with other students as the shooter roamed the campus. In another, the 17-year-old student journalist recounts coming to the campus at 6 p.m. after the shooting to interview students and document the chaos.
"One of those stories is a lie," the Red State article says. "Hogg should explain himself, and quickly."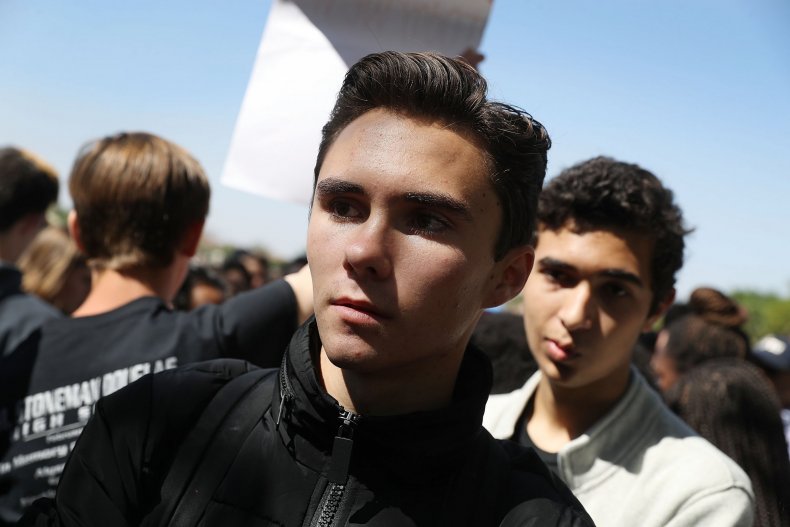 "Groups with Soros ties are trying to suppress our story," Big League Politics wrote in its post about the article, titling it BREAKING NEWS and referring to liberal financier George Soros. "We won't let them!"
Both articles insinuate that Hogg was home during the shooting and is attempting to "steal valor" from actual survivors. But video evidence, witness statements and a number of other interviews support Hogg's timeline. The evidence supports his story, which is that he was hunkered down with other students during the shooting but returned to campus after being evacuated.
Red State printed an update on its article and the author apologized, but the updated story received only a fraction of the engagement that the original post had on Facebook. Big League Politics, meanwhile, was still pushing the conspiracy theory after 9 a.m. Tuesday. Infowars was also posting the story on Tuesday morning.
Fans of both sites were still swallowing up the stories.
Conspiracy stories surrounding the student activists from Parkland have been ongoing since the February 14 shooting, during which a former student with a legally purchased AR-15 killed 17 students and adults, according to police. The smear campaigns have especially targeted Hogg, with previous reports claiming that he was paid by CNN, was coached by his former FBI-agent father and is a paid crisis actor. Emma Gonzalez, another student activist, has also been pilloried online.
To combat the online harassment and abuse circulating about the students, Twitter took steps to verify their accounts. On Saturday, the students gathered in Washington, D.C., to push Congress to pass additional gun control legislation. With an estimated 1 million people total marching, the March for Our Lives demonstration is now considered the largest protest of young people since the Vietnam War.