Latest Democratic Primary: What to Watch For as Biden Looks to Expand Lead and Sanders Hopes to Climb Back
The once diverse and crowded Democratic primary field has dwindled to two lead candidates, with Vermont Senator Bernie Sanders and former Vice President Joe Biden going head-to-head for enough delegates to secure their party's nomination.
Thanks to his campaign's resurgence last week on Super Tuesday, Biden leads Sanders by 91 delegates ahead of the voting in six more states this Tuesday, where 352 delegates—or roughly 9 percent of the total pledged—are up for grabs.
Voters will go to the polls in Michigan (125 delegates), Washington state (89), Missouri (68), Mississippi (36), Idaho (20) and North Dakota (14).
Here are some significant things to watch for as Sanders and Biden face off again on Tuesday.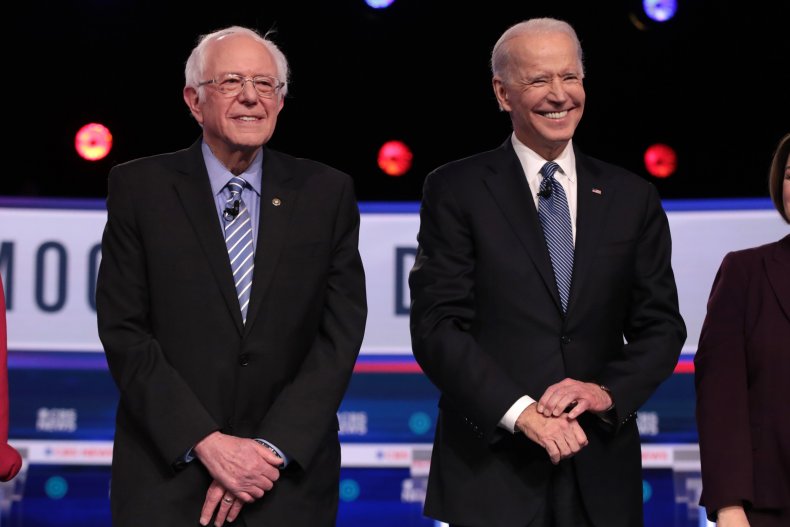 Michigan, Michigan, Michigan
The Mitten State is the most important not just for its high delegate count but because it has the ability to crumble—or boost—a candidate's momentum. Both Sanders and Biden have zeroed in on the Midwestern state ahead of Tuesday's primary, with campaign events and surrogates helping to rally supporters.
In 2016, Sanders narrowly clinched a win over Hillary Clinton by less than 20,000 votes. But then-candidate Donald Trump unexpectedly bested Clinton by little more than 10,000 votes, making it one of the three states that helped him win the White House.
Heading into Tuesday, Biden has a commanding lead in the polls, many showing him ahead by double digits. A big win for the former vice president would make it all the more difficult for Sanders to retake the lead, or a loss could give the Vermont senator an opportunity to get back on top. After Tuesday, nearly 44 percent of pledged delegates will have been doled out.
On top of his dominance in the polls, Biden has received weighty endorsements from several Michigan members of Congress and top state Democrats, including the governor. Sanders, meanwhile, brought in reinforcements from out of state, including civil rights activist Jesse Jackson, who endorsed Sanders on Sunday at a rally in Grand Rapids.
To pull off another victory in Michigan, Sanders will likely need to perform well among young, white and noncollege-educated voters.
So far, Biden's campaign has been bolstered by black voters, and he'll need their support again on Tuesday. Biden will also need the support of white women, a portion of the electorate he won handedly on Super Tuesday.
Sanders Needs Western States
Sanders has performed well in Western states throughout the primary race. And if he wants to remain competitive with Biden, he needs to do it again on Tuesday.
Washington, Idaho and North Dakota will be crucial for the Vermont senator. But recent news has spelled trouble for him: Biden is edging out Sanders in Washington state polls, and FiveThirtyEight predicts the former vice president will narrowly outperform Sanders in Idaho and North Dakota. In 2016, Sanders had a resounding win over Clinton in the latter two states, but the victories helped little with his overall count in delegates because those states were not worth many.
That year, Sanders also had a significant win in Washington state, which gave him 101 pledged delegates.
Biden Set to Dominate Missouri and Mississippi
Looking to repeat his Super Tuesday performance in Southern states, Biden is poised to win decisively in Mississippi thanks to its large African American population. Black voters made up more than 70 percent of the Democratic electorate in 2016. He's also expected to secure Missouri.
In 2016, Sanders remained competitive in Missouri, as Clinton won by roughly 1,500 votes.
Below is a chart by Statista showing the current delegate count for Biden and Sanders ahead of Tuesday's races. Biden leads by 91 delegates, with 664, while Sanders trails at 573. Representative Tulsi Gabbard (D-Hawaii) is still in the race, but she's earned only two delegates and does not qualify for the next debate, which is Sunday in Arizona.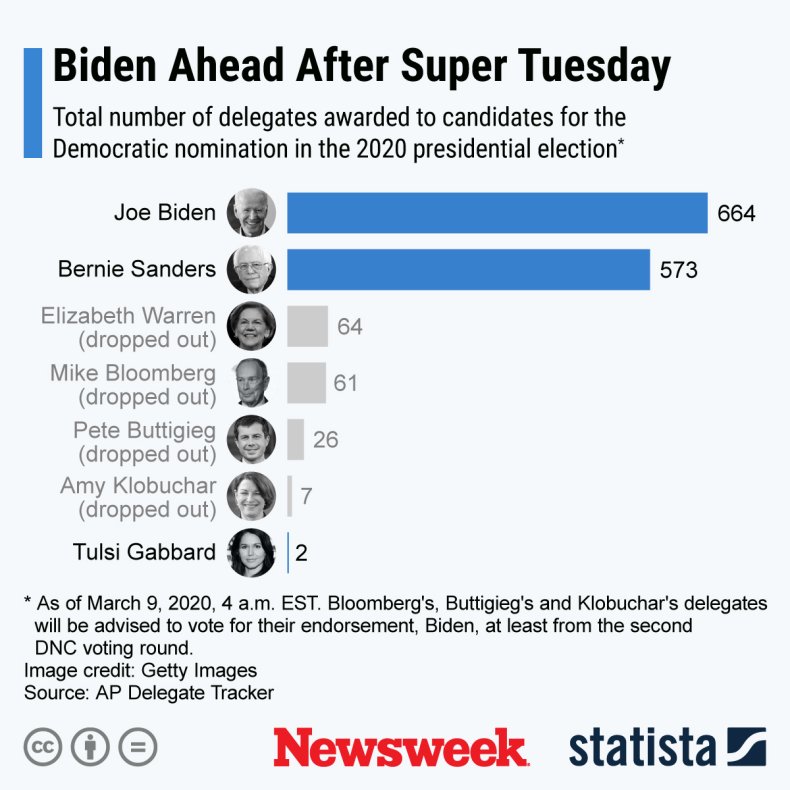 Latest Democratic Primary: What to Watch For as Biden Looks to Expand Lead and Sanders Hopes to Climb Back | Politics