Latest FiveThirtyEight Poll Shows Bernie Sanders Winning Just One State to Biden's Nine in Tuesday Contests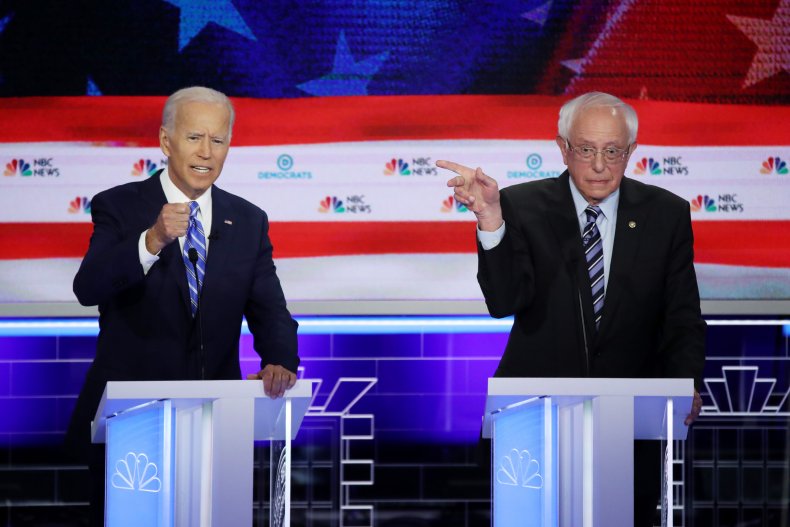 A new poll for the upcoming Democratic primaries and one caucus predicts Bernie Sanders winning just one state compared with Joe Biden winning nine.
The poll, which was conducted by FiveThirtyEight, shows the average projected voting share for the two leading Democratic presidential candidates in the remaining contests.
On March 10, Biden and Sanders will face off in primaries in five states—Michigan, Washington, Missouri, Mississippi and Idaho—and the North Dakota caucuses.
The poll projects Biden securing victories in Michigan, with a 57.5 percent of the voting share, Missouri with 58.7 percent, Mississippi with 71.7 percent, Idaho with 49.5 percent and North Dakota with 51.6 percent. The poll shows Sanders winning one state, with Washington at 49.1 percent.
FiveThirtyEight's poll also shows percentages for the March 17 Democratic primaries, in which Biden and Sanders will be fighting to win delegates in Florida, Illinois, Ohio and Arizona. According to the poll, Biden has the advantage in those states with 66.7 percent of voting share in Florida, 54.8 percent in Illinois, 54.1 percent in Ohio and 55 percent in Arizona. These percentages also show Biden securing an additional 577 delegates.
The forecasts by FiveThirtyEight come a few days after Biden's strong outing on Super Tuesday, where he won 10 out of the 14 states as well as receiving endorsements from former South Bend, Indiana, Mayor Pete Buttigieg, Minnesota Senator Amy Klobuchar and former New York City Mayor Michael Bloomberg. Following Super Tuesday, Biden increased his total number of pledged delegates to 664, and he could secure many more if FiveThirtyEight's predictions hold true.
In the March 10 primaries and caucuses, 352 delegates will be up for grabs: 125 in Michigan, 89 in Washington, 68 in Missouri, 36 in Mississippi, 20 in Idaho and 14 in North Dakota. With wins in five of the six primaries on March 10, Biden could secure 263 delegates compared with Sanders' 89.
In the March 17 primaries, 577 delegates will be up for grabs: 219 in Florida, 155 in Illinois, 136 in Ohio and 67 in Arizona; FiveThirtyEight's forecasts Biden securing all 577.
If these forecasts hold true, Biden will increase his number of pledged delegates from 664 to 1,504, with 1,991 pledged delegates being needed to win the Democratic nomination. On the other hand, with a win in Washington, Sanders can bring his total of pledged delegates from 573 to 662.
Another poll, also conducted by FiveThirtyEight shows each candidate's chances of winning a majority in the Democratic presidential race. This poll shows an advantage for Biden once again, with a 91 percent chance of winning the majority, while Sanders' was given a 1 percent chance of securing the majority.