Tropical Storm Kirk Update, Models: Kirk Will Pour Rain Over Lesser Antilles, Then Power Down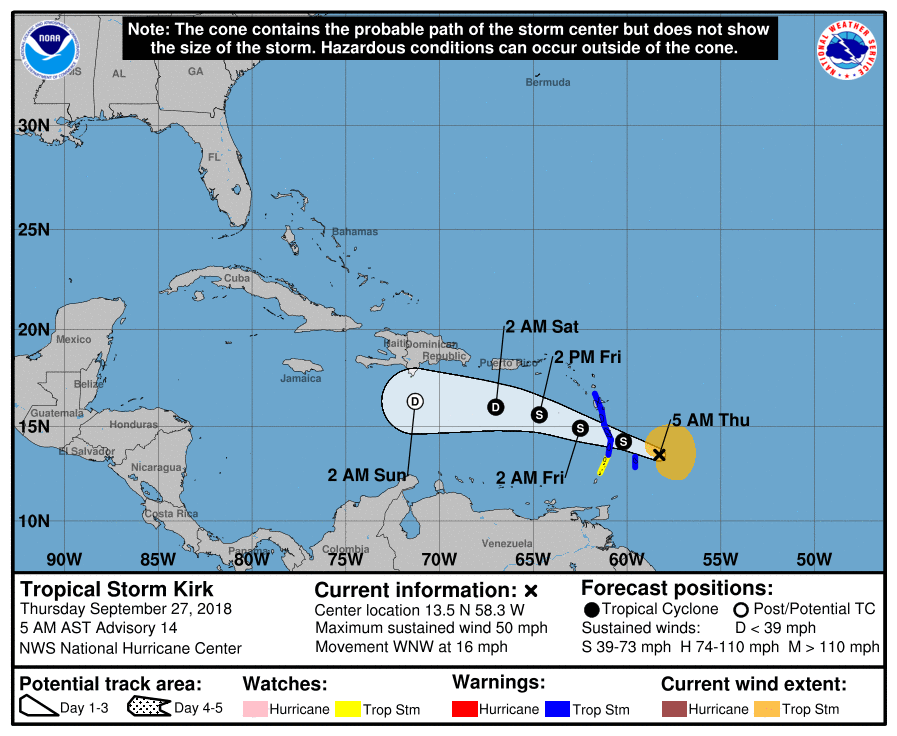 It's been a tale of multiple lives for Tropical Storm Kirk, and the latest forecast shows the storm's track delivering heavy, flooding rain with mudslides threat and tropical storm-force winds to the Lesser Antilles beginning Thursday and into the night. Models show Kirk will then get torn apart by strong wind shear, turning into a tropical depression by early Sunday and likely disintegrating from there.
Kirk had become a tropical storm days ago before dropping back down to a depression, only to power back up to its current strength of maximum sustained winds of 50 miles per hour. Tropical Storm Kirk is now forecast to cross the Lesser Antilles as a tropical storm, the National Hurricane Center said, and it will impact the northern Windward and the southern Leeward Islands as it passes by with significant convection, delivering rainfall amounts of from 4 to 6 inches across the northern Windward and the southern Leeward Islands, with isolated totals up to 10 inches possible across Martinique and Dominica.
"This heavy rainfall over these mountainous islands will likely trigger life-threatening flash flooding and mudslides," The Weather Channel reported.
Tropical Storm Kirk's path has tropical storm warnings posted for Barbados, St. Lucia, Dominica, Martinique and Guadeloupe, while tropical storm watches are in effect for St. Vincent and the Grenadines.
The National Hurricane Center does not expect Kirk to strengthen much from this point, with forecast models suggesting it will not get above 50 miles per hour maximum winds the next two days, with weakening beginning early Sunday if not sooner when it encounters wind shear.
"A large fetch of strong upper-level westerly or southwesterly winds are over the entire Caribbean Sea, and Kirk will be moving into these conditions during the next few days," the NHC said in its latest forecast update Friday. "These very hostile winds aloft should cause Kirk to steadily weaken, decouple, and ultimately dissipate in 3 or 4 days. The GFS and ECMWF models suggest that dissipation could occur even sooner. The intensity models are in good agreement..."
The biggest threat from Tropical Storm Kirk is rainfall.
"Kirk has not changed much overnight," the NHC said. "Although the storm is producing a large area of deep convection, the cloud pattern is not very well organized with the center located near the southwestern edge of the thunderstorms."
The wind shear should dismantle Kirk to the point that it spares some much of the Caribbean but parts of Puerto Rico could get some rain from Kirk, but the storm's diminished intensity by then will make it less than what the Lesser Antilles is forecast to receive.
"Eastern Puerto Rico can expect 2 to 4 inches of rainfall, with isolated totals of up to 6 inches, as whatever is left of Kirk slides by to the south Friday and Saturday," weather.com reported.
Tropical Storm Kirk Update, Models: Kirk Will Pour Rain Over Lesser Antilles, Then Power Down | U.S.