Hurricane Florence, called a "storm of a lifetime" by forecasters, continues tracking toward the Carolinas for landfall and likely days of catastrophic wind and flooding, moving along at an agonizing crawl that could claim lives, flood homes, and disrupt an entire region.
Forecasters said Wednesday that Hurricane Florence, a Category 3 storm with maximum winds of 125 miles per hour, will "approach from the southeast today and Thursday before slowing down or potentially stalling near the coast into the weekend." The latest National Oceanic and Atmospheric Administration forecast model shows Hurricane Florence almost hitting North Carolina, slowly approaching South Carolina, before eventually making landfall there and hovering in the state as a troublemaker throughout the weekend.
*Rainfall could be measured in feet near the hurricane's center, a forecaster said.
*Storm surge could reach 13 feet along some coastal areas.
*Hurricane conditions could extend over parts of South Carolina and North Carolina for 24 hours.
*Millions could lose electric power.
*Florence will linger over South Carolina as a tropical storm and then a tropical depression until Monday, the National Hurricane Center forecast track reveals.
See below for more Hurricane Florence information on the latest path updates, landfall timing, and models on where Florence will go when it eventually leaves the Carolinas.
Florence has weakened slightly Wednesday afternoon, the National Hurricane Center said, but while slightly weakening its expanse has grown. "...the inner-core and outer wind fields have continued to expand, resulting in an increase the cyclone's total energy, which will create a significant storm surge event," the National Hurricane Center said Wednesday in its 5 p.m. update. "The upper-level outflow remains impressive and is still expanding except toward the south."
The NHC is forecasting Florence to have winds of 115 miles per hour "near the coast" which would make it a Category 3 storm -- considered major. The last major hurricane to hit South Carolina was Hugo in 1989.
It's rare that a hurricane lingers so long near a coastline so forecasters are predicting dire results, with one NOAA official saying today that parts of North Carolina and South Carolina might endure hurricane conditions for 24 hours, if not more beginning late Thursday night through Saturday. This forecast stall, allowing for prolonged storm surge along the coast and catastrophic rainfall along the coast and inland, could make Hurricane Florence the worst storm ever for South Carolina and North Carolina, a forecaster with the National Weather Service said.
"This will likely be the storm of a lifetime for portions of the Carolina coast, and that's saying a lot given the impacts we've seen from Hurricanes Diana, Hugo, Fran, Bonnie, Floyd, and Matthew," the National Weather Service in Wilmington, North Carolina, said, stressing the potential for "unbelievable damage from wind, storm surge, and inland flooding with this storm."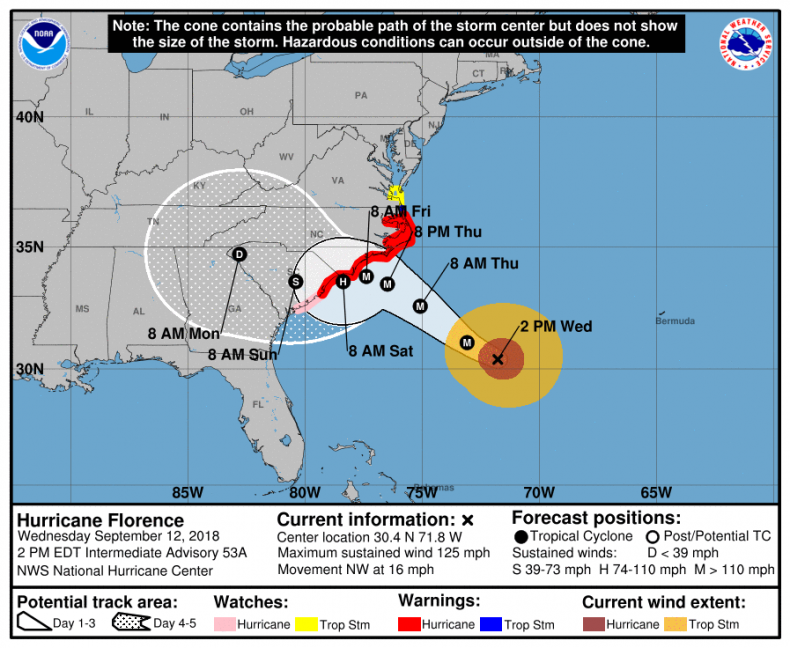 Florence is expected to weaken a bit from its current strength, but the storm is incredibly dangerous, forecasters said, because of the duration of time it will spend over South Carolina and North Carolina.
"Dangerous Hurricane Florence is forecast to approach from the SE Thu and make landfall early Fri over SE NC," the Wilmington office of the National Weather Service said Wednesday. "Destructive winds and life-threatening storm surge are expected near and N of where the storm makes landfall.
"Florence is expected to slow down and poss stall near the coast leading to exceptional amounts of rain which will likely cause flash flooding, and eventually serious river flooding. A Flash Flood Watch will be issued Thu through Sat and may need to be extended if the heavy rain threat (continues)."
When Will Hurricane Florence Hit North Carolina, South Carolina?
The latest Florence model from the National Hurricane Center (see image) shows Florence approaching the North Carolina coast by early Friday morning. Florence is forecast to approach the South Carolina coast Saturday morning at 8 a.m. Florence is forecast to meander inland, slowly into South Carolina, as a tropical storm and then a tropical depression through Monday at 8 a.m.
Where Will Hurricane Florence Hit?
*North Carolina may avoid a direct hit but it won't feel that way forecasters said since Florence is expected to get very close to the shoreline Friday, before dipping south. Florence will spend so much time along the coast, up to 24 hours, that it may be the same or worse than a landfall.
*Hurricane Florence will make landfall at South Carolina on Saturday morning, according to the latest NHC model.
*Florence will spend 48 hours or more in South Carolina, stalling as a heavy rain and wind storm.
*Models show Florence will then track as a tropical depression or remnant up through Tennessee and Kentucky.
Where Will Hurricane Florence go eventually?
Hurricane Florence will spend a lot of time—days—in the Carolinas. The storm will eventually pull out next week, on Monday likely, moving into Tennessee, Kentucky and West Virginia, according to the latest forecast models.