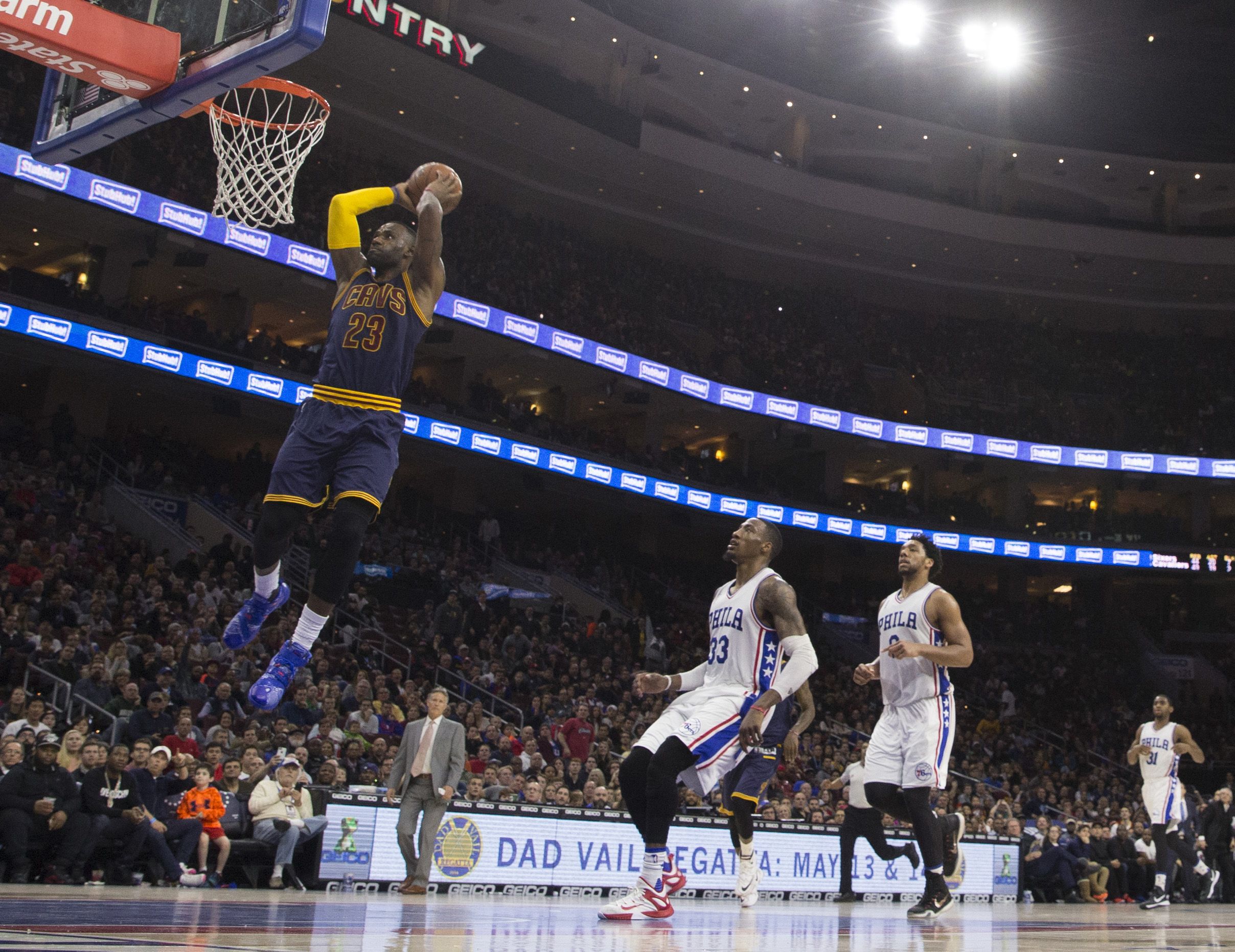 NBA free agency buzz on March 1 likely means next to nothing—we're still months away from any final decisions—but for what it's worth, the chatter connecting superstar LeBron James to Philadelphia has seemingly grown Thursday.
"After speaking to several individuals around the league the past few days, Lebron to [P]hilly has a much higher percentage of happening than most think," tweeted Philly-area sports reporter/talk-show host Jon Johnson. "One league source told me, '50/50.'"
James—who famously left then returned to the Cleveland Cavaliers—is the greatest basketball player of his generation and his contract would allow him to depart the Cavs again this offseason. The long-held rumor is that he'll decamp to play for the Lakers in Los Angeles, where he spends much of his time and owns homes. He could also, of course, stay in Cleveland or go to any other team able to pay him. But the talk of James joining the 76ers has increased in intensity as the season has played out.
Meanwhile, ESPN's Brian Windhorst (who has covered James for years) said Thursday it's unlikely anyone knows the star's plans.
"Nobody knows what LeBron is going to do, LeBron doesn't know what he is going to do," Windhorst said on local Philly radio station 97.5 The Fanatic, according to a tweet from the station. "Because he is so good at what he does, because he is high in demand, he has options. When you have options, you don't have to worry about it right now."
Windhorst then got into what might be attractive to James after the current season is done. "What the Sixers need to do is to create such an opportunity to make him happy like they did in Miami. That could mean making a trade before the draft," he said, according to 97.5. "This is something that has been made very clear to me. LeBron does not want to be the beginning piece to bring a championship, he wants to be the last piece."
The Sixers are a promising young squad. They've got a franchise cornerstone in All Star center Joel Embiid and perhaps another in Rookie of the Year favorite Ben Simmons, who also happens to be a client of Klutch Sports, the firm headed up by Rich Paul, who is James' agent, friend and confidant.
The Philly-LeBron rumors began in earnest in November with a USA Today report on the Sixers apparent interest in the superstar. "Executives around the league believe Sixers president of basketball operations Bryan Colangelo will attempt to sign James," wrote Jeff Zillgitt at the time. Since then, a number of league observers—like The Ringer's Bill Simmons—have noted the move would make a lot of sense.
Sixers fans have attempted to woo the star, most recently by buying billboard real estate connecting James and the fan-base's adopted tagline of "Trust the Process," which was popularized by the podcast The Rights to Ricky Sanchez. A local company bought space on three billboards in Cleveland. The first placed James's number in the Sixers starting lineup, the second read "complete the process" and the third read "#PhillyWantsLeBron." James said he was flattered by the stunt.
"That's cool, I think," he said. "That's dope."
Meanwhile, the Sixers (32-27) are set to play James and the Cavs (36-24) Thursday night in Cleveland. Ahead of the game he was asked about an apparently false rumor that he was scouting high schools for his children in the Philly area over the recent All Star break.
"In Pennsylvania? No. What are you talking about? No," he said in a video posted by NBC Sports Philadelphia's Jessica Camerato. "Over the All-Star Break, no. I was on vacation and I went to Los Angeles."
Read into that what you will.
About the writer
Reporter, covering a bit of everything.