Latest Lincoln Project Ad Suggests Trump Influenced Kenosha Shooter
A new ad released by the Lincoln Project suggests that President Donald Trump influenced the 17-year-old charged with the fatal shooting in Kenosha, Wisconsin.
The video, which was shared exclusively with Morning Consult, begins by showing a St. Louis couple that pointed guns at Black Lives Matter protesters in late June.
The video then goes on to connect the couple with Rittenhouse, who is accused of firing multiple shots at protesters during an August 25 rally in Kenosha following the police shooting of Jacob Blake. Two people were killed and another seriously injured in the demonstration shooting. Rittenhouse is charged with six criminal counts, including first-degree intentional homicide.
"A young impressionable man sat in front of a Trump rally," the video says as a picture of Rittenhouse at a Trump campaign rally is shown.
The teen's picture at the Trump rally was first reported by BuzzFeed News, which found footage from a January 30 rally in Des Moines, Iowa, were Rittenhouse was seen in the front row, just to the left of the president's podium.
The video says that while attending the rally, Rittenhouse heard Trump's message of "hate and division." The video also suggests that Trump's response to the St. Louis couple's incident influenced Rittenhouse.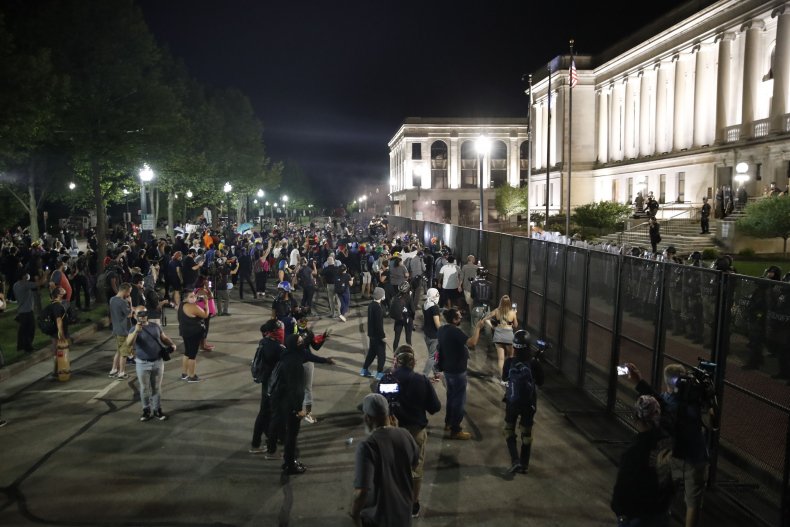 During the Republican National Convention, the couple, Mark and Patricia McCloskey, spoke during a prerecorded video, criticizing Democrats. The said that they "no longer view the government's job as protecting honest citizens from criminals, but rather protecting criminals from honest citizens."
The video of the couple went viral after they were seen pointing guns at protesters following the May 25 death of George Floyd in Minneapolis police custody. In addition to allowing them to speak during the convention, Trump retweeted a video of them pointing guns at the demonstrators.
"Donald Trump honors them at the convention. Their only achievement: they threatened peaceful Black demonstrators with guns. Less than 24 hours later, a young man follows their example and kills two unarmed demonstrators," the video says, showing videos of the McCloskeys and Rittenhouse during both incidents.
Newsweek reached out to Trump's campaign for comment but did not receive a response in time for publication.
The Lincoln Project video also slams Trump supporters who have hailed Rittenhouse as a hero for defending Kenosha businesses from looting.
"Today, he's hailed as a hero by Trump supporters. This is sick, this is wrong, this is dangerous," the video says while showing a clip of Fox News host Tucker Carlson.
Following the shooting, Carlson asked his show's viewers, "Are we really surprised that looting and arson accelerated to murder?"
He added, "How shocked are we that 17-year-olds with rifles decided they had to maintain order when no one else would?"