Trump Cabinet Approval Ratings Show Voters (Still) Really Dislike DeVos and Sessions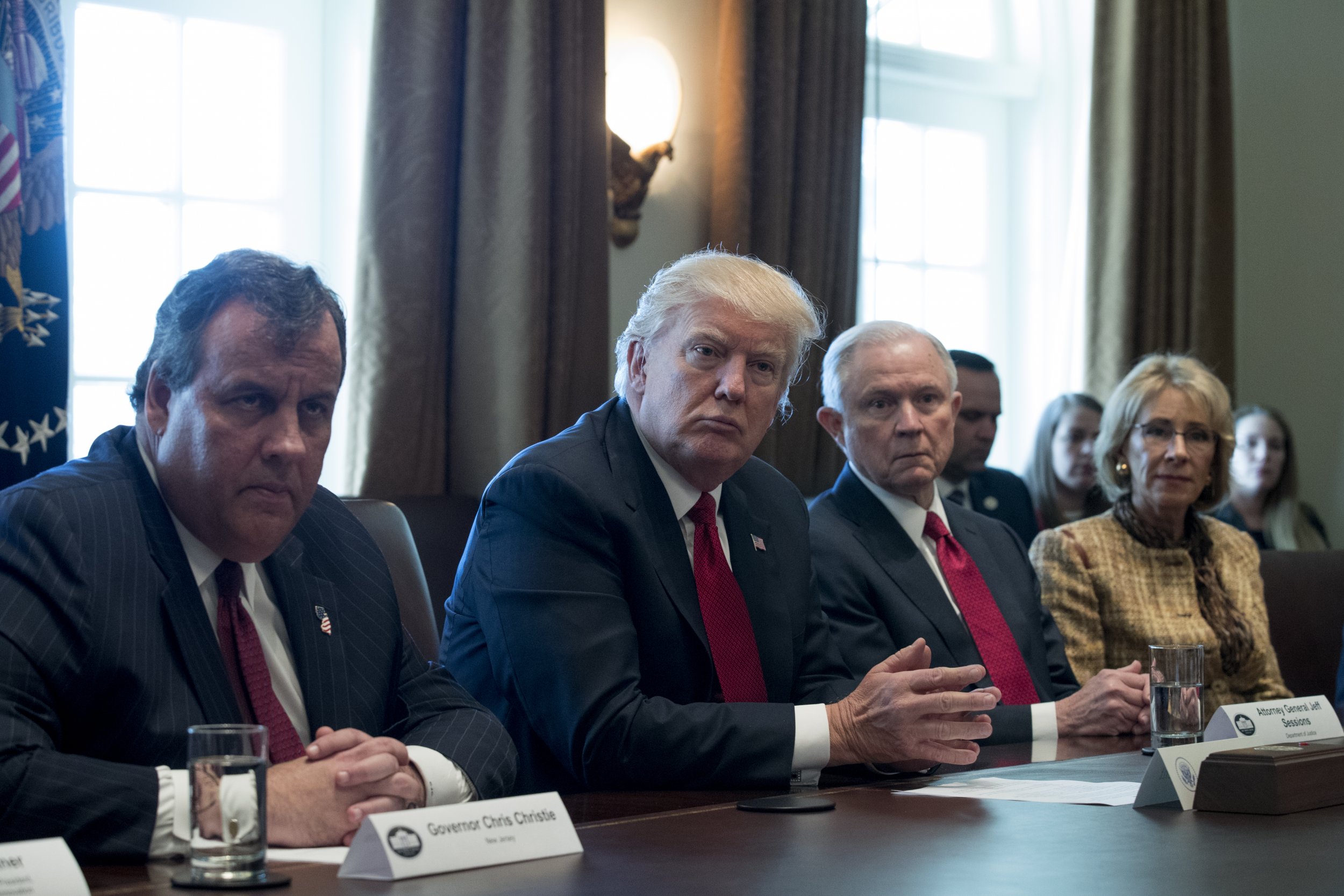 If members of President Donald Trump's Cabinet are trying to win popularity points, they may want to stay out of the public eye—not in it. A poll released Wednesday shows that two of the most prominent administration officials, Education Secretary Betsy DeVos and Attorney General Jeff Sessions, are the least liked among voters.
Only 28 percent of respondents to a Morning Consult/Politicosurvey said they had "very favorable" or "somewhat favorable" views of DeVos, a school choice lobbyist who had no experience in public education when she took the job in February. As of this week, her net ratings were underwater, given that some 40 percent said they had an unfavorable opinion of her. The remaining respondents said either they'd never heard of her or didn't have an opinion on how she's performing as education secretary.
Sessions was in a similar situation. Roughly a quarter of those polled said they had a favorable view of the former Alabama senator, while 42 percent of voters said they saw him unfavorably.
Some members of the Cabinet did perform well, including Secretary of Defense James Mattis. But both DeVos and Sessions have seen low numbers before. In a March survey released by Saint Leo University's Polling Institute, her net approval rating was -18 percent. His was -10 percent.
"Outside of General Mattis, there is not a lot of political capital to go around," the institute's director, Frank Orlando, said in a news release at the time. "Still, these bureaucrats serve at the pleasure of the president. Their job is to make him happy, not the public."
Another factor that may be contributing to DeVos's and Sessions's low ratings is that both have made high-profile policy changes recently. On September 5, Sessions held a news conference to announce that the White House was ending the Deferred Action for Childhood Arrivals program, a Barack Obama initiative that protected immigrants brought to the U.S. as children. And last week DeVos said she was withdrawing guidance from the Obama administration that set guidelines for colleges handling campus sexual assault.
At least Sessions and DeVos have good company underwater. According to FiveThirtyEight's presidential poll tracker, Trump is facing a roughly 55 percent disapproval rating and a 39 percent approval rating, leaving him with a net -16 percent grade.
Then again, the commander in chief would probably say those numbers are fake news.
The Morning Consult/Politicopoll included responses from about 2,000 registered voters collected between Friday and Sunday. The margin of error was plus/minus 2 percent.