Latest Updates on Andrew Brown Case: Body Camera Footage Released By Elizabeth City Police
Elizabeth City Attorney Andrew Womble said the sheriff's deputies who fatally shot Andrew Brown Jr., a 42-year-old Black man, in North Carolina will not face charges.
During a news conference Tuesday, Womble called the incident "tragic" but said that the officers were justified in their actions.
"I find that the facts of this case clearly illustrate the officers who used deadly force on Andrew Brown Jr. did so reasonably and only when a violent felon used a deadly weapon to put their lives in danger," Womble said.
Womble said that he found that "Brown's actions and conduct were indeed dangerous by the time of the shooting" because Brown posed an immediate threat to the safety of the officers and others.
He added that Brown's decision to flee "quickly escalated from a show of force to an employment of force" by deputies.
"When you employ a car in a way that puts officers' lives in danger, that is a threat," Womble said.
This decision comes after an investigation was conducted by the North Carolina State Bureau of Investigation.
Brown was shot on April 21 when deputies attempted to serve drug-related search and arrest warrants.
The three deputies involved in the shooting — Investigator Daniel Meads, Deputy Robert Morgan and Cpl. Aaron Lewellyn — have been on leave since it happened
Brown's family has called his death an "execution."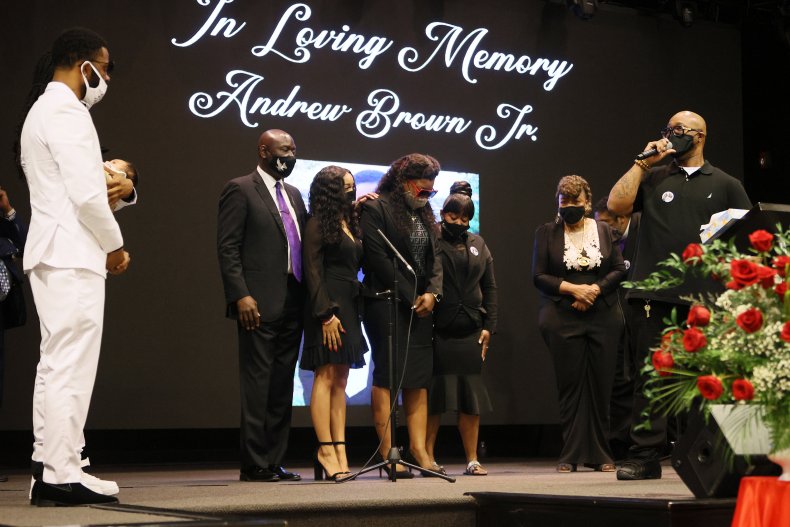 The attornies for Andrew Brown's family released a statement following Womble's press conference.
Ben Crump, Bakari Sellers, Harry Daniels and Chantel Cherry-Lassiter from Ben Crump Law called Distinct Attorney Womble's words "an insult and a slap in the face."
"Andrew Brown Jr., his grieving family, and this community deserve answers. And they received anything but from D.A. Womble's attempt to whitewash this unjustified killing," the statement said. "To say this shooting was justified, despite the known facts, is both an insult and a slap in the face to Andrew's family, the Elizabeth City community, and to rational people everywhere."
"Not only was the car moving away from officers, but four of them did not fire their weapons - clearly they did not feel that their lives were endangered. And the bottom line is that Andrew was killed by a shot to the back of the head," it continued. "Interestingly, none of these issues were appropriately addressed in today's press conference."
The statement also called on the Federal Department of Justice to intervene and demanded that the court release the full video and State Bureau of Investigation report in order to "shed some much-needed daylight on this case and bring a small measure of justice to this family and this community" because "we certainly got neither transparency nor justice today."
During the press conference Tuesday, Womble detailed the incident with snippets of the more than two hours of body-camera footage from the shooting, saying Brown "ignored commands" from law enforcement.
"I want you to have a full, complete, and accurate view of what transpired that day," Womble said.
Josh Shaffer, a reporter with News & Observer, tweeted out a 25-second clip of the footage shown.
The video shows Brown seen behind the wheel of his car when officers approached the vehicle and shout at him to stop.
Brown reversed his car and then accelerated forward in an attempt to flee.
"At this moment, Brown was driving directly toward" a deputy in front of him, Womble said. As the car continued forward, officers fired several shots at Brown from the side and through the back windshield.
When Brown's vehicle finally came to a stop, officers removed Brown and called for emergency services, Womble said.
Womble mentioned that due to the severity of the charges against Brown, officers "could not simply let him go, as has been suggested" and had to continue to engage him. Brown was suspected of non-violent drug charges.
Brown's family was not informed of Womble's decision to not prosecute the officers involved in the shooting and Womble said he had not spoken with the Brown family.
The "relationship is strained to the point where it would not be feasible" to speak to them, Womble said.
Womble said during the news conference Tuesday that he will not publically release the body camera footage of Brown's shooting.
Portions of the footage were played at the news conference to multiple news outlets.
Womble's version of what the footage showed was quite different from what Brown's family concluded when they were shown the footage.
Brown's family saw 20 minutes of body camera and dashcam footage and a family lawyer said the shooting was "absolutely, unequivocally unjustified."
"At no point did we ever see Mr. Brown make contact with law enforcement," attorney Chance told reporters. "We were able to see where they possibly reached out to make contact to him, but we did not see any actions on Mr. Brown's part where he made contact with them or try to go in their direction. In fact, he did just the opposite."
On April 30, a judge delayed the public release of the video due to concerns that the release would compromise the investigation.