Latest Victim of SF Real Estate Speculators Is a 98-Year-Old Woman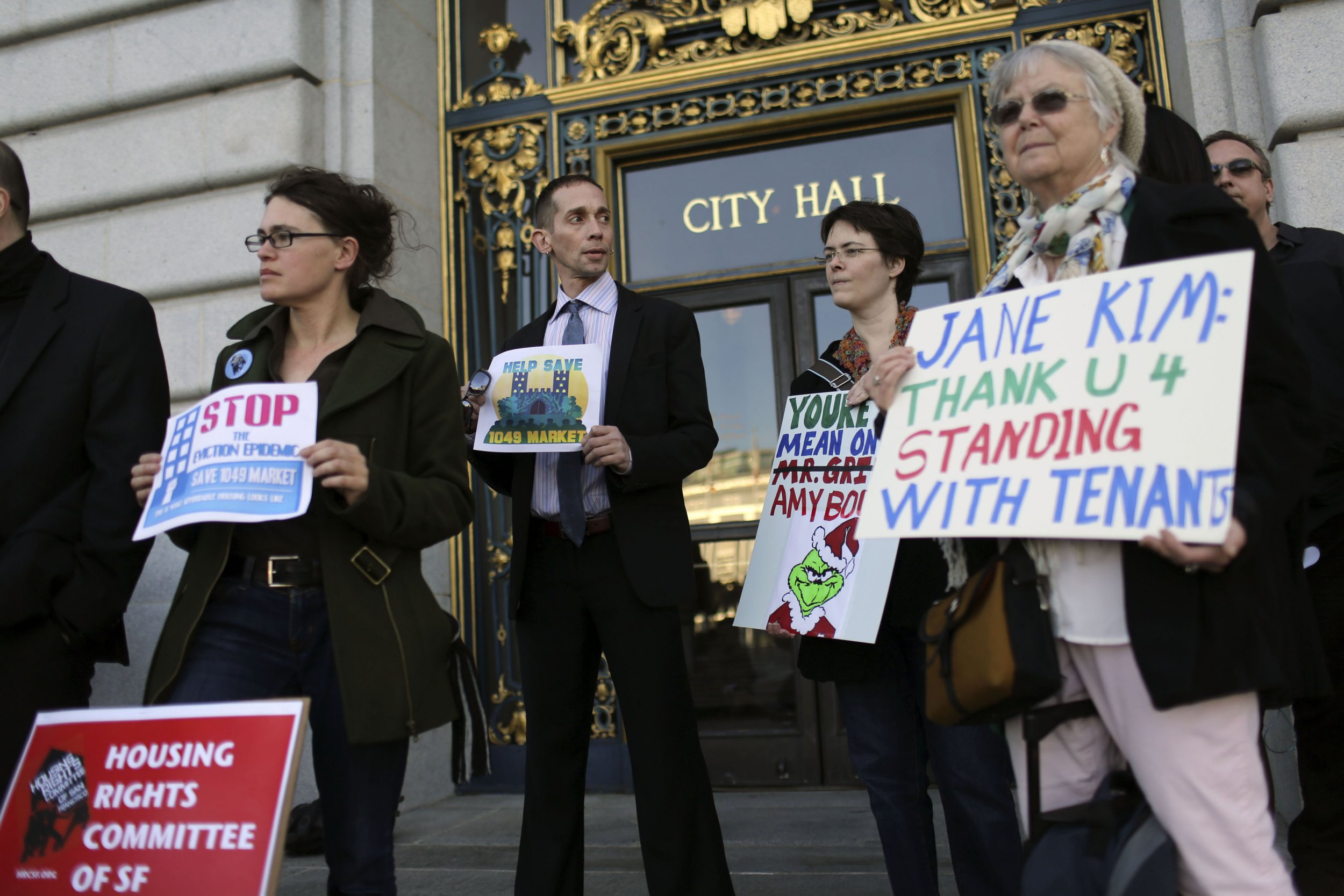 This week, a 98-year-old San Franciscan named Mary Phillips told local news station KRON she was being evicted from her apartment, despite having never missed a rent payment.
As I reported earlier this year, hundreds of residents are being forced to leave their homes as landlords in the city take advantage of the Ellis Act, a controversial California real estate law that allows property owners to evict tenants from rent-controlled apartments. "I've been very happy here, and I've always paid my rent, and I've never been late," Phillips told KRON reporters from her Dolores Street apartment where she has lived for 50 years. "They're gonna have to take me out of here feet first."
The Ellis Act, passed in 1986, permits landlords to carry out no-fault evictions provided they remove the building from the rental market. Critics of the act argue that in San Francisco, where the number of Ellis evictions went up 175 percent in 2013, landlords are exploiting the act to evict residents from rent-controlled apartments so they can sell the buildings to wealthy tech workers who make twice the salary of the average citizen. Earlier this year, pro-tenant groups were pushing for the passage of an Ellis Act reform bill that would curb the no-fault evictions, but the effort failed in June when the bill was unable to win passage in a State Assembly committee.
When I wrote about the Ellis Act back in April, I had heard of Phillips's case but had been reassured by pro-landlord groups that she and her landlord were close to striking a favorable agreement. According to Erin McElroy, an activist with the Anti-Eviction Mapping Project who knows Phillips, "She'd been offered a buyout. But unfortunately the buyout was a sum of money to help her out for a month or two but wasn't going to land her a home in San Francisco."
In this case, the owner of her building is Urban Green Investments. According to Anti-Eviction Mapping's numbers, Urban Green Investments has Ellised 43 units in the city. McElroy characterized the company as "a very wealthy player trying to profit of the eviction of a 98-year-old woman." The company's CEO, David McCloskey, did not reply to a request for an interview.
On Wednesday, McElroy and about 40 other local activists protested outside Urban Green's offices. They are planning on organizing another protest outside Phillips's apartment, on July 24. Their hope is that these actions will pressure McCloskey into rescinding the eviction.
"She was supposed to be out on April 8, but she has nowhere to go," McElroy says. For her part, Phillips told KRON she has no plans to go anywhere: "I'm crowing 100. I'm too old to pack up and leave. I'll just kick the bucket right here."